Having a well-toned and flawless skin is desired by everyone. But with so many factors that can affect the quality of our skin, not every person is gifted with such radiant and spot-free skin.
When you are suffering from acne or when you are starting to experience signs of aging, you will notice the appearance of dark spots on your face.
The good news is that there are ways to get rid of these marks and spots. By using a skin spot corrector, you do not have to undergo expensive treatments.
But to get the best product, it is important that you get to know more about the brand. Among the top rate spot correctors in the market, today is the Garnier Skin Renew Dark Spot Corrector.
What is Garnier Skin Renew Dark Spot Corrector?
Garnier Skin Renew Dark Spot Corrector is not your usual spot corrector since it is also a moisturizing product that is specifically formulated to even out the skin tone and to remove any skin discoloration.
With the powerful and special formula of this spot corrector, the brand claims that you can address problems with post-acne marks, age spots, dark spots, etc.
Unlike ordinary skincare products, this spot corrector aims to lighten and remove the spots and marks making your skin look more glowing and radiant than ever.
The ingredients of Garnier Skin Renew Dark Spot Corrector deeply penetrate into the pores of the skin to address skin problems and imperfections.
Garnier Skin Renew Dark Spot Corrector Ingredients – Are they Safe & Effective?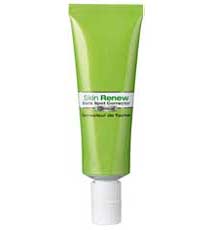 Just before you finally decide to go for the Garnier Skin Renew Dark Spot Corrector, you have to know the different ingredients that are used.
Ascorbic Acid: Also known as vitamin C, this ingredient is essential to correct the skin tone and to brighten the skin. High levels of vitamin C can correct the spots and discoloration.
Salicylic Acid: This ingredient is used for skin exfoliation.
How Does It Work?
So, how does this product work? How can it effectively lighten or remove the scars? One of its main and active ingredients that are the ascorbic acid is known to be truly effective in repairing and healing the skin cells.
It works by evening out the skin tone and removing spots and other skin discoloration.
By continuously applying the spot corrector on the targeted area, you can finally say goodbye to marks and dark spots.
As you put the corrector on your face, its formula penetrates the deep layers of the skin to bring out new and healthier skin cells.
What are the Advantages of Garnier Skin Renew Dark Spot Corrector?
In buying the Garnier Skin Renew Dark Spot Corrector, what are the different benefits or advantages that you can get? If you choose to go for this brand, you can enjoy the following:
High levels of ascorbic acid that is

essential to treat skin imperfections

The active ingredients remain potent for a long period.
It does not feel sticky and it has a lightweight formula
Deeply penetrates into the skin to

ensure 100% absorption
What are the Disadvantages of Garnier Skin Renew Dark Spot Corrector?
On the other hand, the product has its share of negative comments too. Garnier Skin Renew Dark Spot Corrector has its downsides that include the following:
The formula of the product contains potassium hydroxide that might irritate or dry the skin.
Some customers say that they were

not able to get the results they desire

in a short period.
The product contains many fragrances.
YOU MIGHT LIKE – Clinique Even Better Clinical Dark Spot Corrector Reviews
FAQ's
How to Use It?
Using the Garnier Skin Renew Dark Spot Corrector is easy. All you have to do is to apply directly it to the troubled or affected area.
After washing your face, pat it dry and slowly apply the product on your face.
Make sure that you apply it in the area you want to treat. For instance, if you have dark spots or acne marks, gently apply the formula to those affected parts.
With continuous use, the brand claims that you can notice a huge difference in just a matter of 4 weeks. After 2 months, the spots and discolorations are totally removed.
Is the Product Effective?
Now the question is, how effective is this product? When you read reviews, customers have varying opinions.
The effectiveness of a spot corrector is also relative since some customers may say that the product works well for them while the others are just neutral or would disagree.
So far, when you read product reviews, many would still say that the Garnier Skin Renew Dark Spot Corrector has given them the results that they want.
The spots and marks may not have been totally removed, but they're able to see the huge difference before and after using the spot corrector. You just have to find out if this works well for you.
Is This Product Right For You?
If you are having problems with your skin due to discoloration, spots and other skin imperfections, this might be a good product for you.
However, you should also be careful with the ingredients. Considering that it contains certain ingredients that can make your skin dry, it is essential that to know your skin type and if you really have sensitive skin, consult your doctor first before trying out this spot corrector.
Garnier Skin Renew Dark Spot Corrector Review – Final Verdict
Is this product worth a try? The answer is yes. When it comes to buying spot correctors, you cannot clearly say that all of them are truly effective unless you try and see it for yourself.
People have a varying opinion when it comes to the results of using a particular spot corrector.
But if you do not want to undergo pricey treatments or procedures just to get rid of skin imperfections, there is no harm in trying Garnier Skin Renew Dark Spot Corrector.
Garnier is a known skincare brand so at least you can be sure that the ingredients used are safe and it will not yield any negative side effects on your skin.
Overall, the Garnier Skin Renew Dark Spot Corrector is still worth a try.
Skin Brighteners aid in reducing post-inflammatory hyperpigmentation revealing even skin tone. Skin brighteners also can help revitalize tired and dull skin resulting in a youthful, healthy glow.
Below you'll find some of the most effective skin brightening products on the market today, in our opinion.
Our Top Rated Skin Brighteners
No7 Lift & Luminate

Ability to Lighten Skin Tone*
Reduces Freckles and Sun Spots*
Promotes Brighter and Radiant Skin Tone*
Reduce Fine Lines and Wrinkles*
Ability to Lighten Skin Tone*
Reduces Freckles and Sun Spots*
Promotes Brighter and Radiant Skin Tone*
Reduce Fine Lines and Wrinkles*
Ability to Lighten Skin Tone*
Reduces Freckles and Sun Spots*
Promotes Brighter and Radiant Skin Tone*
Reduce Fine Lines and Wrinkles*