In This Review
What is Epibright?
Epibright Skin Brightening Cream is a skin-bleaching cream that works in a few weeks to lighten dark spots and skin that is discolored.
It is made by a company in Newport Beach, California called Sisquoc Healthcare, Inc.
Epibright Skin Brightening Cream is found on its own website and can be bought for $39.95 for a one-month supply (lasts two months for smaller areas), $79.90 for a three-month supply, and $119.85 for a five-month supply.
Shipping is $6.95 extra or $15.95 for expedited two-day shipping. Each bottle is 1.5 ounces.
How Does Epibright Rate?
Overall Rating: 3.8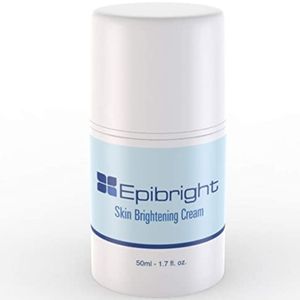 Epibright
Brand Highlights
The brand has an imposing line of sports nutrition products.
Epibright uses clinically proven ingredients in its formulations.
They are committed to being a source of top-notch, original goods.
It is known for developing and releasing the most cutting-edge products.
Pros
Uses specific ingredients to lighten the skin
Has a real website and does not use auto pay.
The price point is comparable to products of this nature.
Customer reviews are positive.
Price discount when you buy multiple months of the product.
Has natural ingredients.
Cons
For those on a budget, this may be a little expensive.
Does not offer free shipping, which is at least $6.95 each time.
Must use sunblock when using this product.
---
How Does Epibright Work?
Epibright Skin Brightening Cream uses two main components to lighten the skin like skin bleach.
The Kolic Acid and Alpha-Arbutin help to decrease tyrosinase, which makes the melanin in our skin and works for age spots as well as hyperpigmentation.
Epibright Ingredients – Are they Safe & Effective?
Kojic Acid
Kojic Acid, A skin-lightening[1] agent that works for hyperpigmentation and age spots.
Alpha-Arbutin
Alpha-Arbutin helps to lessen tyrosinase which is what creates melanin in our skin[2], which makes it darker – like when you get a tan.
YOU MAY ALSO WANT TO READ – Revitol Rosacea Cream Reviews
FAQ's
Q: What are the Directions to Use Epibright?
A: Apply to areas that you want to lighten and let it dry before applying makeup.
Always use SPF 15 when using the product. Takes up to two weeks for noticeable changes in the skin.
Q: What Precautions should be taken before using Epibright?
A: Always use SPF 15 when using this product and if you do have skin irritation or notice a blue tinge, stop the use of the product and contact the manufacturer. They do have a 60-day money-back guarantee.
What Do the Reviews Say?
It actually doesn't accomplish anything. It might give you some short-term skin comfort for a few hours, but the expense is not justified. I haven't noticed any notable advantages as a result of using it.
~ Tammy
Conclusion
This is a product that we can recommend. It takes care of a specific problem with the skin and uses natural ingredients to fix that problem.
They do not use the auto-ship program and have an informative site with all of the facts on the product and how it works. The price is not too high either when it comes to this type of skin cream and it is comparable to similar products of the same nature.
They also offer a discount if you buy more than one bottle and it gets cheaper the more you buy at the same time.
The only negative is that it does not offer free shipping and the shipping is almost a quarter of the price at minimum. Overall, we can recommend this one due to the other reasons mentioned.
Skin Brighteners aid in reducing post-inflammatory hyperpigmentation revealing even skin tone. Skin brighteners also can help revitalize tired and dull skin resulting in a youthful, healthy glow.
Below you'll find some of the most effective skin brightening products on the market today, in our opinion.
Our Top Rated Skin Brighteners
Verdict on Claimed Benefits: Below is our summary of the available evidence for the claimed benefits of below mentioned anti-aging supplements, creams, serums, and moisturizers based on the available research:
Essential Skin Food | Skin Nourishing Collagen Support

Diminishes the Dark Spots*
Gold Star Evidence
Boosts Skin's Plumpness*
Gold Star Evidence
Improves Skin's Radiance*
Gold Star Evidence
Brighten Skin Naturally*
Strong Evidence
Dermelect | Advanced Skin Formula
Nourish and Protect Skin*
Gold Star Evidence
Rejuvenate the Skin*
Strong Evidence
Non-Irritating Formula*
Gold Star Evidence
Suitable for All Skin Types*
Strong Evidence
Skin Whitening Forever | Whitening Your Skin Permanently
Minimizes Skin Pores*
Gold Star Evidence
Restores Uneven Skin Tone*
Strong Evidence
Enhances Skin Radiance*
Strong Evidence
Fades Discoloration*
Strong Evidence