BDSM is not new, and in all likelihood, it is not going away anytime soon. Thanks to mainstream movies such as Fifty Shades of Grey and The Secretary, the conversation about BDSM is no longer too taboo to discuss.
However, with that, also comes a lot of confusion. While many are interested in finding out more about how to have kinky fun, the lines between what is arousing and fun, and what is arousing and dangerous, can be blurred.
The aspect of Sadism is one element that many associates all other aspects of BDSM with. To look more closely at Sexual Sadism, let's break down the acronym of BDSM. BDSM actually stands for six separate aspects. Bondage and Discipline; Dominance and Submission; Sadism and Masochism.
So just what is Sexual Sadism? While one can easily find a detailed description of Sadism in the latest version of the DSM 5 (the 5th, and latest version of the Diagnostic and Statistical Manual of Mental Disorders) In short, Sexual Sadism is the condition of one who experiences sexual arousal in response to the extreme pain or humiliation of another.
For some, the very thought of torturing and humiliating another person can be exciting and arousing.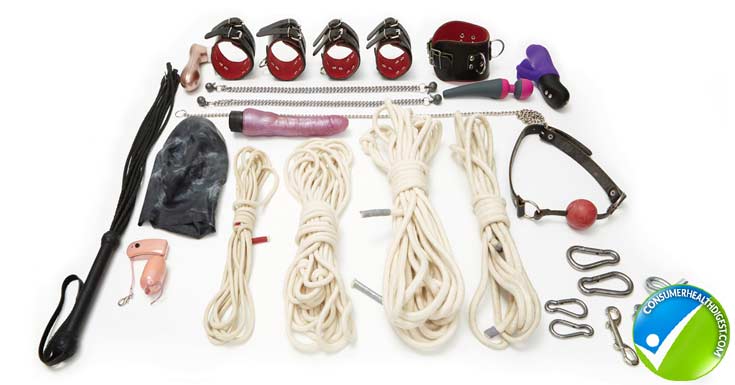 In the realm of play within the BDSM community, Sadism is practiced with a willing Masochist (One who experiences sexual arousal by receiving pain and/or humiliation).
All parties involved are choosing to participate willingly. Negotiations that take place between everyone and can be quite detailed and thorough. Ideally, much like preparing a buffet of deliciousness, the Masochist will list all their favorite delights and desires in the form of sensations, pain tolerance, and possible humiliation – a menu if you will.
The menu could include various forms of bondage such as being restrained by a rope, silk scarves, chains, or handcuffs. It could include sensation depravations such as earplugs, blindfolds, full face masks, or mouth gags. Additionally, increased various sensations such as hair pulling, spankings, floggings, electricity, or candle wax can be added. The menu and choices are as varied as the people who indulge in them.
Along with laying out all the desires and wishes that the Masochist hopes to experience, there can be experiences that are completely off-limits. Let's say that maybe the Masochist absolutely hates anything to do with stingy sensations. In that case, it is a boundary and all things that might possibly sting are taken off the menu as an option.
With the growing acceptance of people being able to express their fantasies through the BDSM community, this may not seem problematic. And in most cases this is true. The people participating are consenting and indulging of their own free will.
The person being hit to the point of bruising may be getting exactly what they desire and are receiving sexual pleasure every time they look at their bruises.
Possibly a sexy reminder of the play they experienced. At the same time, the Sadist may have found the torturing (while consensual) of their play partner so arousing that just the thought of it can place them back into a state of arousal.
Read Also
So Why Sexual Sadism Would Be Listed As A Disorder In The DSM?
Unfortunately, while we have the ability to control a lot of things in our lives, choosing what causes us arousal isn't one of them.
In the description of Sadism above, the parties involved are consenting and while pain, even extreme in cases, maybe experienced, no actual harm to either party is done.
Everyone leaves the experience feeling better for it. For some, the experience of sadomasochism is a form of enhancing ones' sexual palate and not a requirement for arousal.
For others, it is a requirement for arousal, but they are still able to maintain control of themselves, only engage with others on a consensual level, and ensure that no actual harm is done to their partner.
So, when does Sexual Sadism become problematic? According to the DSM 5, one can be diagnosed as having Sexual Sadism Disorder (p 696) if they have acted on the urge to do harm to an unconsenting person for the purpose of their own sexual arousal and pleasure.
In these cases, it can take conducting actual torture and humiliation, with the intent to do actual harm, for the Sadist to be able to experience any sexual arousal. There is not consent sought out or respected.
In fact, just the opposite occurs. The less willing the participant, the greater sexual arousal experienced by the Sadist. These acts can include things like actual physical abuse, beatings, rape, and sometimes death.
To say it can be a challenge for those who do not experience this to understand is an understatement. Sexuality is at the core of who we are as human beings. It is through sexual interaction that we all came to be.
Therefore, it would be naive to think that someone would be able to simply make this desire to harm another, which is their only source of arousal, go away by their own sheer will power.
As a Clinical Sexologist, most of the work I do is around honoring whatever it is that helps people feel like their best sexual self. I consider myself a sex enabler and seek to help others feel acceptance with themselves in whatever it is that brings them sexual pleasure.
However, when that source of feeling good is in direct conflict with the consent and boundaries of another, it is time to refer to a specialist.
Unfortunately, there are no quick fixes that can be done to change what it is that causes us arousal, nor is there any universal fit for everyone of how to work through such a disorder.
However, there is a help. Psychotherapy is becoming more and more kink aware and knowledgeable about the various ways we express ourselves sexually.
Cognitive-behavioral therapy can be an effective way to help those with Sexual Sadism Disorder recognize the destructive patterns and learn healthier (and consensual) ways to express and get their sexual needs met.
While others may need to be placed on antidepressants or anti-androgenic medications which serve to balance brain chemicals. This balance can reduce the sex drive and help to curb impulsive sexual desires.
Should one find themselves at either end of Sexual Sadism that is harmful and void of consent, finding the right psychotherapist may be the saving point that helps to create a sense of normalcy.
The bottom line? For some people, inflicting pain and humiliation on others is what sexually arouses and excites them. But when consent is removed from the equation it is no longer a fun venture and intervention is absolutely needed.
To read more on Sexual Sadism and other Paraphiliac Disorders:
Journal of the American Academy of Psychiatry and the Law
Diagnostic and Statistical Manual of Mental Disorders (5th edition)
Psychology Today
A list of professionals who are experienced and competent in treating various uncommon forms of sexual expression can be found through the National Coalition for Sexual Freedom. There you will find the KAP (Kink Aware Professionals) Directory.
Read Also: Know What Sexual Sadism Disorder Is!
Image Credits
Featured Image: Shutterstock
In-Post Images: Shutterstock
View All