Oh, the weather outside is frightful,
But the sexing is so delightful.
And since we've got no place to go,
Let Us Cum! Let Us Cum! Let Us Cum!
Oh, we don't show signs of stopping,
And I've bought so many toys for romping.
The lights are turned way down low,
Let Us Cum! Let Us Cum! Let Us Cum!
When we finally kiss goodnight,
How I'll spread myself open wide!
But, if you really hold me tight,
All our sexing will be through the night!
The holiday season is one that makes us all want to couple up and get naughty. It's the reason for the season of so many late summer babies and fall babies.
We might use the weather as an excuse that there was nothing else to do or we had to figure out a way to stay warm, but the reality is that winter and the holidays get many of us turned on for some sexy fun.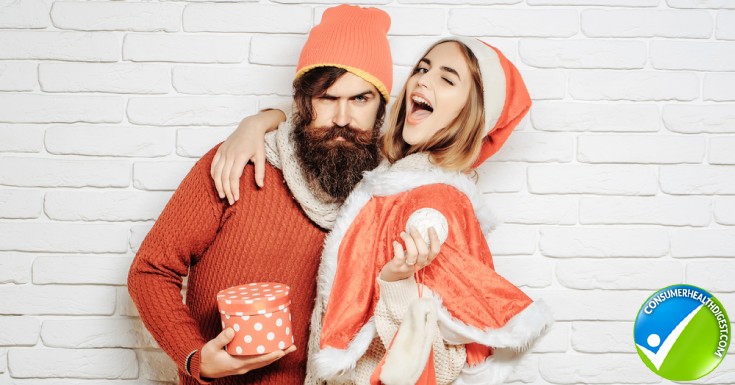 Despite the tales of Santa not bringing us the gifts we desire most if we are naughty, the holiday season has us wrapping ourselves up as yummy gifts for each other whether we are in a long-term relationship or just out decking the halls with friends and sharing some figgy pudding.
So why not let it be the season of lovemaking?
Why not create a sleigh ride right in our own bedroom on top of our lover and play some naughty reindeer games?
Here are 6 Sexy Tip's that even Santa and Mrs. Clause can get on board with that will have you singing Jingle Bells from all positions.
1. Here Cum's Santa Clause
Oral sex is always a great gift, wouldn't you agree? This Christmas take your lover on a ride they won't soon forget by adding some Christmas flavors to your oral pleasures.
Try adding in ice cubes. Use a little peppermint oil on the tip of her clitoris or the head of his penis, you may want to soften the minty freshness of the oil with your favorite peppermint mouthwash.
Take some champagne in your mouth and let it sparkle and bubble on the tender soft skin of your lover's southern regions as you devour them into a most blissful Christmas state.
2. Naughty or Nice List
Sit down with your lover one night and a few pieces of paper and pen and each of you writes up 10 12 sexual things that you want to try or would be willing to explore.
You can make them as naughty or nice as you desire. Then take the pieces of paper and fold them and put them in a mason jar for you each to pull one out each day leading up to Christmas.
Make sure to read them together, discuss your level of arousal around the idea and if your both game then give the gift of playful pleasure and explore something new.
3. Wrapped Christmas Presents
Surprise your lover with a note on a small piece of Christmas paper simply saying, "Tonight you will get to unwrap a special gift."
Later that day/night before your lover comes home, make sure that you have your stage set with candles, music and your favorite holiday drink, then get undressed and wrap yourself up in the matching paper that your note was written on.
Make sure to adorn yourself with ribbons and bows, because all the most special Christmas gifts always are dressed so. Then place yourself by the Christmas tree, text your lover that their gift is by the tree.
4. Naughty Reindeer Games
This holiday season allow yourself to explore some soft BDSM games with your lover as you take turns being a naughty reindeer.
Explore floggers, cuffs, and whips during your sleigh ride on the bed. If you find yourself really enjoying being naughty, then try playing with some thrilling power play talk during sex as well.
Make sure to set a safe word such as "red" to assure that if someone is not enjoying the naughty fun they don't have to explain and can just simply say, "red" for the party to pause or come to a safe end.
Read Also: Christmas Sex: Top 6 Ways To Sex Up Christmas 2016
5. Mommy Kissing Santa Clause
Fantasy play can be fun, especially if you add in some role-playing! This holiday season take advantage of the possibilities by dressing up as horny elves, Santa himself or Mrs. Clause, perhaps keeping it simple and just trying some jingle bells around your naked waists, ankles and anything else that can dangle and put on a reindeer headband.
Whatever the role, dress it up and then put on some Christmas music and create your own naughty Christmas tale by the fireplace or tree.
6. All I Want For Christmas Is You
One of my favorites! Sit down with your lover and go through all the Christmas music of the season, find a song that you both love and then commit to each other that every time this song comes on the radio, that no matter where you are at, public or private that you will grab each other and make out like 16-year old love birds for the song period.
Read More: Embracing Your Feminine Beauty 5 Ways To Feel More Sexy & Beautiful
Conclusion
Santa wants you to remember that sometimes being naughty is actually being nice and if you want to keep receiving sexy gifts all year long then stoking up the romantic sexy fires this holiday season can be just the ticket to kindling the fires that can even give Scrooge a 'happy ending'.
Image Credits
Featured Image: Shutterstock
In-Post Images: Shutterstock
View All