Steve Burton checks back into the hospital! No, he isn't sick, in fact health and fitness is a top priority for the popular actor, who recently launched his own nutrition company, Burton Nutrition, he is returning to the daytime drama, General Hospital!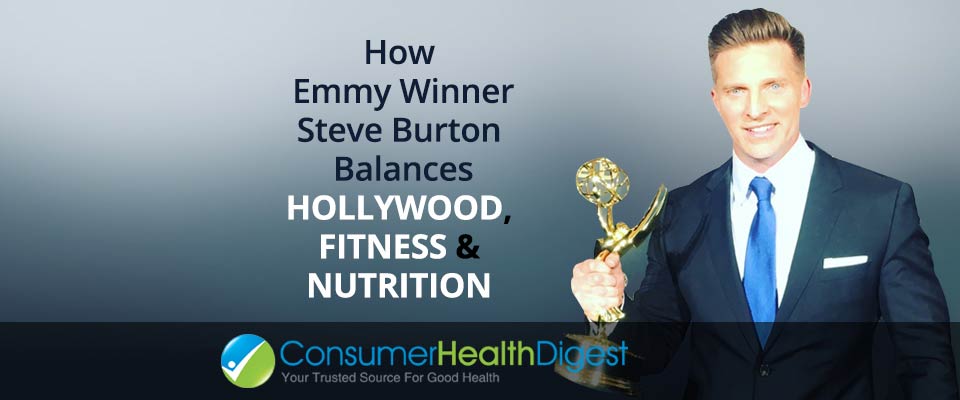 While fans continue to guess if he'll be reprising his role as Jason Morgan, see what Steve has been up to since his last "hospital" visit!
If part of your job description included looking your best and frequently being filmed shirtless while millions of people watched you each day, you would certainly have added inspiration to be in great physical shape!
Right?? As an actor in Hollywood, being fit is very much entwined with the job itself. This really sparked my interest in fitness and nutrition and I didn't find this necessary job qualification unwelcome. I was fascinated.
During my years of portraying the character of Jason Quartermaine, and then Jason Morgan, on the daytime drama General Hospital, I really developed a passion for fitness.
I was always trying to learn which techniques and workouts worked best for me. As an avid weight training enthusiast, I was a fan of former Mr. Olympia, Frank Zane and, of course, Arnold Schwarzenegger.
Even though I was extremely interested in bodybuilding and began weight training more seriously, I had to balance my appearance so that I would not become too muscular for the types of roles in which I was being cast, even though I wanted to be!
After trying every "diet" possible and although I may have looked great, I definitely didn't feel as good as I may have looked. I came to realize how important nutrition was to my overall health and appearance.
Earlier in my career, while working out regularly, I would welcome and count down the minutes to "cheat meal" days. It was my light at the end of the tunnel of eating clean all week long.
My "cheat meal" turned into a "cheat day" and I felt horrible. Now, when people ask if I give myself a cheat meal, I reply, "I really don't care for that term. Who are you cheating? Only yourself."
I came to understand that what I ate impacted both how I looked, how I felt and a "cheat day" slowed down my progress.
Balancing the long hours of working on a daytime drama and spending quality time with my family required me to be efficient and disciplined with my workout routines and meal plans.
If I was scheduled for a long day of shooting, I would plan my workouts for early in the morning to be sure I got my training in and my wife would meticulously pack meals that I could take with me and eat on the go. (for example protein muffins, energy bites, chicken, broccoli, hard boiled eggs, and oatmeal) I also would keep my alcohol intake to a minimum because it consists of empty calories.
Like most people, I learned (it took awhile) that you can't out exercise a bad diet, so my food choices became extremely important to my success.
My wife, Sheree, is my rock. She also enjoys working out and is very active. She eventually decided to get certified in nutrition for a hobby.
Who does this??? LOL! She loves being able to help people and her family and friends. She really is the expert.
For as long as I can remember we both supplemented our meal plans with protein shakes and used them for meal replacements, snacks, and as a pre-workout boost or post workout recovery. We have been talking about our own supplement line for years.
It seemed just to be a natural progression that my wife and I would team-up with her brother, Jon Gustin, a personal trainer who is also certified in nutrition, and his wife, Jessica, to launch Burton Nutrition Company to help share our passion for health and fitness.
Over the years, I saw so many people who struggled with their weight and fitness goals and, as Sheree shared more of what she learned, we came to understand how vital it is to fuel your body with high-quality and natural food products, whenever possible.
We not only improved the way we looked and felt, but also significantly increased our energy levels.
One of coolest things is watching my wife's clients transform. My wife gets more excited than her clients do!
I've been very fortunate to have a successful career as an actor. I won my first Emmy in 1998, for my role as Jason Morgan on General Hospital and I was beyond humbled to accept a 2017 Emmy Award for my role as Dylan McAvoy on The Young and the Restless.
I have the best fans in the world and my television career gives me a great platform to share my passion for healthy living with people everywhere who struggle to be healthier, lose weight and get in better shape.
Read Next – A Fitness Journey From The Inside Out By Adriana Albritton
It is extremely gratifying to know that I've helped create a community that can provide important information and support to others looking to get healthier.
I was on the road recently and was able to talk to a lot of people that we have been able to help through Burton Nutrition and it really makes me smile. Just seeing one person change their lifestyle makes it all worth it.
Image Credits
Featured Image: Provided by Author
In-Post Images: Screenshots Provided by Author
View All