In This Review
Zyflamend Prostate Product Overview
New chapter is a company that specializes in herbal, completely or mostly organic supplements for the wellness of both men and women. The supplements produced by New Chapter provide immune support, prenatal support, stress and energy supplements, bone health, heart health, joint health, etc.
New Chapter is the manufacturing company for Zyflamend prostate, a dietary supplement made with key ingredients that support prostate health and help patients acquire a normal urinary flow. One bottle of Zyflamend contains 60 soft gels, which is a month's worth of doses. The list price per bottle is $44.95, but it can be purchased for around $23 in most retail stores.
How Does It Rate?
Overall Rating: 3.2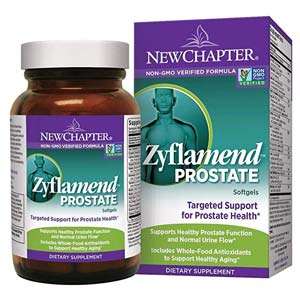 Zyflamend Prostate
Brand Highlights
Includes whole anti-oxidants to support healthy aging.
Supports healthy prostate function and normal urine flow.
Non-GMO vegetarian capsule.
30-Day Refund Policy.
Key Ingredients
Saw Palmetto
Organic Green Tea
Chinese Skullcap
Ginger
Rosemary
Turmeric
Nettle root
Holy Basil
Pros
Completely gluten-free

Safe to combine with other supplements

Highly effective

Sold by many retailers, so it's easier to find and purchase than other supplements
Cons
The company might not be as attentive in case of a problem with the product.

In some cases the customer might present adverse symptoms like headaches, vomiting, nausea, and constipation.
It can't be taken by itself; it must be taken with food each time.
---
How Does Zyflamend Prostate Work?
Some ingredients like organic green tea and Chinese skullcap help in cancer prevention and make the tumor cells grow at a slower rate. Saw palmetto and nettle root are plants that help to reduce the size of enlarged prostate glands. When coupled with pumpkin seeds, their effect might be stronger.
According to recent studies ginger, rosemary, and oregano exhibit qualities that might make them effective cancer-prevention ingredients.
Benign prostate hyperplasia, even if it's not cancer, is still an abnormal growth of cells. That is the reason why many ingredients that help to prevent and treat cancer and to help regulate the cell cycle are used to treat and prevent benign prostate hyperplasia.
Zyflamend Prostate Ingredients – Are They Safe and Effective?
Saw Palmetto
– It treats symptoms associated with large prostate gland along with chronic pelvic pain, migraine and other condition[1].
Organic Green Tea
– Contains anti-oxidants that reduces the levels of DHT that is responsible for the growth of prostate[2].
Chinese Skullcap
– It is used in traditional Chinese medicine that can treat allergies, infections, inflammation, cancer, and headaches. It also has antifungal and antiviral effects[3].
Ginger
– It blocks 5-lipoxygenase, an enzyme that promotes cancer development and can even shrink tumors in the prostate[4].
Rosemary
– Rosemary extract (RE) reduces proliferation and survival of prostate cancer cells. Normal epithelial cells remains unaffected by RE treatment[5].
Turmeric
– It contains anticancerous properties that may stop the spread and growth of cancerous cells[6].
Nettle root
– It has been used for hundreds of years to treat painful muscles and joints, eczema, arthritis, gout, and anemia. It is used to treat urinary problems during the early stages of an enlarged prostate[7].
Holy Basil
– A study was conducted, it was found that the chemicals extracted from holy basil leaves were given to human prostate cancer cells. The effect of the chemicals was examined after one day and two days of treatment. Basil was able to kill the cancer cells by causing the cells to digest themselves[8].

FAQs
Q: What Are the Directions to Use?
A: Patients are recommended to take two soft gels per day, each with a meal.
Q: What Are the Risks Associated with Zyflamend Prostate?
A:
9 out of 23 patients had mild heartburn in a clinical study with zyflamend (it was taken without food).
Allergy is rare with this supplement, but it might happen.
Diarrhea was reported by a couple of customers.
Some ingredients might cause blood thinning.
Q: Are There Any Cautions?
A:
Never take the soft gels without food.
Don't leave the supplement where kids might reach it.
If there are abnormal symptoms, stop taking Zyflamend and consult a doctor.
Consult your doctor for compatibility if you're taking prescribed medicaments.
Customers Reviews
It's ok but don't expect miracles.
It's ok. So many prostate pills on the market. Not sure that any of them work as promised. Best thing to do is to change your diet.
~Stuart Osedo.
Zyflamend Prostate – Final Verdict
Zyflamend Prostate is an effective organic supplement with several key ingredients that are not only effective but also safe to consume. The side effects are rare appear when the instructions are followed correctly, and the supplement is easy to find and easy to purchase. That's why Zyflamend is considered a great option.
Although Zyflamend is safe, it may cause blood thinning, and therefore prescribed medicaments that also cause blood thinning such as warfarin might react badly. Patients should consult with their physicians before combining both medications.
Prostate health is of great concern for men today. Preventative measures may reduce the risk of developing prostate cancer and improve overall prostate health and function. A quality, premium prostate supplement may shrink the prostate, minimize frequent urination, promote sexual function and contain quality ingredients.
Below you'll find some of the most effective prostate supplements on the market today, in our opinion.
Our Top Prostate Support Choices
Verdict on Claimed Benefits: Below is our summary of the available evidence for the claimed benefits of below mentioned prostate health supplements based on the available research:
Product reviews are provided for informational purposes only and reflect solely the views and opinions expressed by the contributors and not those of Consumer Health Digest. We do not verify or endorse any claims made in these reviews. Please read the full product reviews disclaimer. *All individuals are unique. Your results can and will vary.
Ask a Question
Have a Question? Please Tell Us What We Are Missing Here!
PRODUCT NAME
Zyflamend Prostate
PRICE (in USD)
$44.95
ITEM FORM
Softgels
UNIT COUNT
60 Softgels
INGREDIENTS
Saw Palmetto, Organic Green Tea, Chinese Skullcap, Ginger, Rosemary, Turmeric, Nettle root, and Holy Basil.
$44.95 At Amazon
Walmart
8 Sources
We review published medical research in respected scientific journals to arrive at our conclusions about a product or health topic. This ensures the highest standard of scientific accuracy.
[1] Suzuki M, Ito Y, Fujino T, Abe M, Umegaki K, Onoue S, Noguchi H, Yamada S. Pharmacological effects of saw palmetto extract in the lower urinary tract. Acta Pharmacol Sin. 2009 Mar;30(3):227-81. doi: 10.1038/aps.2009.1. PMID: 19262550; PMCID: PMC4002402.
[2] Guo Y, Zhi F, Chen P, Zhao K, Xiang H, Mao Q, Wang X, Zhang X. Green tea and the risk of prostate cancer: A systematic review and meta-analysis. Medicine (Baltimore). 2017 Mar;96(13):e6426. doi: 10.1097/MD.0000000000006426. PMID: 28353571; PMCID: PMC5380255.
[3] Jin BR, Chung KS, Kim HJ, An HJ. Chinese Skullcap (Scutellaria baicalensis Georgi) inhibits inflammation and proliferation on benign prostatic hyperplasia in rats. J Ethnopharmacol. 2019 May 10;235:481-488. doi: 10.1016/j.jep.2019.01.039. Epub 2019 Jan 29. PMID: 30708034.
[4] Karna P, Chagani S, Gundala SR, Rida PC, Asif G, Sharma V, Gupta MV, Aneja R. Benefits of whole ginger extract in prostate cancer. Br J Nutr. 2012 Feb;107(4):473-84. doi: 10.1017/S0007114511003308. Epub 2011 Aug 18. PMID: 21849094; PMCID: PMC3426621.
[5] Jaglanian A, Termini D, Tsiani E. Rosemary (Rosmarinus officinalis L.) extract inhibits prostate cancer cell proliferation and survival by targeting Akt and mTOR. Biomed Pharmacother. 2020 Nov;131:110717. doi: 10.1016/j.biopha.2020.110717. Epub 2020 Sep 23. PMID: 33152908.
[6] Termini D, Den Hartogh DJ, Jaglanian A, Tsiani E. Curcumin against Prostate Cancer: Current Evidence. Biomolecules. 2020 Nov 10;10(11):1536. doi: 10.3390/biom10111536. PMID: 33182828; PMCID: PMC7696488.
[7] Ghorbanibirgani A, Khalili A, Zamani L. The efficacy of stinging nettle (urtica dioica) in patients with benign prostatic hyperplasia: a randomized double-blind study in 100 patients. Iran Red Crescent Med J. 2013 Jan;15(1):9-10. doi: 10.5812/ircmj.2386. Epub 2013 Jan 5. PMID: 23487561; PMCID: PMC3589769.
[8] Dhandayuthapani S, Azad H, Rathinavelu A. Apoptosis Induction by Ocimum sanctum Extract in LNCaP Prostate Cancer Cells. J Med Food. 2015 Jul;18(7):776-85. doi: 10.1089/jmf.2014.0008. Epub 2015 Feb 18. PMID: 25692494.
**This is a subjective assessment based on the strength of the available informations and our estimation of efficacy.
*Result may vary. If you are pregnant, nursing, have a serious medical condition, or have a history of heart conditions we suggest consulting with a physician before using any supplement. The information contained in this website is provided for general informational purposes only. It is not intended to diagnose, treat, cure, or prevent any disease and should not be relied upon as a medical advice. Always consult your doctor before using any supplements.
Disclosure of Material connection: Some of the links in the post above are "associate sales links." This means if you can click on the link and purchase an item, we will receive a commission. Regardless, we only recommend products or services which we use personally and/or believe will add value to our readers. We are disclosing this in accordance with the Federal Trade Commission's 16 CFR, Part 255: "Guides Concerning the Use of Endorsements and Testimonials."