In This Review
What is VigRx Prostate Support?
Our featured product in this review has to do with prostate inflammation and swelling. Namely, the urinary tract problems that this condition typically causes in men.
As such, you know right off the bat that this is a supplement intended to be taken by men exclusively. It was designed to help men with swollen prostates urinate freely.
The name of the product is VigRx Prostate Support, and it is a dietary supplement that will help the user reduce the number of bathroom visits he will have to make on any given day.
In particular, VigRx Prostate Support was designed to eliminate the need to urinate frequently in the middle of the night. VigRx Prostate Support can be used by men of almost any age, but it can be especially helpful for men of advanced age.
How Does It Rate?
Overall Rating: 4.7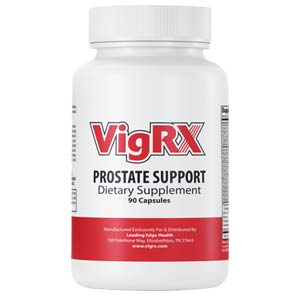 Vigrx Prostate Support
Brand Highlights
The maker of VigRx Prostate Support is a company called leading Edge Health.
Their headquarters in Elizabethton, Tennessee.
They have 24/7 Support.
Free Shipping to USA.
Key Ingredients
Saw Palmetto
Pygeum
Stinging Nettle
Beta-Sitosterol
Pros
A great advantage to taking this product is that it will help the body naturally manage the healthy size of the user's prostate
Using this product has also been linked to fewer bathroom visits both during the day and at night
By improving the health of the prostate it is obligatory that this supplement will improve the health of the user's sexual function and possibly even make it so that their erections are firmer and more consistent
There is a very generous money back guarantee associated with this product as well
Cons
There have been no reports of side-effects or health risks associated with this product.
---
How Does VigRx Prostate Support Work?
The company that markets this prostate supplement is called Leading Edge Marketing and they are a Better Business Bureau accredited entity that seems to have direct ties to Leading Edge Health.
This supplement is made up of natural ingredients so it can be considered a natural or holistic remedy for prostate problems.
The product is also supposed to work for improving sexual function because it is a well-known fact that the prostate gland plays a very important role in erectile health and sexual function in general as evidenced in this Harvard Health study.
By aiding in the normal function of the prostate this product will work to help the user to have more command over his erections.
VigRx Prostate Support Ingredients – Are they Safe & Effective?
The ingredients list for this product is primarily made up of botanical extracts and phytosterols, which are described in detail in a Oregon State journal entry that have been harvested from plants as well.
This seems to be and effective formula for prostate health and no major side-effects have been reported from users who have taken VigRx Prostate Support for a significant amount of time.
Saw Palmetto
– Saw palmetto is a plant that grows naturally in the United States and it has been linked to improved prostate function and may also address bladder issues which can also cause frequent urination.
Pygeum
– According to a memorial Sloan Kettering journal entry[1] the extract of pygeum comes from a tree that is commonly known as the African plum tree. The effects of pygeum are as follows: it can relieve some of the symptoms related to benign prostatic hypertrophy. It has been observed to prevent prostatic inflammation by suppressing the production of prostaglandins.
Stinging Nettle
– This botanical extract has long been thought to decrease the size of the male prostate thereby effectively negating the effects of prostatic swelling.
Beta-Sitosterol
– This is a phytosterol and it has been shown to improve urinary flow in men who have been supplemented with It and inhibits the production of certain enzymes that can play a part in prostate enlargement.
Alternatives to VigRx Prostate Support
Frequently Asked Questions About VigRx Prostate Support
Q: How Should you Take VigRx Prostate Support?
A: The suggested use for this supplement is to take 3 capsules daily and preferably with a meal. You can also ask your doctor about how you should take this supplement depending on your state of health and particular needs.
Q: How Much Does VigRx Prostate Support Cost?
A: A single month supply of VigRx Prostate Support will cost $49.95. A 2 month supply will cost $79.95. A 3 month supply will cost $109.95. A 4 month supply will cost $139.95. A five month supply costs $174.95 and a 6 month supply will cost $209.95.
Q: What is VigRx Prostate Support's Return Policy?
A: If for any reason you are unsatisfied with the way VigRx Prostate Support works you can return your supply whether it is full, partially full or completely empty for all of your money back within a 67-day period from the day you bought it.
Q: Does VigRx Prostate Support Offer A Free Trial?
A: There is currently no free trial offer being made for this supplement.
Q: How Many Capsules are in Each Bottle?
A: There are 90 capsules contains inside each bottle of VigRx Prostate Support.
Q: Where Can I Purchase VigRx Prostate Support?
A: VigRx Prostate Support can be bought from the official Leading Edge Health website.
VigRx Prostate Support Review – Final Verdict
VigRx Prostate Support is an effective health supplement for managing the health of the prostate. It is a natural product that can suppress prostate enlargement.
In addition, VigRx Prostate Support can help maintain healthy sexual function for the user. There is also the added benefit that this supplement will help men have more control over their erections and it will most likely also have a positive impact on urinary tract health.
This is not a product for curing any prostate disease but there is no reason to avoid it since it is a supplement and never makes any claims of curing diseases. In the end VigRx Prostate Support is a quality prostate supplement that deserves your attention.