Schiff Prostate Health Overview
Prostate is one of the most important glands in our body which is involved in sexual hormones production. Besides its role in our sexual life, prostate also influence our urinary system in one way or another. Different kind of diseases can affect the prostate functioning in the form of prostatitis, benign prostatic hypertrophy and prostate cancer. Due to advancement in health and medicine fields, scientists have now been able to make different kind of supplements which greatly improve the prostate health and functioning. One of such supplements is Schiff Prostate Health supplement which has vastly reduced progression of prostate diseases. A remarkable improvement has been seen among patients who have used Schiff Prostate Health for their prostate problems.
What Research Demonstrates about Schiff Prostate Health?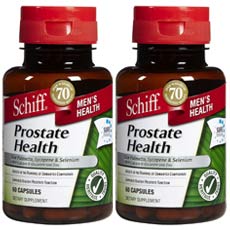 Recent studies carried out by American Cancer Society have estimated that about 30,000 people would be at risk of dying because of prostate cancer in 2014 in America, and more than 200,000 new cases of prostate cancer would be diagnosed. Prostate cancer is the second most common cancer among the Americans. Although Schiff prostate health doesn't provide a cure for prostate cancer but it plays a great role in improving the signs and symptoms associated with prostate cancer.
Schiff Prostate Health Elements/Ingredients
Schiff Prostate Health is a unique combination of number of natural herbs and trace elements. Basic aim of its all ingredients is to bring back the prostate to its healthy state. It is generally comprised of:
Lycopene
Saw palmetto
Zinc
Calcium
Copper
Selenium
Vitamin D
these are the ingredients which you may also find in the top prostate supplements.
Schiff Prostate Health Functions
The overall mechanism of Schiff prostate Health can easily be described by the role each of its ingredients is playing.
Lycopene: Lycopene is a form of beta carotene which is naturally present in different kinds of fruits and vegetables. It helps in protecting the prostate against free radicals thus it plays an anti oxidant role in preventing the prostate cellular damage.
Saw Palmetto: Saw palmetto helps in improving the overall health of the prostate gland. It also helps in metabolism of the prostate hormones within the prostate gland.
Calcium and Vitamin D: Calcium and vitamin D plays important role in complete emptying of the bladder by forcing increase contractile force upon the bladder to prevent any kind of urine pooling inside the bladder.
Zinc: Zinc is found in highest concentrations in prostate and it mostly plays its role during hormone production. Some studies suggest that zinc also decreases the chances of getting prostate cancer but it has not been proven yet.
Schiff Prostate Health Benefits
According to various studies and trials upon prostate patients performed in University of Maryland, it has been proved that Schiff Prostate Health can be beneficial in a variety of ways such as
It helps in

overall size reduction of the prostate

It

helps in increasing the contractile tone of the urethra

thus preventing any back passage of urine
Chances of

post urination dribbling are highly reduced

It helps the man in a huge extent by increasing the sexual drive for his partner
Schiff Prostate Health Side Effects and Drawbacks
Schiff Prostate Health is hardly associated with any kind of side effects apart from general GIT disturbances. Its only drawback is its long duration therapy for at least 3 months, before any improvement can be seen in prostate problems.
Cost Price of Schiff Prostate Health
Schiff agencies have been making these prostate health supplements since last twenty years and it is easily available in every part of America at the most affordable price ranging from $15 to $20. At this price range it is too much cost effective as compare to the other prostate supplements.
Recommended Use of Schiff Prostate Health
It is recommended that Schiff Prostate Health should be taken continuously for almost three months in a daily dose of two capsules taken along with meal, after which an improvement in the prostate function and symptoms would be seen in the patients. It is a lengthy process and one has to remain calm and patient for the result outcome.
Customer's Reviews and Effectiveness of Schiff Prostate Health
There is a slight variation among the people opinions that have used Schiff prostate Health themselves. Some people have labeled it as the best prostate supplement, while others have branded it as useless and only money wasting supplement without any kind of positive result outcome.
"After using a number of prostate supplements since last 5 years, I have now recently shifted to Schiff prostate health and I am quite satisfied with its usage as it has almost completely eradicated my urination problems. A big thumbs up to the Schiff supplements; I got my life back because of you"
Conclusion
Keeping in view the overall role prostate is playing in our lives; one has to remain vigilant and active in treating any kind of prostate related symptoms well in time. A simple solution for your prostate problems lies in Schiff Prostate Health. The choice is now yours; whether you want to get rid of urination problems right in the beginning by start taking Schiff prostate Health supplement or you wait longer and get yourself ready for prostate surgery.
After reading all the review ball is in your court, decide whether you want to place this in the best prostate formulas or not.
Prostate health is of great concern for men today. Preventative measures may reduce the risk of developing prostate cancer and improve overall prostate health and function. A quality, premium prostate supplement may shrink the prostate, minimize frequent urination, promote sexual function and contain quality ingredients.
Below you'll find some of the most effective prostate supplements on the market today, in our opinion.
Our Top Prostate Support Choices
Prostate Plus -
5% OFF Today

Maintaining Prostate Health*
Maintaining Prostate Health*