What is ProTeva Plus?
Many times that we have heard, seen or experienced the difficulties associated with the renal system as a result of poor prostate health.
The prostate gland is located just under the bladder, and whenever it becomes unhealthy, it's the renal system that will suffer.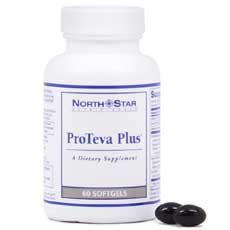 The need to keep the prostate gland healthy has given rise to a number of prostate supplements and surgical procedures being offered to men with this problem.
Some of these methods are harmful while some, even though not dangerous, are not as effective as they claim to be.
ProTeva Plus is one of the supplements introduced to help support prostate health.
However, very little information is available for this product other than the fact that it claims to support a healthy prostate gland.
Who is the Manufacturer of ProTeva Plus?
The company that makes this product is NorthStar Nutritionals.
They have an official website for their product, it contains a very limited amount of information for consumers.
According to the website, the supplement can completely void your renal tract thus regulating the regular flow of the urine[1].
The product is said to be all-natural although there is not a lot of information provided to substantiate this claim.
However, the manufacturer does state that, compared to other best supplements for prostate on the market like Prostate Revive and ViProsta, this product is one of the most effective.
How Does ProTeva Plus Work?
This dietary supplement claims to treat Benign Prostatic Hyperplasia[2], which is a prostate enlargement condition that occurs in male individuals over 40.
This supplement is believed to contain naturally rich ingredients that support a reduction of the prostate gland, thereby relieving the urinary problems associated with BPH.
ProTeva Plus Ingredients – Are they Safe & Effective?
The only ingredient used in ProTeva Plus that is explained in any detail is Lindera Root Extract, which is said to:
Help maintain a healthy kidney[3].
Reduce frequent urination
Have a history of use by Chinese traditional healers
The full list of ingredients, and the amounts contained in this supplement, is not provided but the key active substances are known to include:
Saw Palmetto– According to the International Journal of Oncology, it might be helpful in the treatment of prostate cancer, as it appeared to slow down the growth of cells affected by the condition.
Zinc[4] – is a nutrient that people need to stay healthy.
Selenium – is an essential mineral that's vital to your health.
Vitamin D3 – helps keep your immune system in top shape.
Lycopene[5] – is a plant nutrient with antioxidant properties.
Horsetail – is an herb that has historically been used as a diuretic to make you urinate more frequently.
Three leaf caper – mainly used for herbal preparation of Ayurvedic medicines.
What are the Advantages of ProTeva Plus?
It maintains the health of the kidneys and the bladder.
It may improve the prostate's health.
It may regulate the normal flow of the urine.
It helps empty the bladder completely
It reduces frequent urination due to prostate enlargement.
What are the Disadvantages of ProTeva Plus?
There is very little information given about the product
List of ingredients with adequate information is not provided.
There are no customer testimonials to support product claims.
It is expensive when compared to other supplements with the same benefits.
No clinical tests indicated, which may suggest results are cited from elsewhere.
ProTeva Questions and Answers
Q: How Should You Take ProTeva Plus?
A: Each bottle contains 60 soft gels, and the recommended dosage for this product is one capsule in the morning and one capsule in the evening before taking any meals.
Q: What are the Precautions To Take When Using ProTeva Plus?
A: You must consult a doctor before use. Keep away from children.
Q: How much did ProTeva Plus cost?
A: The pricing of the supplement as obtained from the official website is as stated below;
Single bottle cost $59.95
$179.85 for 3 bottles.
$359.70 for 6 bottles.
Q: Who manufacture ProTeva Plus?
A: The company that makes ProTeva Plus is NorthStar Nutritionals.
Q: Does ProTeva Plus interact with other medication?
A: There is no mention of adverse reactions with other medications.
However, considering that the information given is limited, any potential users must consult their doctor first before they use the product.
ProTeva Plus Review – Final Verdict
There is no customer feedback and no clinical study data shown on its official website which makes it hard to be able to fully judge the effectiveness of this product.
The company claims that ProTeva Plus maintains the health of the kidneys and bladder as the primary benefits, but it is not guaranteed to improve the general health of the male.
'ProTeva Plus' can be purchased through their Official WebSite.
Prostate health is of great concern for men today. Preventative measures may reduce the risk of developing prostate cancer and improve overall prostate health and function. A quality, premium prostate supplement may shrink the prostate, minimize frequent urination, promote sexual function and contain quality ingredients.
Below you'll find some of the most effective prostate supplements on the market today, in our opinion.
Our Top Prostate Support Choices
Prostate Plus -
5% OFF Today

Maintaining Prostate Health*
Maintaining Prostate Health*