In This Review
Overview
Benign prostatic hyperplasia (BPH) or an enlarged prostate can start to negatively impact your life as young as 31, and by the time you're in your 50s, you have a 50% chance of having an enlarged prostate. This number continues to increase as you age and 80% of men 70 and over suffer from an enlarged prostate . As the prostate ages, it starts to expand and constrict the urethra causing greater urgency, frequency, a weak stream, and difficulty emptying the bladder[1].
Thera Botanics, the manufacturer of Prosvent, claim that it will relieve urinary symptoms related to an aging prostate through its unique blend of all-natural ingredients in just 30 days. While the active ingredients do have scientific backing, they are in smaller doses than those used in clinical studies.
How Does Prosvent Rate?
Overall Rating: 3.8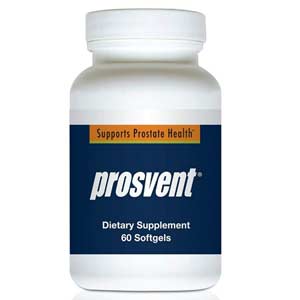 Prosvent

Brand Highlights
Natural Ingredients based on science
Gluten-Free
Doctor Approved
30-Day Money Back Guarantee
Key Ingredients
Beta-Sitosterol
Saw Palmetto
Stinging Nettle
Pygeum Africanum
Pumpkin Seed Oil
Phytosterols
Lycopene
Pros
Reduce Frequency of Urine.
Reduce The Urgency to Urinate
Improve Weak Flow
Help you to Fully Empty Your Bladder
Cons
Conflicting Research On Some Ingredients.
More Expensive Than Similar Brands
Ingredients Lack Effective Dosages.
---
How Does Prosvent Prostate Supplement Work?
Prosvent Prostate Supplement works by increasing the flow of urine, which helps flush out harmful toxins that could be causing your discomfort. It also contains a unique blend of ingredients that work together to help improve your prostate health.
The Prosvent Prostate Supplement formula contains L-arginine, which is an amino acid that helps relax muscles in the prostate and bladder and promotes healthy blood flow throughout your body. It also contains saw palmetto extract and pygeum africanum extract, both of which have been shown to help reduce inflammation within the prostate and keep you from feeling backed up.
Prosvent Prostate Supplement also has vitamin D3 in it for additional support for healthy bones and joints, as well as magnesium stearate for a smoother mixability.
Who Should Buy Prosvent Prostate Supplement?
Prosvent Prostate Supplement is a dietary supplement designed to improve the health of your prostate and help you live a better quality of life.
Prosvent is safe for men of all ages, and it's easy to use—just take two capsules daily. And because it's made from all-natural ingredients, there are no side effects or negative interactions with other medications.
If you're looking for a way to keep your prostate healthy, Prosvent Prostate Supplement may be the right choice for you.
Prosvent Ingredients – Are they Safe & Effective?
Beta-Sitosterol
Beta-sitosterol is a phytosterol or plant sterol. It's found in many plants and fruits, including corn, soybeans, wheat germ oil, and oats. Beta-sitosterol has been shown to have a number of health benefits, including improving cholesterol levels, reducing inflammation, fighting cancer cells, and treating erectile dysfunction, and helping with BPH[2]
Saw Palmetto
Saw palmetto is a small palm tree that grows in the southeastern United States. The berries of the saw palmetto plant have been used for centuries as an herbal remedy for inflammation, prostate enlargement, and urinary tract health in men as we documented in our review of Swisse Ultiboost Prostate.[3].
Stinging Nettle
Stinging nettle is one of the most common plants, and it's been used for centuries as a natural remedy for many ailments. It can be used to treat everything from arthritis to urinary tract infections and even diabetes.
Pygeum Africanum
Pygeum Africanum is a herb that has been used for centuries in Africa to treat urinary tract disorders and help with sexual function. It is a natural ingredient used to support prostate health and enhance male sexual performance.
Pygeum africanum has been traditionally used to support prostate health. As explained in a comprehensive ProstaStream Review, it may help alleviate symptoms associated with benign prostatic hyperplasia (BPH), a common condition in ageing men characterised by an enlarged prostate gland.
Pumpkin Seed Oil
Pumpkin seed oil is an amazing source of nutrients. It's rich in Omega 3, 6, and 9 fatty acids and has been said to help with skin issues such as eczema, psoriasis, and acne. We recommend using this oil topically on your body as well as internally for a boost of vitamins and nutrients. We have provided more detailed information in our article on Prostate 360 reviews.
Phytosterols
Phytosterols are compounds found in plants that have been shown to reduce cholesterol levels. They're also beneficial for prostate health because they prevent inflammation and block the production of unwanted enzymes that cause irritation in the urinary tract or bladder.
Lycopene
Lycopene has been shown to have beneficial effects on prostate health. In fact, a study published in the Journal of Nutrition found that men with higher intakes of lycopene had significantly lower rates of prostate cancer than men with lower intakes.
Lycopene may also help prevent heart disease by lowering cholesterol levels in the bloodstream, according to the American Heart Association. And there's evidence to suggest that it could help protect against osteoarthritis and macular degeneration as well.

Prosvent FAQs
Q: How Do I Take Prosvent?
A: You take one capsule twice daily with a meal unless otherwise instructed by your physician.
Q: Does Prosvent Have Any Side Effects?
A: The reviews of Prosvent have not reported any side effects. However, if you have a sensitive stomach, you may experience diarrhea, nausea, or stomach cramps. Also, if you have any urinary issues, you need to have them checked out by a physician.
Q: What Do The Reviews Or Prosvent Say?
A: Prosvent is one of the most popular prostate supplements on the market today. It has a 4.2 rating on Amazon and a 3.9 rating on Google, which is pretty good for something that's so well known. Prosvent claims to help with urinary flow, frequency, and urgency. It also claims to help with sexual function and overall performance.
Q: Does Prosvent Have Any Promotions Or Discounts?
A: Yes. The brand's website offers a free one-month trial of this prostate health supplement. You can use the product for 30 days free of charge. They also offer a discount for multi-bottle purchases and signing up for emails, as well as subscribing and saving.
Q: Where Can I Buy Prosvent?
A: You can buy Prosvent at Walmart, Amazon and at the brand's official website.
Q: Should I take Prosvent With Food?
A: Yes, you should take Prosvent with a meal. This helps prevent any discomfort symptoms related to your stomach.
Q: What Is Prosvent Return Policy?
A: Prosvent has a 100% satisfaction guarantee which allows you to cancel any orders and receive a refund within 30 days of purchase. All you need to do is contact customer service, and they will refund you minus shipping and processing fees. You can also return the unused supplement and get your money back.
Prosvent Reviews from Customers
"Prosvent is an amazing product. It helps me to enhance male sexual performance and adds more energy to the body."Cash
Final Word
Prosvent is an all-natural supplement that promises to be a great help for men who struggle with urinary incontinence. It's made from seven different ingredients, including Vitamin E and L-Arginine. The company says that it's made from the finest quality ingredients and is completely safe for use.
However, there are some concerns about Prosvent. The first is that it doesn't contain any actual proof that it works. The website does not provide any clinical studies that show how well this product works in comparison to other similar products on the market.
The second concern is that there are many products like this one on the market today like Ultra Natural Prostate, so why should you choose Prosvent over them? There's no clear answer to this question either because Prosvent doesn't offer anything special or unique compared with other brands.
Prostate health is of great concern for men today. Preventative measures may reduce the risk of developing prostate cancer and improve overall prostate health and function. A quality, premium prostate supplement may shrink the prostate, minimize frequent urination, promote sexual function and contain quality ingredients.
Below you'll find some of the most effective prostate supplements on the market today, in our opinion.
Our Top Prostate Support Choices
Verdict on Claimed Benefits: Below is our summary of the available evidence for the claimed benefits of below mentioned prostate health supplements based on the available research:
Product reviews are provided for informational purposes only and reflect solely the views and opinions expressed by the contributors and not those of Consumer Health Digest. We do not verify or endorse any claims made in these reviews. Please read the full product reviews disclaimer. *All individuals are unique. Your results can and will vary.
Ask a Question
Prosvent Ques and Ans
Q: Is there any negative effects when Prosvent is taken with traditional t-2 Diabetes meds and BP meds: amlodipine, Insulin, asperin 81mg, glimepiride, lisinopril, metformin, rosuvastatin, and tamsulosin?

A: Prosvent is a dietary supplement often marketed for prostate health. However, it's essential to look for caution when taking dietary supplements alongside prescription medications, especially if you have conditions like diabetes and high blood pressure. This prescription medication can interact with the ingredients in the supplement. Therefore, consult your doctor before proceeding with any supplement.
Have a Question? Please Tell Us What We Are Missing Here!
PRODUCT NAME
Prosvent
PRODUCT BRAND
Prosvent
PRICE (in USD)
$55.00
ITEM FORM
Softgels
UNIT COUNT
60 Softgels
INGREDIENTS
Beta-Sitosterol, Saw Palmetto, Stinging Nettle, Pygeum Africanum, Pumpkin Seed Oil, Phytosterols, and Lycopene.
$54.95 At Amazon
$55.95 At Walmart
3 Sources
We review published medical research in respected scientific journals to arrive at our conclusions about a product or health topic. This ensures the highest standard of scientific accuracy.
[1] Loeb, S., Kettermann, A., Carter, H. B., Ferrucci, L., Metter, E. J., & Walsh, P. C. (2009). Prostate Volume Changes Over Time: Results From the Baltimore Longitudinal Study of Aging. The Journal of urology, 182(4), 1458.
https://www.ncbi.nlm.nih.gov/pmc/articles/PMC5003410/
[2] Beta?sitosterols for benign prostatic hyperplasia.
https://www.ncbi.nlm.nih.gov/pmc/articles/PMC8407049/
[3] Saw Palmetto
https://www.ncbi.nlm.nih.gov/pmc/articles/PMC6859144/
**This is a subjective assessment based on the strength of the available informations and our estimation of efficacy.
*Result may vary. If you are pregnant, nursing, have a serious medical condition, or have a history of heart conditions we suggest consulting with a physician before using any supplement. The information contained in this website is provided for general informational purposes only. It is not intended to diagnose, treat, cure, or prevent any disease and should not be relied upon as a medical advice. Always consult your doctor before using any supplements.
Disclosure of Material connection: Some of the links in the post above are "associate sales links." This means if you can click on the link and purchase an item, we will receive a commission. Regardless, we only recommend products or services which we use personally and/or believe will add value to our readers. We are disclosing this in accordance with the Federal Trade Commission's 16 CFR, Part 255: "Guides Concerning the Use of Endorsements and Testimonials."