Prostate Strength Product Overview
Prostate enlargement is a very common disorder among men especially older men. Studies says that about 60% of men over 40 years of age and about 75% of men over 50 years of age suffer from this condition also known as Benign Prostatic Hyperplasia (BPH). An even graver problem affecting the prostate is prostate cancer; 90% of the prostate cancer remains undetected and untreated until it spreads to other parts of the body like lymphatic system and bone. The treatment of prostate problems through medication and surgery is effective, but it has side effects; that's why many patients resort to herbal and natural supplements to prevent these conditions and nip them in the bud, before they develop to a stage where surgery is unavoidable.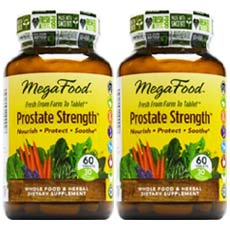 Prostate Strength is a revolutionary herbal medicine used as a food supplement and prescribed for the treatment of prostate problems and their resulting symptoms. This product has almost no side effects. Rather, it positively affects the other organs of the body. The supplement should help you maintain your prostate healthy and functional as you grow older. It is especially helpful for patients suffering from BPH as it relieves the urination problems associated with BPH like dribbling and incomplete voiding.
What Prostate Strength Claims To Do
Prostate Strength is enriched with different natural ingredients that are required to keep the prostate gland healthy and functional. The Graminex Pollen Extract in Prostate Strength helps in keeping the prostate functions healthy and maintaining the urinary flow normal and the Maitake Mushroom & foodstate selenium in the supplement keep the reproductive tissues of the prostate gland healthy. The Maitake Mushroom helps maintain the health of cellular tissues whereas foodstate selenium promotes prostate strength and helps keep it in its normal size.
Prostate Strength Ingredients
Prostate Strength is enriched with the FoodState Nutrients extracted from different fresh local foods. The ingredients are crafted with the company's Slo-Food Process, which ensures the supplement contains authentic nourishment in pure form. The ingredients used in Prostate Strength are used in combination with natural nourishing elements like rice bran, plant cellulose, vegetable lubricants and guar gum.
State Prostate Strength Features
Prostate Strength is prescribed for helping patients suffering from prostate problems such as BPH. It relieves BPH symptoms and helps in shrinking the prostate to normal size.
How Does Prostate Strength Work
Prostate Strength is made up of a combination of ingredients that are important for the health of prostate gland such as:
Zinc is one of the most important ingredients for the prostate gland. Zinc's presence in Prostate Strength helps in diminishing the symptoms of the BPH and thus it ensures the normal size of the prostate.
The Selenium in Prostate Strength is an effective agent in shielding against prostate cancer, heart disease, hepatitis, arthritis among other conditions.
Copper helps as an aid to produce new blood cells and a retardant to the development of cancer in the prostate cell.
The saw palmetto in Prostate Strength has significant benefits for the prostate gland. It is widely used as a very effective nerve sedative, expectorant, and a nutritive tonic acting upon the digestive tract. Its most direct action appears to be upon the reproductive organs when they undergo tissue damage. Saw Palemtto also controls irritation of mucous tissues. Saw palmetto extract is the most popular herbal treatment for benign prostatic hyperplasia. It is indicated for mild to moderate improvement in urinary symptoms and flow measures.
Advertisement
*All individuals are unique. Your results can and will vary.
The Maitake Mushroom in Prostate Strength is indicated for the treatment of cancer and as a protective measure from some other chemical side effects. It contains elements said to be effective in fighting tumors and with immune stregthening properties. In assition, the Maitake Mushroom is a very fruitful element for the treatment of chronic fatigue syndrome (CFS), HIV/AIDS, hepatitis, diabetes, high cholesterol, hay fever, high blood pressure, weight loss or control and infertility.
The Stinging nettle extract used in Prostate Strength is obtained from the leaves and roots of the plant, and is very effective in the treatment of anaemia as it contains a high concentration of iron. It also impacts the level of testosterone, which has a significant role in prostate problems.
Cranberry is a very common herbal ingredients used for the prevention and treatment of urinary tract infections (UTIs). It also used for neurogenic bladder (a bladder disease), as well as to deodorize urine in people with urinary incontinence (difficulty controlling urination). Some people use cranberry to increase urine flow, kill germs, speed skin healing, and reduce fever.
Studies proved that Flower pollen has a great effect in the treatment of BPH and chronic non-bacterial prostatitis.
The chemicals in the pumpkin seed cause an increase in urination (diuretic effect), which helps relieve bladder discomfort. Pumpkin seed also contains a chemical that might kill intestinal worms.
Prostate Strength Drawbacks
As an herbal medicine food supplement it is not approved by the FDA and it has few studies that support its effectiveness.
Prostate Strength Serving Size
Prostate Strength comes in vacuum phial containing 60 pills. The recommended dose is 2 tablets daily.
Direction Of Prostate Strength
The following points must be kept in mind when using Prostate Strength:
Prostate Strength is

recommended for the adult males at least 30 years old

.
The medicine must be

kept out of reach of children

.

Don't exceed the recommended dose

unless instructed to by your physician.
Risks Associated With Prostate Strength
There are few side effects reported like: skin rash, nausea, vomiting and diarrhea.
Alternatives to Prostate Strength
Conclusion
Prostate Strength is a natural food supplement recommended for patients suffering from prostate problems specially BPH. It contains a blend of prostate health promoting ingredients. The supplement's ingredients enable it to help patients and noticeably improve their symptoms, but it is advisable to consult with a doctor prior using Prostate Strength.
Advertisement
*All individuals are unique. Your results can and will vary.
Prostate health is of great concern for men today. Preventative measures may reduce the risk of developing prostate cancer and improve overall prostate health and function. A quality, premium prostate supplement may shrink the prostate, minimize frequent urination, promote sexual function and contain quality ingredients.
Below you'll find some of the most effective prostate supplements on the market today, in our opinion.
Our Top Prostate Support Choices
Verdict on Claimed Benefits: Below is our summary of the available evidence for the claimed benefits of below mentioned prostate health supplements based on the available research:
Product reviews are provided for informational purposes only and reflect solely the views and opinions expressed by the contributors and not those of Consumer Health Digest. We do not verify or endorse any claims made in these reviews. Please read the full product reviews disclaimer. *All individuals are unique. Your results can and will vary.
Ask a Question
Have a Question? Please Tell Us What We Are Missing Here!
PRODUCT NAME
Prostate Strength
PRODUCT BRAND
Prostate Strength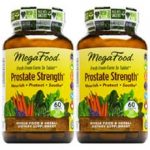 **This is a subjective assessment based on the strength of the available informations and our estimation of efficacy.
*Result may vary. If you are pregnant, nursing, have a serious medical condition, or have a history of heart conditions we suggest consulting with a physician before using any supplement. The information contained in this website is provided for general informational purposes only. It is not intended to diagnose, treat, cure, or prevent any disease and should not be relied upon as a medical advice. Always consult your doctor before using any supplements.
Disclosure of Material connection: Some of the links in the post above are "associate sales links." This means if you can click on the link and purchase an item, we will receive a commission. Regardless, we only recommend products or services which we use personally and/or believe will add value to our readers. We are disclosing this in accordance with the Federal Trade Commission's 16 CFR, Part 255: "Guides Concerning the Use of Endorsements and Testimonials."