In This Review
What is Prostate Complete?
Prostate Complete is a supplement that is geared towards helping the user ensure that their prostate is kept healthy and functions normally. The product is such an important one since with an unhealthy prostate, comes a myriad of complications that in most cases are so difficult to manage. Some may even lead to ultimate surgery. It is therefore a product of choice to any individual that is mindful of their well-being in terms of the health of their prostate.
This is a great prostate supplement, however, is quite affordable and trades only at fourteen point six nine dollars making it affordable to the majority of people.
How Does It Rate?
Overall Rating: 3.8
Prostate Complete
Brand Highlights
The product is manufactured by Real Health Company which is based in the United States of America.
The company is well known for producing the best supplements in the market, especially in reproductive health.
This product comes into the market after a long time of thorough research on its key ingredients that make it a shoulder above other products.
A complete combination of herbs, vitamins, amino acids, and zinc is present in The Prostate Formula soft gel, which is intended to support normal prostate function, including free urine flow.
Key Ingredients
Lycopene
Pumpkin Seed Extract
Selenium
Pros
This is the natural prostate supplement that boosts the health of the prostate glands in the body.
The product is also much affordable to majority of the users.
Ordering of the product can be done online at the comfort of the use and the product be delivered at their doorstep.
In case of the delay in delivery, there is always money payback to the buyer.
The product helps in ensuring free flow of urine from the body and this removes toxic substances from the body.
Cons
Delivery of the product upon placement of an order may take longer duration in some cases. This may be so, especially if the user is located at further distances from the distribution points.
The product is said to claim more than it can manage in terms of benefits to the user.
Some users have had allergic reactions to the product. However, being a natural product, it is known to result in extremely negligible levels of allergic reactions.
It is tiresome taking tablets every day for a period of thirty days none-stop.
---
How Does It Work?
The product combines its well-targeted ingredients to give the user perfect health in the prostrate regions of the body. This both in improving the health of the prostate gland and allowing ease of flow within the urinary system. Just by taking one capsule per day, the Prostate Complete will function well in this effort and give the most desirable result.
Prostate Complete Ingredients – Are they Safe & Effective?
There are several natural ingredients that are combined together in this product to give the best results to every user. Among these ingredients include the following:
Lycopene
This is a powerful ingredient in the supplement that is capable of harnessing free radicles in the body hence making the cells in the body to be healthy and in the best state to perform their functions.
The ingredient is also an important anti-oxidant in the body thus helping in the ionic balance in the body. All these help the prostate to stay healthy[1].
Pumpkin Seed Extract
This extract is known to offer nutrition and protection to the prostate cells. The ingredient is natural and of significant benefit in maintaining the good health status of the prostate[2].
Selenium
Selenium is also one of the best ingredients that one will get when using this supplement. It is capable of ensuring that cells remain active and any wastes are taken away or transported safely to the excretory organs of the body. This further ensures good health of the prostate glands in the body[3].
FAQs
Q: What Is Prostate Complete's Dosage Instructions?
A: An adult user should take one tablet per day for a period of thirty days.
Q: What Are Prostate Complete's Precautions?
A: If already one is taking some medications to help with prostate complications, it is advisable to consult with a registered physician on whether to use this supplement. Keep the product in a cool and dry place all the time.
Q: Does Prostate Complete Has Any Side Effects?
A: This product has never shown any bad side effects. However, few cases of allergic reactions have been reported scantily.
Q: Does Prostate Complete Interact With Other Medications?
A: The supplement is natural and will most probably work well with other medications that one may be taking.
What Do the Reviews Say?
Seems To works for me
So far Prostate Complete seems to work. I do like it better than the traditionally hard-to-shallow pills. I feel that they get the job done and reduce urges to use the restroom. ~ Goerge
Final Verdict
Prevention is better than cure, so the saying goes, by taking this product, one will be boosting the health of their prostate. By doing so, it would be possible for the immunity of the glands to be boosted hence being in a position to fight back mild infections. This is an area that Prostate Complete comes in. the product is quite affordable even though the magnitude of its use is so immense. It is therefore a highly recommended remedy for prostate health.
After having the thorough information about the product do you think this will be placed in the top prostate formulas? We would still suggest you check the best of the best prostate formulas so that you benefit the most.
Prostate health is of great concern for men today. Preventative measures may reduce the risk of developing prostate cancer and improve overall prostate health and function. A quality, premium prostate supplement may shrink the prostate, minimize frequent urination, promote sexual function and contain quality ingredients.
Below you'll find some of the most effective prostate supplements on the market today, in our opinion.
Our Top Prostate Support Choices
Verdict on Claimed Benefits: Below is our summary of the available evidence for the claimed benefits of below mentioned prostate health supplements based on the available research:
Product reviews are provided for informational purposes only and reflect solely the views and opinions expressed by the contributors and not those of Consumer Health Digest. We do not verify or endorse any claims made in these reviews. Please read the full product reviews disclaimer. *All individuals are unique. Your results can and will vary.
Ask a Question
Have a Question? Please Tell Us What We Are Missing Here!
PRODUCT NAME
Prostate Complete
PRODUCT BRAND
Real Health
PRICE (in USD)
$40.00
ITEM FORM
Softgels
UNIT COUNT
30 Softgels
INGREDIENTS
Lycopene, Pumpkin Seed Extract, and Selenium.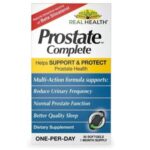 $36.00 at Amazon
$37.83 at Walmart
3 Sources
We review published medical research in respected scientific journals to arrive at our conclusions about a product or health topic. This ensures the highest standard of scientific accuracy.
[1] Chen P, Zhang W, Wang X, Zhao K, Negi DS, Zhuo L, Qi M, Wang X, Zhang X. Lycopene and Risk of Prostate Cancer: A Systematic Review and Meta-Analysis. Medicine (Baltimore). 2015 Aug;94(33):e1260. doi: 10.1097/MD.0000000000001260. PMID: 26287411; PMCID: PMC4616444.
https://www.ncbi.nlm.nih.gov
[2] Hong H, Kim CS, Maeng S. Effects of pumpkin seed oil and saw palmetto oil in Korean men with symptomatic benign prostatic hyperplasia. Nutr Res Pract. 2009 Winter;3(4):323-7. doi: 10.4162/nrp.2009.3.4.323. Epub 2009 Dec 31. PMID: 20098586; PMCID: PMC2809240.
https://www.ncbi.nlm.nih.gov
[3] Karunasinghe N, Ng L, Wang A, Vaidyanathan V, Zhu S, Ferguson LR. Selenium Supplementation and Prostate Health in a New Zealand Cohort. Nutrients. 2019 Dec 18;12(1):2. doi: 10.3390/nu12010002. PMID: 31861307; PMCID: PMC7019779.
https://www.ncbi.nlm.nih.gov
**This is a subjective assessment based on the strength of the available informations and our estimation of efficacy.
*Result may vary. If you are pregnant, nursing, have a serious medical condition, or have a history of heart conditions we suggest consulting with a physician before using any supplement. The information contained in this website is provided for general informational purposes only. It is not intended to diagnose, treat, cure, or prevent any disease and should not be relied upon as a medical advice. Always consult your doctor before using any supplements.
Disclosure of Material connection: Some of the links in the post above are "associate sales links." This means if you can click on the link and purchase an item, we will receive a commission. Regardless, we only recommend products or services which we use personally and/or believe will add value to our readers. We are disclosing this in accordance with the Federal Trade Commission's 16 CFR, Part 255: "Guides Concerning the Use of Endorsements and Testimonials."