In This Review
Prosta-Strong RED Overview
Prosta-Strong RED is a two-in-one supplement that has been developed for men. This prostate health product has an advance formula that utilizes various natural compounds known to provide two specific benefits in the male body. The first benefit that the product provides is support for the male prostate. The prostate plays an important part in the male reproductive system and also has a function in a man's sexual wellbeing. The second benefit that is provided by Prosta-Strong RED is a boost in blood circulation through the inclusion of natural compounds known to boost Nitric Oxide levels in the body.
How Does It Rate?
Overall Rating: 3.9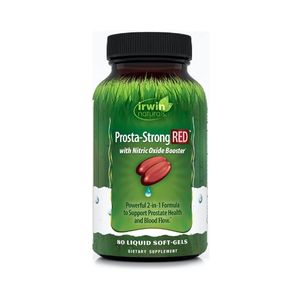 Prosta-Strong Red
Brand Highlights
The manufacturer of Prosta-Strong RED is Irwin Naturals.
The company produces a range of natural supplements that offers different kinds of benefits for the user.
They have products that are tailored specifically towards men or women, as well as general products that can be used to help the user lose weight, boost energy and improve mental health.
The head office of Irwin Naturals is situated in Los Angeles. They have a website where customers can purchase their products. The website also lists an email address and a toll-free number that can be used for support.
Key Ingredients
L-Citrulline
Saw Palmetto
Pros
Prosta-Strong RED contains several scientifically-proven ingredients that can help to reduce inflammation in the body; thus resulting in a relief of the symptoms that a user may experience because of an enlarged prostate.
Unlike most prostate support products that only focuses on the user's prostate function and wellbeing, but also helps to boost blood circulation. This will not only be useful for supporting the user's heart function, but will also be beneficial for boosting sexual health and erectile quality.
All of the manufacturer's products are created within the United States and their ingredients are sourced from trusted suppliers locally.
Cons
The product may be potentially harmful to individuals who have low blood pressure as the ingredients can cause blood pressure levels to reduce.
---
How Does It Work?
According to the manufacturer, Prosta-Strong RED is intended for men seeking a natural way to support prostate health and blood flow.
in addition
This one-of-a-kind formula contains L-Citrulline, an amino acid that is easily converted to L-Arginine, which is then converted to Nitric Oxide by the body.
Saw Palmetto extract is included in this formula because it supports the male genitourinary system and promotes optimal prostate health as well as healthy urinary flow in men as they age.
Similarly, Beta Sitosterols and Pumpkin Seed Oil provide natural fatty acids and plant sterols that support the prostate gland nutritionally.
Nitric oxide, a naturally occurring compound in the body, is important for cardiovascular and sexual health.
Prosta-Strong RED Ingredients – Are they Safe & Effective?
L-Citrulline
– L-Citrulline is converted into another amino acid known as L-Arginine in the human body. This amino acid is then converted into a molecule known as Nitric Oxide. Nitric Oxide is a molecule that can help to improve the vasodilation process of blood vessels; thus boosting blood circulation.[1]
Saw Palmetto
– Saw Palmetto is used by a lot of men who are experiencing symptoms of an enlarged prostate. More than $18 million of Saw Palmetto supplements are sold each year in the United States alone. The compound can help to slow down the rate at which the body produces an enzyme known as 5-alpha reductase. This enzyme is responsible for converting testosterone into another hormone, dihydrotestosterone. A high level of dihydrotestosterone has been linked to worse symptoms of an enlarged prostate and has even been linked to hair loss and a lower libido.[2]
Other ingredients that have also been included in Prosta-Strong RED includes Zinc, Pumpkin Seed Oil, Medium Chain Triglyceride, Ginkgo Biloba Leave Extract, Beet Juice Powder and Pygeum Extract. A BioPerine complex has also been included to enhance the absorption of the other ingredients found in the prostate formula.

FAQ's
Q: How should Prosta-Strong RED be Used?
A: A maximum of four capsules should be taken daily. For best results, the user should continue using this product for several months as the ingredients need to infuse into the user's body and it may take time for results to be experienced. The four capsules should be divided into two doses. Should the product be used for sexual purposes, four capsules can be taken in a single dose approximately one hour prior to sexual activity.
Q: Is There Information about Precautions?
A: Several ingredients that are included in Prosta-Strong RED can interact with some medication. If a user is taking any existing medication, they should first consult with a licensed physician before using this supplement. Since the ingredients may also be a problem when combined with certain medical conditions, users are also advised to see a doctor for a physical examination and to discuss the use of this product before they start using the product.
Final Verdict
Prosta-Strong RED offers support for the user's prostate and helps to improve blood flow. The product is perfect for any man that is experiencing symptoms of prostate issues, but is also adequate for those who simply wants to maintain a healthy prostate. The product may also increase the quality of the user's erections and improve their overall sexual function, thanks to the included Nitric Oxide boosters. Overall, the product seems to have a lot of potential, but users should ensure they first talk to a doctor to ensure they have no existing medical conditions or taking any medication that the supplement may interact with. Rest is in your hands to decide whether you want to place this in prostate supplements list or not.
Prostate health is of great concern for men today. Preventative measures may reduce the risk of developing prostate cancer and improve overall prostate health and function. A quality, premium prostate supplement may shrink the prostate, minimize frequent urination, promote sexual function and contain quality ingredients.
Below you'll find some of the most effective prostate supplements on the market today, in our opinion.
Our Top Prostate Support Choices
Verdict on Claimed Benefits: Below is our summary of the available evidence for the claimed benefits of below mentioned prostate health supplements based on the available research:
Product reviews are provided for informational purposes only and reflect solely the views and opinions expressed by the contributors and not those of Consumer Health Digest. We do not verify or endorse any claims made in these reviews. Please read the full product reviews disclaimer. *All individuals are unique. Your results can and will vary.
Ask a Question
PERFORM Pain Relieving Gel Ques and Ans
Q: Have come across this product.1) Is it network marketing? How can I get the products?

A: Yes, it is sort of a network marketing where products can purchased from the manufacturer's official website as well as from the auhtorised retailers.
Have a Question? Please Tell Us What We Are Missing Here!
PRODUCT NAME
Prosta-Strong RED
PRODUCT BRAND
Irwin Naturals
PRICE (in USD)
$24.99
ITEM FORM
Supplement
UNIT COUNT
80 softgels
INGREDIENTS
Saw Palmetto and L-Citrulline.
$24.99 at Amazon
$25.10 at Walmart
**This is a subjective assessment based on the strength of the available informations and our estimation of efficacy.
*Result may vary. If you are pregnant, nursing, have a serious medical condition, or have a history of heart conditions we suggest consulting with a physician before using any supplement. The information contained in this website is provided for general informational purposes only. It is not intended to diagnose, treat, cure, or prevent any disease and should not be relied upon as a medical advice. Always consult your doctor before using any supplements.
Disclosure of Material connection: Some of the links in the post above are "associate sales links." This means if you can click on the link and purchase an item, we will receive a commission. Regardless, we only recommend products or services which we use personally and/or believe will add value to our readers. We are disclosing this in accordance with the Federal Trade Commission's 16 CFR, Part 255: "Guides Concerning the Use of Endorsements and Testimonials."