In This Review
What Is Prosta-Max?
Prosta-Max is a kosher, gluten-free, vegan dietary supplement meant to maintain the healthy function of the prostate and prevent benign prostatic hyperplasia (BPH) simply known as prostate enlargement, and its symptoms such as the increase in the frequency of urination and the inability to completely empty the bladder. These symptoms befall over 50% men over the age of 50. Prosta- Max comes in a 200 capsules bottle costing is around $39.29. Prosta-Max was created by Country Life, a family-owned business dedicated to offer nutritional and health related products such as vitamins and supplements for over 35 years.
What Is BPH?
Prostatic hyperplasia is the increase in the number of cells of the prostate, which causes the prostate (regularly the size of a walnut) to be much larger.
Because the prostate is near the urethra, this increment in size limits the capacity of urine to pass through the urethra and, if it is large enough, it can block it entirely.
How Does It Rate?
Overall Rating: 3.9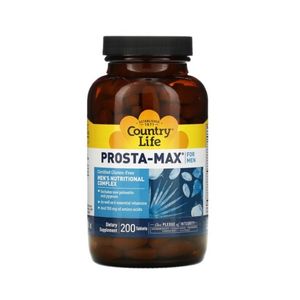 Prosta-Max
Brand Highlights
Country Life, a family-run business, is the company behind this product.
In addition, the company is responsible for a large number of other dietary supplements for both men and women.
This supplement, according to the manufacturer, contains ingredients that promote prostate wellness and functionality. The company also claims that its products are designed to provide users with total satisfaction while also improving their quality of life.
Key Ingredients
Vitamin C
Vitamin E
Thiamin (Vitamin B1) as thiamine hydrochloride
Riboflavin (vitamin B2)
Vitamin B6 (as pyridoxine hydrochloride)\
Calcium (as calcium carbonate), Glycine (free form)
Vegetable Oil Phytosterols (from soybean oil)
Saw Palmetto (serenoa repens) (berry)
Pygeum (pygeum africanum) (bark)
Stinging Nettle (urtica dioica) (leaf)
Lycopene (from tomato extract)
Pros
Incomplete emptying of the bladder
Need to urinate several times per night
Weak urine stream
Straining to urinate
Cons
Regular use is required to see improvement.
---
How Does Prosta Max Work?
This supplement employs a formula aimed at preventing and alleviating the symptoms of prostate-related issues such as BPH, which is caused by increased prostate cell production. The supplements improve men's prostate functionality and overall health significantly.
Prosta-Max Ingredients – Are They Safe & Effective?
Vitamin A: Vitamin A helps in apoptosis (the natural death of a cell) to cancer cells. This is important to prostate patients because even if BPH is not cancer, it increases the number of cells like cancer does, and so, many of the ingredients that help to treat and prevent cancer help to keep the cells from multiplying to an indiscriminate rate, and therefore help with BPH.
Vitamin C
: Studies suggest that high levels of vitamin C in the blood stream may cause the death of cancer cells.[1]
Vitamin E
: Studies conducted in the 1980's and 1990's suggested that vitamin E and selenium would help in preventing cancer.[2]
Thiamin (Vitamin B1) as thiamine hydrochloride
: When the methylation process (chemical process which is the addition of a methyl group to a substrate) goes wrong in certain genes that are natural tumor suppressors, there is an increase in the risk of developing cancer. Vitamin B12 is essential for the correct methylation process.
Riboflavin (vitamin B2)
: B2 is believed to help in preventing cancer.
Vitamin B6 (as pyridoxine hydrochloride)
: B6 increases the probabilities of survival in cases of early cancer which hasn't expanded to other organs.
Calcium (as calcium carbonate)
: Calcium has many important health benefits. Some of them are the correct function of muscles, vascular system, hormonal secretion and strong bones, and prostate related benefits.
Zinc (as zinc histidinate)
: Zinc is important to keep a healthy prostate as it helps to protect the prostate from early damage.[3]
Copper (as copper amino acid chelate)
: Copper helps to prevent BPH.
Glycine (free form)
: The combination of glycine, glutamic acid and alanine are known to reduce or even eliminate the symptoms of enlarged prostate.
Vegetable Oil Phytosterols (from soybean oil)
: Healthy fats may help in the survival of patients in early stages of cancer, which hasn't spread yet to other organs.
Saw Palmetto (serenoa repens) (berry)
: Saw palmetto is often found in prostate treatments for its many benefits.
Pygeum (pygeum africanum) (bark)
: It is commonly used for treating enlarged prostate and other inflammation problems.
Stinging Nettle (urtica dioica) (leaf)
: Stinging nettle is commonly used to treat urinary problems and the early stages of enlarged prostate.
Lycopene (from tomato extract)
: Lycopene can reduce the proliferation of cancer cells.[4]

FAQ's
Q: Is There Any Prosta-Max Usage Instructions?
A: One bottle of Prosta-Max contains 200 tablets. It is recommended to take 2 tablets per day before a meal, so one bottle will last for 100 days.
Q: Is Prosta-Max a Trustworthy Pill?
A: As long as it is not used in excess and in combination with other supplements, it should be safe. It has been proven to be effective and safe.
Q: What Kind of Reviews are Out there for Prosta-Max?
A: The majority of men who have used Prosta-Max for a long time period have given Prosta-Max good feedback. They said:
"Works great. My father has been using this product for years and it has helped him a lot."
"Used for many years, extremely good results"
There are a few men however who say they don't feel any particular change
"After eating all banks no changes were observed. I think we should try something else"
Read Next – Prosta-Complex

Prosta-Max Review – Final Verdict
It is very easy to see why the majority of men using Prosta-Max have reported feeling better. A lot of the ingredients have proven to be very good for treating and preventing HPB and prostate cancer. Prosta-Max contains a long list of ingredients that develop prostate health, and it only $39.29 for 100 a days' supply, it is an effective affordable option.
Prostate health is of great concern for men today. Preventative measures may reduce the risk of developing prostate cancer and improve overall prostate health and function. A quality, premium prostate supplement may shrink the prostate, minimize frequent urination, promote sexual function and contain quality ingredients.
Below you'll find some of the most effective prostate supplements on the market today, in our opinion.
Our Top Prostate Support Choices
Verdict on Claimed Benefits: Below is our summary of the available evidence for the claimed benefits of below mentioned prostate health supplements based on the available research:
Product reviews are provided for informational purposes only and reflect solely the views and opinions expressed by the contributors and not those of Consumer Health Digest. We do not verify or endorse any claims made in these reviews. Please read the full product reviews disclaimer. *All individuals are unique. Your results can and will vary.
Ask a Question
Have a Question? Please Tell Us What We Are Missing Here!
PRODUCT NAME
Prosta-Max For Men
PRODUCT BRAND
Biochem
PRICE (in USD)
$39.29
ITEM FORM
Supplement
UNIT COUNT
120 capsules
INGREDIENTS
Vitamin C, Vitamin E, Thiamin (Vitamin B1) as thiamine hydrochloride ,Riboflavin (vitamin B2), Vitamin B6 (as pyridoxine hydrochloride), Calcium (as calcium carbonate), Glycine (free form), Vegetable Oil Phytosterols (from soybean oil), Saw Palmetto (serenoa repens) (berry), Pygeum (pygeum africanum) (bark), Stinging Nettle (urtica dioica) (leaf) and Lycopene (from tomato extract).
Amazon
Walmart
**This is a subjective assessment based on the strength of the available informations and our estimation of efficacy.
*Result may vary. If you are pregnant, nursing, have a serious medical condition, or have a history of heart conditions we suggest consulting with a physician before using any supplement. The information contained in this website is provided for general informational purposes only. It is not intended to diagnose, treat, cure, or prevent any disease and should not be relied upon as a medical advice. Always consult your doctor before using any supplements.
Disclosure of Material connection: Some of the links in the post above are "associate sales links." This means if you can click on the link and purchase an item, we will receive a commission. Regardless, we only recommend products or services which we use personally and/or believe will add value to our readers. We are disclosing this in accordance with the Federal Trade Commission's 16 CFR, Part 255: "Guides Concerning the Use of Endorsements and Testimonials."