OptiProstate XTS is a superior male supplement that is made from premium grade organic saw palmetto berries that have been harvested locally from Florida. The formula is further enhanced* with Pumpkin seed oil to support prostate health and function. As men grow older, it is inevitable for prostate issues to catch up with them. The most common issue in men above the age of 50 is enlarged prostate or BPH. This often triggers urinary problems that are really annoying like increased frequency of urination especially at night, weak flow of urine, painful urination, dribbling, incomplete emptying of the bladder to mention a few. If left untreated enlarged prostate affects sexual performance and the overall reproductive system.
Price and refund policy
A bottle of OptiProstate XTS is available from its official website from as low as $16.95. If you purchase three bottles at a go, you pay only $56.85 while 6 bottles cost $107.70 only. The bulkier the purchase made, the cheaper the price. The company offers a 365 day money back guarantee in case one is not satisfied with the results. OptiProstate XTS is also available from other popular online retailers like Amazon at ranging prices.
Manufacturer Information and claims about OptiProstate XTS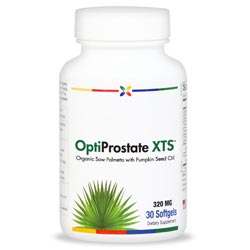 OptiProstate XTS is a product of 'Stop Aging Now Company who has a magnificent official website with all the nitty gritty details you need to know about them and their products. It has been in existence for over 20 years and is continuing to enjoy positive feedback from satisfied customers. Their motto is simply 'WE CARE'which basically translates to them caring about;
The quality and effectiveness of their products
The customers'experience with their products
The 100% satisfaction of the customer
The feedback from the customers
They claim that OptiProstate XTS is a superior quality supplement especially because of the organic swa palmetto berries and the pumpkin seed oil.
How does OptiProstate XTS work?
Saw Palmetto berries and pumpkin seed oil are both popularly used in prostate health products and have scientific evidence to prove their effectiveness. This formula is also packed with sterols, fatty acids, and flavonoids that are all beneficial to improve* the urinary flow, reducing* the frequency back to normal.
Active Ingredients in OptiProstate XTS
The two main active ingredients in OptiProstate XTS are;
Organic saw palmetto berries
These extracts have been used for the longest time in treating symptoms of enlarged prostate. It supports prostate health by its ability to reduce* the conversion of testosterone in to DHT (dihydrotestosterone) which is what triggers the enlargement of prostate.
Organic pumpkin seed oil
There are studies that support the effectiveness of pumpkin seed oil in dealing with symptoms of enlarged prostate. The studies show that pumpkin seed is especially effective when combined with saw palmetto.
Benefits of OptiProstate XTS
It reduces* the frequency of urination especially at night thereby improving* your quality of sleep.
It contains all natural ingredients that are completely safe to use.
It helps maintain the normal size of the prostate gland.
It supports prostate health and function.
It improves* the overall reproductive health.
It is affordable.
The company provides a 100% money back guarantee.
The company has a 365 refund policy.
It has been approved by the FDA.
Drawbacks of OptiProstate XTS
The official website does not provide the complete list of ingredients.
Dosage Instructions
Use as per your doctor's recommendation or according to the instructions on the product label.
Precautions
Read product label for instructions and follow them keenly.
Store in a cool and dry place
It is meant of men who are above the age of 18.
Keep away from children's reach.
Side Effects of OptiProstate XTS
No side effects have been reported for OptiProstate XTS majorly because it is not a prescription drug and it is made up of completely pure and natural ingredients that are claimed to be safe for use. It is still recommended that you consult with your doctor prior to administration.
Does it interact with other medication?
No interactions are listed for this product by its manufacturer. It is important to note that there is no study conducted on the interactions of OptiProstate XTS as a whole and as such it is important to consult with your doctor before use of this product especially if you suffer from severe medical conditions.
Final Verdict
The OptiProstate XTS Company has outdone itself in the production and presentation of this product leaving no room for questions or second guesses. The market is filled with products that exploit people'[s desperation and it is consoling to know that OptiProstate XTS is among the supplements that can be completely science as it is backed up by science, doctors and the numerous customer reviews. The company has a 365 day return policy. How crazy is that? On top of this are the crazy discounts on bulky purchases. OptiProstate XTS is the ultimate prostate health supplement.