In This Review
What is Nugenix Prostate Support?
Nugenix Prostate Support is a dietary supplement for men. The purpose of this supplement is to ease some of the symptoms that go along with an enlarged prostate (frequent urination, pelvic discomfort/pain, etc.).
Nugenix Prostate Support is also a product that takes into account the long term health of the prostate, promoting healthy function and possibly preventing future inflammation.
How Does It Rate?
Overall Rating: 3.7
Nugenix Prostate Support
Brand Highlights
Nugenix is manufactured by Adaptive Health LLC.
This brand was founded few decads ago.
It is located in West Valley City.
They claim that it is safe & Effective.
Key Ingredients
Phytopin
Bladderwrack Extract
Selenium
Zinc
Saw Palmetto
Vitamin D
Vitamin E
Pros
One of the important advantages of this product is that it may help to normalize urinary flow.
This product may also be useful in treating benign prostatic hyperplasia along with any meds you may be taking.
Nugenix Prostate Support contains natural ingredients.
For those suffering from an enlarged prostate, this product may reduce the pain and pelvic discomfort associated with this condition.
Cons
The selenium in this product may increase the risk of certain prostate issues.
As of today, there is little evidence that supports the proposal that zinc plays a role in preventing prostate problems.
This product contains 133% of the recommended daily intake of vitamin E and vitamin E overdose has been associated with blurred vision, headaches, nausea, and diarrhea.
Nugenix Prostate Support contains gelatin which may be sourced from animals and therefore may not be suitable for vegetarians.
---
How Does Nugenix Prostate Support Work?
All that being said, Nugenix Prostate Support is a dietary supplement. It comes in pill form and should be ingested through the mouth.
It would also appear that this product may be of use if you are already experiencing issues with your prostate or if you are not yet experiencing any problems but want to prevent any in the future.
In this Nugenix review, we will determine what, if anything, sets this product apart from other prostate health supplements.
Nugenix Prostate Support works by acting upon your prostate with certain vitamins, minerals, and botanical extract[1]. The purpose is to regulate urinary flow and manage prostate swelling.
This product was also designed to support the normal function of the prostate, keeping it healthy as you age. As such, this product works as a dietary supplement that should be taken with regular frequency.
Nugenix Prostate Support Ingredients – Are they Safe & Effective?
It is important to keep in mind that this product is not a cure for swollen or otherwise afflicted prostate. Rather it is simply a prostate supplement that may relieve certain symptoms and help to manage a healthy prostate. With that said, take a look at this list of what's in Nugenix Prostate Support:
Phytopin
– This ingredient is essential phytosterol pine extract which contains plant sterols and beta-sitosterols[1].
Bladderwrack Extract
– Bladderwrack is a type of brown algae and it may reduce irritation and inflammation in certain tissues of the body[2].
Zinc
– Zinc may be able to reduce cancer signallers and prevent inflammation of the prostate.
Saw Palmetto Extract
– It has been used traditionally as a natural remedy for various health concerns, including prostate health. Saw palmetto may help maintain hormonal balance, particularly by inhibiting the enzyme 5-alpha-reductase. This enzyme converts testosterone to DHT, which can contribute to prostate enlargement. By blocking this conversion, saw palmetto may help support prostate health.
Saw palmetto is commonly used to help treat benign prostate hyperplasia and improve urinary tract health.
Our comprehensive review article on prostate md reviews thoroughly covers the inclusion of >Saw Palmetto ingredient, presenting a comprehensive examination and analysis.
Selenium
– Selenium deficiency has been observed in men with serious prostate problems and may be important to maintaining a healthy prostate gland.
Vitamin E
– This vitamin may play a role in preventing serious prostate problems.
Vitamin D
– Vitamin D may be able to reduce the pain and pelvic discomfort that comes with an enlarged prostate and help to relieve benign prostate hyperplasia.
FAQ's
Q: How Should You take Nugenix Prostate Support?
A: While we are not given specific dosage directions, we are told that a serving size is two capsules so it stands to reason that you are to take 2 capsules daily.
Q: How Much Does Nugenix Prostate Support Cost?
A: There are sixty capsules which are roughly thirty servings in each bottle of Nugenix Prostate Support and a single bottle will cost $34.99.
Q: What is Nugenix Prostate Support's Return Policy?
A: The return policy for auto-ship subscribers states that you can return a product for any reason within 30 days for a refund. For standard purchases, the bottle must be unopened and undamaged for a refund.
Q: Does Nugenix Prostate Support Offer a Free Trial?
A: There is no free trial being offered by Adaptive Health LLC for Nugenix Prostate Support. This may change in the future so be sure to check back with us.
Q: What number do I call to cancel the automatic delivery?
A: To update or cancel an account, simply give them a call at 855-714-3234, email them at [email protected], or use the contact form on their official website. The company also offers hassle-free changing and canceling of accounts.
Nugenix Prostate Support Review – Final Verdict
This product was designed for overall prostate health, to reiterate. This means that the potential benefits of this product are that it may reduce the need to constantly urinate, it may help manage the swelling of the prostate gland, and it may also be able to relieve some pelvic pain associated with an enlarged prostate.
All of the ingredients in Nugenix Prostate Support are also natural.
What the consumer should remember, however, is that this product contains a lot of Vitamin E so they need to be careful not to overdose. There is also little evidence linking zinc to the prevention of serious prostate problems.
Selenium may also increase the risk of certain prostate issues and this product contains gelatin which may have been sourced from animals.
All in all, we recommend comparing this prostate health supplement closely to similar ones such as Solaray Prostate Defense and BetaPollen PLUS to extract the best out of your money.
Prostate health is of great concern for men today. Preventative measures may reduce the risk of developing prostate cancer and improve overall prostate health and function. A quality, premium prostate supplement may shrink the prostate, minimize frequent urination, promote sexual function and contain quality ingredients.
Below you'll find some of the most effective prostate supplements on the market today, in our opinion.
Our Top Prostate Support Choices
Verdict on Claimed Benefits: Below is our summary of the available evidence for the claimed benefits of below mentioned prostate health supplements based on the available research:
Product reviews are provided for informational purposes only and reflect solely the views and opinions expressed by the contributors and not those of Consumer Health Digest. We do not verify or endorse any claims made in these reviews. Please read the full product reviews disclaimer. *All individuals are unique. Your results can and will vary.
Ask a Question
Nugenix Prostate Support Ques and Ans
Q: How can I didn't receive what I ordered after one week ?

A: If you have not received the item that you ordered after one week, it is likely that there has been a delay with the delivery. You should contact the seller or delivery service to inquire about the status of the item. Make sure to provide the order number and other identifying information to help them locate the package.
Have a Question? Please Tell Us What We Are Missing Here!
PRODUCT NAME
Nugenix Prostate Support
PRODUCT BRAND
Adaptive Health LLC
PRICE (in USD)
$59.99
ITEM FORM
Capsule
UNIT COUNT
60 Capsules
INGREDIENTS
Phytopin, Bladderwrack Extract, Selenium, Zinc, Saw Palmetto, Vitamin D, And Vitamin E.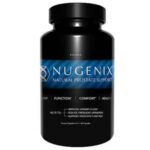 Shop On Amazon
Shop On Walmart
2 Sources
We review published medical research in respected scientific journals to arrive at our conclusions about a product or health topic. This ensures the highest standard of scientific accuracy.
**This is a subjective assessment based on the strength of the available informations and our estimation of efficacy.
*Result may vary. If you are pregnant, nursing, have a serious medical condition, or have a history of heart conditions we suggest consulting with a physician before using any supplement. The information contained in this website is provided for general informational purposes only. It is not intended to diagnose, treat, cure, or prevent any disease and should not be relied upon as a medical advice. Always consult your doctor before using any supplements.
Disclosure of Material connection: Some of the links in the post above are "associate sales links." This means if you can click on the link and purchase an item, we will receive a commission. Regardless, we only recommend products or services which we use personally and/or believe will add value to our readers. We are disclosing this in accordance with the Federal Trade Commission's 16 CFR, Part 255: "Guides Concerning the Use of Endorsements and Testimonials."