ProState Relief Analysis
ProState Relief is a natural remedy containing 100% homeopathic ingredients for treatment of men's frequent urination. Native Remedies provides this product, and FDA registered this product. By registering the drug in the FDA, it can be used as a co-treatment of prostate cancer and urination related disorders also. This product is gluten free, non addictive and safe to use for vegans. It costs about $40 from the store of Native Remedies.
ProState Relief Constituents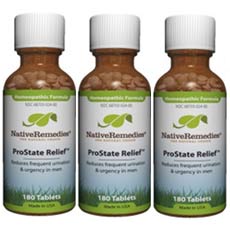 ProState Relief is fully contained with homeopathic ingredients. The constituents of ProState Relief are:
Clematis (6C)
Chimaphila Umbellata (6C)
Conium Maculatum (6C)
Sabal Serrulata (6C) And
Cubeba (6C)
All these ingredients are the natural extract and very much effective in service.
ProState Relief Tasks
The prostate gland takes place under the bladder covering the urethra which is the tube responsible for carrying urine from the bladder to penis. The prostate gland enlargement hampers the action of the tube and causes dribbling urination or weak urination flow.
ProState Relief is a natural remedy which contains homeopathic 5 ingredients that are working together to get relief from frequent urination, burning feeling or pain in urination, feeling not empty bladder after urination. The Cubeba (6C) protects feeling of the inflamed prostate, unusual discharge, and urine of violet-smelling. Sabal serrulate (6C) is processed from the herbal extract of saw palmetto. It allows people to get relief from pain of urination, difficulty in urination and frequent urination. Some other ingredients with saw palmetto extract can also retard the growth of the prostate gland and get a remedy.
The prostate gland normally increases with the ages and this urination dribbling or weak flow can occur anytime. But ProState Relief gives the best to protect the growth of the prostate gland and promote the circulation of blood and urine to get the patients real relief.
ProState Relief Strengths
ProState Relief is very effective to the people who are suffering from Urinal disorders and critical conditions. It can:
Release the pain in urination

Reduces frequent urination

Retards prostate gland enlargement

Relieving from the dribbling of urination
Keep away the feeling of not emptying bladder
ProState Relief Weaknesses
ProState Relief shows little drawbacks for the treatment of urination symptoms. It has performed the best against these symptoms. But in some cases, it may not work for older urination problems or prostate enlargement due to prostate cancer cells.
ProState Relief Usage Instructions
This supplement is told to be taken by the specialists' prescription. You should consult with your doctor regular interval for informing the effectiveness and changing the doses after some days. This supplement is taken by any one of the following procedures-
2 tablets within 2-3 hours should take after getting symptoms until it recovers. Then for 5 days 3 times a day the patient should take 2 tablets.
In case of pellets, 4 pellets in 2-3 hours after indication of symptoms and 4 pellets in 3 times a day for 5 days.
Those above two methods can be taken by chewing or dissolving into the mouth. It should take 10 minutes after eating or in empty stomach.
Advertisement
*All individuals are unique. Your results can and will vary.
ProState Relief Side Effects
The excess use may retard the activity and growth of prostate cells. But the prostate gland is very important. The sexual intercourses may be disturbed by the use of this supplement. Also, some other little and insignificant problems have been noticed in the reviews of the consumers.
Does ProState Relief Help to Get Rid of Prostate Problems?
ProState Relief proved the best what it can do. The researcher and FDA get the effectiveness of ProState Relief and make it registered. Also, the customer's review insists the helping of ProState Relief for relieving prostate problems.
Precautions of ProState Relief
Mint flavoured toothpaste and candy should avoid for the best result from ProState Relief. Always the professionals' prescription should follow and in any difficulties the patient need to consult with him. Keep the product away from the children. Also, ProState Relief should take in an empty stomach. It is recommended to take the daily doses in 10 minutes after eating a meal or 30 minutes after brushing with mint flavoured toothpaste.
Customer's Feedback
The most customers told that the frequent urination has reduced, and the burning sensation with urination is relieved. Most customers who have used this supplement got good results and recovered completely. One of the customers stated specifically that he goes to the bathroom 3 or 4 times every night during sleep. This frequency made him feel guilty because his wife would wake up, but after the medication he is completely recovered and very happy with his family. However, few customers also reported that they have no significant results.
Alternatives to ProState Relief
Conclusion
ProState Relief is an effective and safe homeopathic ingredients based natural remedy for the prostate problems. So, this product of Native Remedies already gained the popularity, and from relieving frequent urination symptoms due to prostate diseases and other urinary system diseases.
Prostate health is of great concern for men today. Preventative measures may reduce the risk of developing prostate cancer and improve overall prostate health and function. A quality, premium prostate supplement may shrink the prostate, minimize frequent urination, promote sexual function and contain quality ingredients.
Below you'll find some of the most effective prostate supplements on the market today, in our opinion.
Our Top Prostate Support Choices
Verdict on Claimed Benefits: Below is our summary of the available evidence for the claimed benefits of below mentioned prostate health supplements based on the available research:
Product reviews are provided for informational purposes only and reflect solely the views and opinions expressed by the contributors and not those of Consumer Health Digest. We do not verify or endorse any claims made in these reviews. Please read the full product reviews disclaimer. *All individuals are unique. Your results can and will vary.
Ask a Question
Have a Question? Please Tell Us What We Are Missing Here!
PRODUCT NAME
ProState Relief
PRODUCT BRAND
ProState Relief
**This is a subjective assessment based on the strength of the available informations and our estimation of efficacy.
*Result may vary. If you are pregnant, nursing, have a serious medical condition, or have a history of heart conditions we suggest consulting with a physician before using any supplement. The information contained in this website is provided for general informational purposes only. It is not intended to diagnose, treat, cure, or prevent any disease and should not be relied upon as a medical advice. Always consult your doctor before using any supplements.
Disclosure of Material connection: Some of the links in the post above are "associate sales links." This means if you can click on the link and purchase an item, we will receive a commission. Regardless, we only recommend products or services which we use personally and/or believe will add value to our readers. We are disclosing this in accordance with the Federal Trade Commission's 16 CFR, Part 255: "Guides Concerning the Use of Endorsements and Testimonials."