About ProstAdvance
ProstAdvance is a traditional, all-natural formula that combines the benefits of Saw Palmetto berries and clinically proven Lycopene. This product also includes botanical extracts, nutrients and unextracted, whole plant ingredients that are mixed and synergistically work together to provide a healthy prostate function and protect it from any prostate problems.
Manufacturer Information
This product is manufactured by Futurebiotics. Futurebiotics was established in 1984. Their first product was formulated by nutritionists at the request of a major New York baseball team. Since then, this company has been committed to "creating a healthier future". They manufacture their products under controlled conditions and in compliance with the GMP or Good Manufacturing Practices and SOP or Standard Operating Procedures.
What ProstAdvance Claims?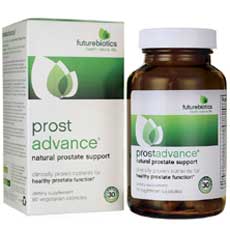 It claims to be an all-natural health supplement produced under compliance of GMP and SOP. The product can potentially reduce the size of an enlarged prostate gland and maintain its health in continuous use. ProstAdvance is made such that it can be absorbed fast and effectively making this product gentle on the stomach.
How Does ProstAdvance Work?
The health supplement relies mainly on the combined benefits of Saw Palmetto berries and a specially formulated Lyc-O-Mato Lycopene. When they work together, they are able to effectively support prostate function and protect the prostate gland from any prostate-related problem. Together with other clinically proven ingredients they make a formula that is an effective prostate health supplement for men.
Active Ingredients
Saw Palmetto Berry: It is used for the genitourinary tract to aid in reducing the inflammation that is associated with BPH.
Pygeum Bark: It is proven to improve urinary flow and relieve it from other symptoms of BPH.
Lycopene: It is an antioxidant which is shown to concentrate in the male prostate gland.
Zinc: This nutrient is shown to be important in preventing prostate enlargement. Zinc deficiency can lead to prostate enlargement.
ProstAdvance Advantages
The ingredients are listed on the label.
It is proven to be easily absorbed.
All-natural and organic formulation.
Affordable.
ProstAdvance Disadvantages
Ingredient information is not provided completely.
Not everyone can take this supplement.
Data on the clinical studies is not shown.
ProstAdvance Side Effects and Warnings
There are no known side effects of this product but seek the advice of your doctor to make sure.
This product contains soy but absolutely no added yeast, sugar, salt, starch, wheat, gluten, dairy or artificial colors or preservatives. Keep out the reach of children. Must not be taken by pregnant and nursing women.
Dosage and Directions for Use
As a dietary supplement and for maximum results, take 3 capsules every day preferably with meals.
How Long Will It Take To Show Result?
There is no account of how long the effects will take place. If taken religiously, the effects may manifest several weeks of continuous intake. Results may vary from person to person.
Where to Buy and At What Price?
ProstAdvance is available at iHerb for $10.05. In Amazon, it costs $12.64. If you buy directly from the manufacturer, this may cost $17.95 for a 90-capsule bottle with 90-day money-back guarantee.
Does It Interact With Other Medications?
There are no known interactions of this supplement to other medications. If you are taking any other medication, seek the advice of a health professional to make sure.
Who Can Take ProstAdvance?
This product is specifically formulated to be taken by male adults 18 years of age and above. Not suitable for children and pregnant and nursing women. But ask your doctor before taking this supplement to make sure that you are fit to take this supplement.
Final Verdict
ProstAdvance is an effective prostate health supplement that is manufactured by a well-established company that has been in the industry for so many years. They are also a known manufacturer of many other health supplement products with good manufacturing practices and standard operation procedures. High-quality products are expected from this manufacturer. Ingredients used for this supplement is clinically proven. It may not have any known side effects, but this does not mean that this supplement is applicable to everyone. To make sure, ask the advice of your doctor whether you can take this supplement.
Prostate health is of great concern for men today. Preventative measures may reduce the risk of developing prostate cancer and improve overall prostate health and function. A quality, premium prostate supplement may shrink the prostate, minimize frequent urination, promote sexual function and contain quality ingredients.
Below you'll find some of the most effective prostate supplements on the market today, in our opinion.
Our Top Prostate Support Choices
Prostate Plus -
5% OFF Today

Maintaining Prostate Health*
Maintaining Prostate Health*