Beta Sitosterol Prostate Complex Overview
Beta Sitosterol Prostate Complex is a prostate-support supplement that primarily relies on the benefits that Beta Sitosterol can offer men. Men often find that their prostate becomes enlarged after the age of 50 (sometimes even in their 40s) and this can become painful and uncomfortable. Men often also develop problems with their urinary tract at this age, which leads to nighttime urination – this affects their quality of sleep. In turn, sleep deprivation can then lead to many other health concerns and even reduced productivity. This product has been developed to address all of these common problems to provide men with a powerful solution to treat these problems without relying on prescription drugs.
Manufacturer Information and Claims About Beta Sitosterol Prostate Complex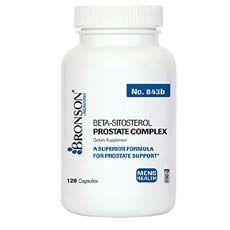 Beta Sitosterol Prostate Complex has been developed by Bronson Laboratories. The company has an extensive portfolio of natural products and has been in business since 1960. Many physicians also recommend Bronson to their patients when it comes to neutraceutical supplements to treat health concerns as the company has a positive reputation among consumes and doctors. The company has an official online store where customers can purchase their products. They also offer support on their website in the form of contact details and a live chat feature, which allows potential customers to talk to one of the support consultants to obtain more information regarding the company.
Beta Sitosterol Prostate Complex claims that the product's formula can help men reduce all prostate and urinary symptoms that are often associated with growing older. The product claims that, with continued use, the user will find that their prostate function improves, inflammation reduces, the size of their prostate reduces (should the man have an enlarged prostate) and their urinary tract works better. The product also comes with a satisfaction guarantee and the company is backed by numerous positive reviews that can be viewed on their website and on their Google Business listing.
Working Process and the Ingredients List
Beta Sitosterol – This cholesterol-like substance is able to maintain cholesterol levels in the human body and is often used to reduce inflammation in the prostate. It can also alleviate pain that is experienced due to swelling in the prostate. Some people also use Beta Sitosterol to improve their sexual performance.
Saw Palmetto – Saw Palmetto is often promoted as a natural remedy to stop and prevent hair loss. This is only one of its many benefits. Saw Palmetto can also be used to treat a variety of prostate-related problems, including inflammation that occurs as a result of an enlarged prostate. Saw Palmetto can also help to reduce urinary symptoms in men.
Lycopene – Lycopene is a food extract that contains anti-oxidant properties. The compound causes numerous foods, such as tomatoes, to have a bright color. Renal & Urology News report that Lycopene may reduce a man's risk of prostate cancer by as much as 25% due to its ability to fight against free radical damage.
Beta Sitosterol Prostate Complex also includes zinc and selenium for additional support.
The Advantages of Beta Sitosterol Prostate Complex
A 100% money-back guarantee means the customer will not risk losing their money. If the customer does not like the effects of the product, experiencing any adverse effects, does not think the product works for them or are unhappy for any other reason, they can simply get in touch with Bronson and a refund will be issued to them.
The product primarily relies on Beta Sitosterol, a natural compound that has been proven in many scientific studies to be beneficial for maintaining a healthy prostate and for treating certain prostate-related health concerns.
The supplement comes in two convenient sizes – a 60-capsule unit and a 120-capsule unit. The customer can choose between buying a one-month and a two-month supply during checkout. Buying a two-month supply (120-capsule unit) will save the user quite a few dollars.
The formula contains selenium and zinc, two essential trace minerals that are often left out in prostate support products. These minerals do not only play an important part in prostate health, but also has many other vital functions in the human body.
The Cons of Beta Sitosterol Prostate Complex
It seems like the company that distributes this product only offers shipping to addresses located in the United States. There are no mentions of international shipping, but this can always be confirmed by contacting the company. A special request for international shipping can, however, lead to a lot of extra costs.
Possible Side Effects
Side-effects are unlikely to develop. In some cases, a user may experience mild symptoms. Should any severe symptoms develop, the user should seek medical attention from their physician. The physician my ask the user to stop using the product or may adjust the dosage to avoid further complications.
FAQ
How much does this Product Cost and Where can I Buy it?
Beta Sitosterol Prostate Complex can be purchased at various locations. The manufacturer has a website with a built-in e-commerce feature. Customers can purchase this product directly from the manufacturer's website. The company is a Google Trusted Store, which means their products are also listed on Google's Merchant center.
Final Verdict
Prostate health should be a top priority for any man that is over 40. This becomes especially important when the man reaches the age of 50. When a man fails to maintain the wellbeing of their prostate, they may develop health conditions, such as an enlarged prostate or urinary tract infections, that can be hurtful. The Beta Sitosterol Prostate Complex by Bronson Laboratories addresses common issues that men face at these ages and helps to maintain a healthy prostate. The product looks promising and it is one of the more affordable options on the market today.
Prostate health is of great concern for men today. Preventative measures may reduce the risk of developing prostate cancer and improve overall prostate health and function. A quality, premium prostate supplement may shrink the prostate, minimize frequent urination, promote sexual function and contain quality ingredients.
Below you'll find some of the most effective prostate supplements on the market today, in our opinion.
Our Top Prostate Support Choices
Prostate Plus -
5% OFF Today

Maintaining Prostate Health*
Maintaining Prostate Health*