For today's topic, we choose a rather sensitive one, at least for men that are. Motivated by the desire to raise awareness on the topic of male health and the most common health problems that men tend to face throughout their lives, we did a quick research investigating the most common health problems among men. It was not too long after that that we chose our topic of the day – Prostatitis or simply called prostate infection. If you are wondering how common it really is, let us say this – approximately 50% of men experience Prostatitis at least once through their lifetime. So, if you are ready to find out everything that you need to know about Prostatitis, including the symptoms that you need to watch out for in the future, the diagnosis, the treatment plans and etc. stay with us in the following article!
Keep on reading and discover more interesting information on prostatitis treatment. After reading this article, you will also be able to identify early prostate cancer symptoms and make the difference from the chronic prostatitis symptoms. And, remember, the aging process is one of the main prostatitis causes to consider. Obtain a correct prostatitis diagnosis and then the best treatment measures will naturally follow.
What is Prostatitis?
Prostatitis or simply referred to as prostate infection is a term that is used to describe the process of inflammation of the prostate gland. Unlike prostate cancer, that usually affects older men, Prostatitis can often affect younger men – from 30 to 50 years old. There are three types of Prostatitis.
Acute Prostatitis – which is a condition in which the symptoms occur and progress suddenly, it occurs rarely and in most cases, it requires immediate treatment, it is caused by bacterial infections;
Chronic Prostatitis – which is a condition that unlike the acute form, develops its symptoms more slowly and there are periods of few weeks or even months when the symptoms go away but then they come back again, it is usually not caused by bacterial infections;
Chronic bacterial Prostatitis – which is a condition whose symptoms develop over several years, it is less severe than the acute form, however, unlike the chronic form, the chronic Prostatitis is always caused by a bacterial infection;
Asymptomatic Prostatitis – it is not uncommon for the prostate infection to exist, however, the patient does not feel any symptoms at all. This form of Prostatitis is usually diagnosed while the doctor is searching for another existing health problem.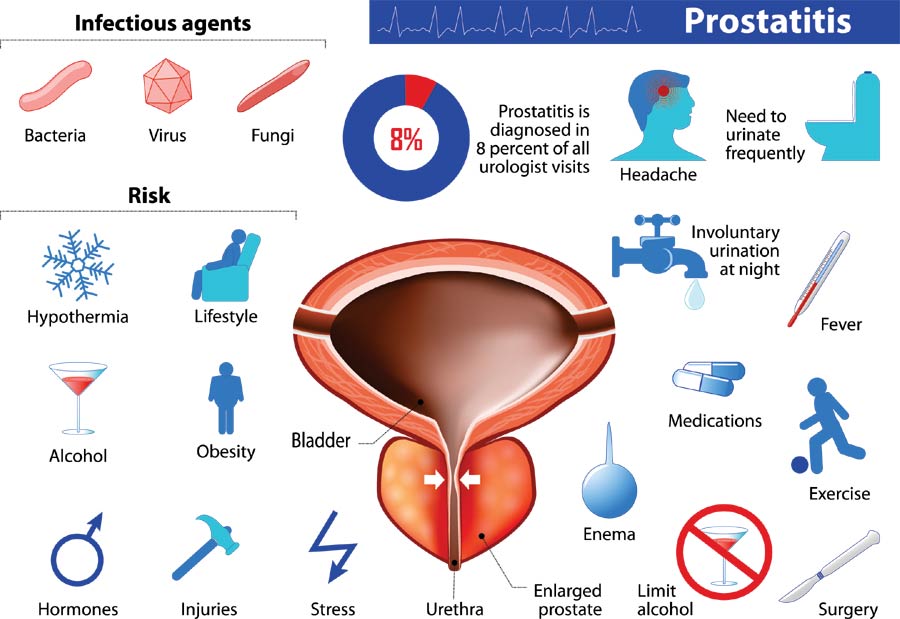 What Causes Prostatitis?
For each form of Prostatitis – the chronic and acute Prostatitis, they are separate causes. However, when it comes to the chronic form, the exact cause is unknown. What we do know is that the chronic form is not caused by the same causes responsible for the acute one. Among the possible causes for a chronic Prostatitis, there are the explanations that:
A microorganism can cause chronic Prostatitis;
Your immune system is trying to fight what is left of a previous urinary tract infection and that results in Prostatitis;
Your nervous system is responding to a possible nerve damage in the area of the prostate.
When it comes to the acute form of Prostatitis, it is most commonly caused by bacterial infections in the area of the prostate. Among the most common bacterial infections is Escherichia coli – which is present in approximately 80% of the cases of acute Prostatitis as well as some staphylococcal and streptococcal organisms. There are some conditions that pose as a risk factor for Prostatitis including the use of catheter, bladder obstruction, previous urinary tract infection, sexually transmitted disease and enlarged prostate.
What Are The Symptoms That You Need To Look For?
The symptoms of Prostatitis variate from form to form. We will discuss the symptoms of each form separately and we will start with sharing the symptoms of the acute form:
Symptoms of Acute Prostatitis
Feeling of burning and/or pain while urinating;
Nausea and vomiting;
Fever and abdominal pain;
Inability to empty your bladder;
Need to urinate more frequently
Remember that as we mentioned before, the symptoms of the acute form develop quickly and require immediate treatment. Do not hesitate to ask for help if you feel any of the previously mentioned symptoms!
Symptoms of Chronic Prostatitis And Chronic Bacterial Prostatitis
Feeling of pain and/or discomfort for more than three months in the lower abdomen, around your penis, scrotum, anus, during and/or after ejaculating – this symptom is usually present in the chronic form of Prostatitis, but not in the chronic bacterial form of Prostatitis;
Feeling of burning while urinating;
Need to urinate more frequently;
Having trouble to start the stream of urine and/or experiencing interrupted stream of urine;
Present urinary tract infection
Diagnosis and Treatment
If you experience any of the previously mentioned symptoms, please do refer to your doctor who will perform the proper testing to find out if you are dealing with Prostatitis or not. The common exams that are performed in the process of discovering Prostatitis include a rectal exam to check if the prostate gland is enlarged or tender, transrectal ultrasound, biopsy, and urinalysis. Once the doctor has determined that Prostatitis is present, he/she will proceed with recommending the proper treatment plan. If there is a bacterial Prostatitis present – acute or chronic, a proper medication – antibiotic or antimicrobial will be prescribed. While dealing with bacterial Prostatitis, a good advice is to drink a lot of water so that you will increase* your urine production and with that, you can flush out the bacteria that are the cause for your condition. Also, another good advice is to avoid caffeine, alcohol, and spicy foods. When dealing with chronic bacterial Prostatitis, chances are that you will need to take the proper antibiotics for a period of six months. This is because the chronic bacterial form has the habit of causing recurring infections in the future, so this is just one thing that can prevent it. To sum up – you do not have to worry about any form of Prostatitis if you follow your treatment plan and take care of your health in the months that follow after discovering it.
Conclusion
Prostatitis is one of the many common health problems that men deal with right now. However, as you can see from the previous article, you have nothing to be afraid of if you follow your treatment plan and visit your doctor at your scheduled check-ups. We hope that through our article we succeeded in informing you about the topic of Prostatitis, explaining its causes, symptoms, diagnosis and common treatment plans! Do not hesitate to get informed when it comes to your health!
As you have seen, the prostatitis treatment can help you escape from such problems, improving* the health of the prostate. The most important thing is that you differentiate the prostate cancer symptoms from the chronic prostatitis symptoms. Moreover, you should exclude all possible prostatitis causes, before obtaining an accurate prostatitis diagnosis.