In This Review
What Is Nucific Advanced Slimming Probiotic?
Nucific's Advanced Slimming Probiotic is a powerful combination of BHBs and probiotics that, when combined with a healthy lifestyle, will assist you in achieving your body shape and weight goals!
Taking probiotics has been shown to improve one's health. Probiotics have been demonstrated in studies to improve digestion and immune system function.
Other studies have discovered that poor gut flora can decrease the body's metabolism and reduce the generation of important hormones. This may result in bloating and weight gain. Taking probiotics may help some people lose weight by reversing this effect.
How Does It Rate?
Overall Rating: 4.6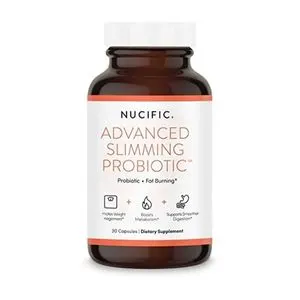 Nucific Advanced Slimming Probiotic
Brand Highlights
The brand's name is Nucific.
A company based in the US that only began producing wellness products in 2016.
They specialize in wellness and health supplements for weight loss and healthy digestion.
It claims to formulate products that are safe and work as expected.
Key Ingredients
Calcium BHB
Magnesium BHB
Bifidobacterium breve
Pros
There is a money-back guarantee of 90 days.
Customer feedback is displayed.
The Advanced Slimming Probiotic product label lists all of the components.
Assist you in reaching your weight-loss objective.
May improve metabolism.
The official website is professional and easy to use.
Cons
It may only be purchased on their official website.
Out of stock due to high demand.
---
Who Manufactures Nucific Advanced Slimming Probiotic?
Advanced Slimming Probiotic is manufactured by Nucific, a California-based company that only began producing supplements and other wellness products in 2016. The organization has an extraordinary "A+" rating and scored 4 out of 5 stars based on an average of 500 reviews.
According to the manufacturer's website, this product states that there are no sweeteners in this product. Other product from this manufacturer is Nucific Probiotic Complex.
How Does Nucific Advanced Slimming Probiotic Work?
The proprietary probiotic blend in this supplement aids with the natural fat-burning processes of your body. Two types of beta-hydroxybutyrate (BHB), produced by your body while you fast, assist you in burning fat for energy.
Fructooligosaccharides, which are basically good "food" for probiotics, enable those probiotics to thrive, allowing you to enjoy even better outcomes. Additionally, a study indicates that fructooligosaccharides might improve problems with constipation.[1]
Lactobacillus gasseri helps concentrate fat so you can pass it in your feces. Bifidobacterium breve, Bifidobacterium longum, and Bifidobacterium lactis help eliminate bad gut bacteria that might exacerbate unwanted weight gain.
Calcium beta-hydroxybutyrate and magnesium beta-hydroxybutyrate are both potent ketones that your body can use for energy. They can provide a multitude of health benefits for your entire body, in addition to supporting your metabolism and delivering energy.
According to Research, Lactobacillus acidophilus and Lactobacillus plantarum target bad gut bacteria while providing crucial support for good gut bacteria, allowing you to enjoy excellent overall digestive health benefits.[2]
Ingredients in Nucific Advanced Slimming Probiotic – Are They Safe & Effective?
BHB salts and probiotics are included in the Nucific Advanced Slimming Probiotic. This product, according to Nucific, will make losing weight "easier than ever before." The probiotic promotes intestinal health, while the BHB salts promote a ketogenic diet.
The following are some of the active components discovered in Advanced Slimming Probiotic:
You May Also Like to Read – Nucific Morning Boost

Calcium BHB

Calcium beta-hydroxybutyrate (Keto BHB) is well-known for its ketogenic properties. BHB, also known as a ketone body, may help fuel the heart, muscles, and brain during low-carbohydrate periods.

BHB salts are compounds that combine a molecule of BHB with a mineral such as sodium, calcium, or magnesium. When these are consumed, the body converts the BHB into energy, while the minerals aid in a variety of other bodily activities such as hydration, muscle function, and blood clotting.

Studies reported in Experimental & Molecular Medicine have shown that increased BHB levels can prevent or lessen the symptoms of a number of age-related illnesses.[3]

Magnesium BHB

It aids in energy production during periods of low carbohydrate intake. BHB with magnesium may also help with cognitive function, brain and nerve function, inflammation, muscle function, and athletic endurance.

Bifidobacterium Breve

The pathologies targeted range from common gut ailments such as diarrhea and newborn colics to celiac disease, obesity, allergy, and neurological disorders. Furthermore, B. breve strains are utilized to prevent side infections in premature babies as well as during antibiotic treatments or chemotherapy.

A Nutrients study found that Bifidobacterium breve was beneficial for preventing/treating pediatric diseases. In this study, key factors such as delivery mode, feeding type, and gestational age are examined in relation to extended probiotic treatment.[4]

Nucific Advanced Slimming Probiotic FAQ's

Q: How Many Bottles Are Suggested for the First Order and Use?

A: The typical order for new customers is three bottles, which is what we propose as a starting point. However, because we have a large number of repeat clients, we offer a unique 6-bottle deal that allows you to take advantage of our best rate.

Q: Is Advanced Slimming Probiotic of High Quality?

A: Absolutely. All of our products are tested in an independent, third-party lab under rigorous requirements. However, before beginning any new supplement or medication, we always recommend consulting with your doctor or medical supervisor.

Q: How Should I Use Advanced Slimming Probiotic?

A: We recommend taking 1 capsule every day, preferably with a glass of water, at the start of the day.

Q: What If I Miss One Day of Dosage?

A: You should aim to take Advanced Slimming Probiotic on a regular basis to help your body maintain an optimal balance of beneficial bacteria. If you forget to take your medication in the morning, take it as soon as you remember to. If you skip an entire day, simply carry on as usual the next day.

Q: How Long Will It Take for Advanced Slimming Probiotic to Work?

A: Everyone's body is unique, and everyone begins using Advanced Slimming Probiotic with a distinct level of unhealthy fat. As a result, predicting when you will feel effects is quite difficult. I can tell you that many people see an improvement in their energy levels after just one week.

That is why it is normally recommended to let this mixture to work for you in 30 days. That way, you'll have more time to get to the point where you can notice and feel a difference in your body.

Q: Is Advanced Slimming Probiotic available in stores or online?

A: We deliver Advanced Slimming Probiotic directly to you, the consumer, eliminating the intermediary and allowing you to save money.

What Do the Nucific Advanced Slimming Probiotic Reviews Say?

I dropped some pounds and am loving food again. My stomach is way more regular now. I noticed changes within a month. This product is simply amazing!
~ B. Francis

I just started taking these pills. Even though I haven't dropped any pounds yet, I've definitely noticed a big improvement with constipation.
~ Jennie

Nucific Advanced Slimming Probiotic Alternatives

| | | |
| --- | --- | --- |
| Products | Cost Range | Key Ingredients |
| Gut Balance | $49.95 | Acacia Fiber, Flaxseed, Oat Bran |
| 1MD Complete Probiotics Platinum | $40.99 | Bifidobacterium lactis, Lactobacillus acidophilus, Bifidobacterium longum, Bifidobacterium bifidum, Lactobacillus casei, Lactobacillus Plantarum, Lactobacillus gasseri, Lactobacillus salivarius, Lactobacillus rhamnosus, Lactobacillus bulgaricus, and Lactospore |
| 1MD BiomeMD | $45 | Bifidobacterium Lactis HN019, Lactobacillus Rhamnosus GG, Lactobacillus Acidophilus La-14 |
| Provitalize | $67 | Moringa leaf, Curry leaf, Lecithin, BioPerine, Vegetable cellulose |
Nucific Advanced Slimming Probiotic Reviews – Conclusion
Nucific Advanced Slimming Probiotics supplement provides a full range of ingredients that can help you reach your weight loss goals. The majority of user reviews are positive, and just a few negative reviews are available concerning the product. All claims are backed up by good feedback, and all of the items come with a warranty.