Nature Made Prenatal Multi + DHA Overview
Nature Made Prenatal Multi + DHA is a supplement that is designed to increase your body nutrients that are used to support a healthy pregnancy. It provides pregnant women and those women preparing to become pregnant with mineral and vitamins that support their health and that of the growing baby. It contains omega-3, which is an essential fatty acid DHA. They boost the nutrients in women suffering from morning sicknesses such as nausea and vomiting. The product helps to protect various birth defects that arise during your early stages of pregnancy. It promotes rapid cell growth of the placenta and the growing baby.
Manufacturer Information and Claims about Nature Made Prenatal Multi + DHA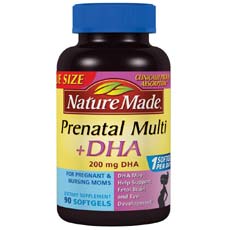 Nature Made Prenatal Multi + DHA is produced by Nature Made Company, which is dedicated to producing vitamin supplements to support your health. They claim to provide high-quality dietary supplements, specifically for the pregnant, mothers and those who are trying to conceive. They claim that the product is free from gluten, artificial colors and flavors, and from any preservatives.
Working Process and the Ingredients List
Folic Acid –the mineral helps to prevent neural tube defect, which is one of the serious birth defects of the spinal cord and the brain. Other benefits include lowering the risk of certain heart defects, cleft lip, and cleft palate in your unborn child. It is essential to the mother in that it helps to create normal blood cells. It reduces the risk of having preeclampsia that is a blood pressure disorder, which affects many pregnant women. It also helps in the production, functioning, and repair of DNA.
Iron – it has numerous functions in the body. It is an oxygen carrier. It enhances your muscle functions, promotes a healthy pregnancy, and increases the energy levels among others
Calcium –it helps to build strong bones, ensures that there is normal blood clotting, and regulates the contraction of muscles and the heart beat among others.
Zinc – it helps to treat various infections such as a cold.
Vitamin D – it supports the growth and development of strong bones, decreases the risk of having a variety of diseases and supports the health of your neuromuscular system and immune system.
Omega-3 Fatty Acid DHA
The Advantages of Nature Made Prenatal Multi + DHA
The product provides you with essential minerals and vitamins.
It reduces the baby's risk of acquiring neural defects.
It supports a healthy immune system.
It supports the growth and development of your baby's strong and healthy bones.
The supplement supports the rapid growth of cells.
The soft gels are easy to swallow.
The Cons of Nature Made Prenatal Multi + DHA
The ingredients quantities are not stated.
The website does not mention about a money back guarantee for their product if not satisfied with it.
Nature Made Prenatal Multi + DHA FAQs
What Is The Usage Instruction of The Supplement?
You are recommended to take one soft gel once per day.
Nature Made Prenatal Multi + DHA Possible Side Effects
Nature Made Prenatal Multi + DHA product has no known side effects. It is produced from natural ingredients. It is free from any preservatives, yeast or starch, and artificial colors and flavors.
Should You Buy this Product?
Nature Made Prenatal Multi + DHA supplement has numerous benefits in supporting a healthy pregnancy.
Final Verdict
Nature Made Prenatal Multi + DHA supplement is a high-quality, safe and effective product. It is designed to help support a healthy pregnancy by providing you with the essential nutrients. It contributes to the development of fetal brain and eyes. It prevents your baby from acquiring neural defects and other numerous defects. Research more about the product to ascertain for its ingredients safety and effectiveness.
Our Top Pregnancy Supplements Choices
BOOST Milk Enhancer

Minerals, Vitamins and Nutrients for a Healthy Pregnancy*
Contribute to Healthy Baby Development & Growth*
Prevention of Vitamin and Mineral Deficiencies*
No Artificial Colors, Preservatives Or Other Harmful Substances*
Minerals, Vitamins and Nutrients for a Healthy Pregnancy*
Contribute to Healthy Baby Development & Growth*
Prevention of Vitamin and Mineral Deficiencies*
No Artificial Colors, Preservatives Or Other Harmful Substances*