In This Review
What is ProPower Plus?
ProPower Plus is a powder-form dietary supplement for dogs that you sprinkle on their food. It's rich in nutrients, probiotics, digestive enzymes, and other organic ingredients.
The formula supports digestive health, promotes regular bowel movements, provides energy, reduces anxiety, improves oral health, and decreases bad breath. It's not just another pet supplement; it's a comprehensive solution for your furry friend's overall well-being. Meticulously blended with natural ingredients, it promotes optimal digestive health in dogs, strengthens the immune system, and contributes to their longevity.
| | |
| --- | --- |
| Features | Gut Health Supplement Powdered Formula |
| Form | Powder |
| Health Benefits | Promote Solid, Healthy Poops, Diminish Body Odor, Help Soothe Skin Irritation, Support Healthy Teeth, Support Nutrient Absorption for a Healthy Lifespan, and Promotes Happy, Calm Moods |
| Ingredients | Probiotic-Enzyme Blend (Protease, Amylase, Cellulase, Hemicellulase, Lipase, Papain, Bromelain, Bacillus coagulans, Lactobacillus acidophilus, Bifidibacterium lactis/longum, Lactobacillus plantarum, and Fructooligosaccharides), Gum Acacia, Cellulose Plant Fiber, Champignon Mushroom Extract, Kelp (Ascophyllum nodosum) Thallus Powder (Organic) |
| Type | Supplement |
How Does It Rate?
Overall Rating: 4.8
ProPower Plus
Brand Highlights
Dr. Marty is called the "Miracle Worker" by Forbes Magazine.
Zero Artificial Additives and Preservatives.
Third-Party Tested for Purity.
100% money-back guarantee.
Suitable for all dog breeds and sizes.
Gently freeze-dried formula to protect the nutrients.
Key Ingredients
Probiotic Enzyme Blend
Kelp
Lactobacillus Acidophilus
Champignon Mushroom Extract
Bacillus Coagulans
Pros
ProPower Plus helps provide your dog with energy.
The food helps promote better digestion and regular bowel movements.
Dr. Marty's Propower Plus helps decrease feelings of anxiety in your dog.
It improves dental health and decreases bad breath.
It helps to improve nutrient absorption.
Cons
High demand may sometimes lead to low product stock.
ProPower Plus is a little on the expensive side.
---
Who is the Manufacturer of ProPower Plus?
The manufacturer of ProPower Plus for Dogs is an organization by the name of Dr. Marty's Pets, headquartered in Woodland Hills, California. A highly respected veterinarian called Dr. Martin founded this company in 2017. With an extensive knowledge of both Western and alternative medicine, he developed formulas for pets that combine elements of both.
How Does ProPower Plus Work?
ProPower Plus for dogs contains digestive enzymes that help break down nutrients for easier digestion. In addition, it has probiotics, which are good bacteria that increase in the gut, killing bad bacteria and balancing the microbiome. This helps promote regular bowel movements in dogs and reduces symptoms like diarrhea and gas.
A study in Frontiers in Microbiology found that probiotics successfully modified the gut microbiota of dogs.[1] The formula contains ingredients like kelp, which are high in nutrients, to promote general health and add energy.
Some antioxidants kill free radicals and lower oxidative stress, promoting healing in the body and strengthening the immune system. A review in Biochimica et Biophysica Acta (BBA) – Molecular Basis of Disease discussed antioxidants in the human model of canine aging.[2]
Ingredients like kelp also promote a shiny coat and good dental health. ProPower Plus for Dogs contains a mushroom that eliminates bad breath in pets, helps detox the body, and helps decrease stress. In addition, ProPower Plus includes some anti-inflammatory agents that can help reduce bloating and swelling in the body as well as heal wounds and skin conditions.
Dr Marty's Propower Plus Ingredients – Are they Safe and Effective?
Here are some primary active propower plus ingredients: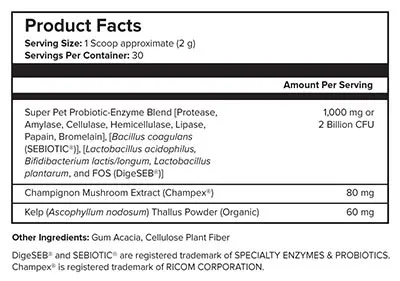 Probiotic Enzyme Blend
– These are digestive enzymes and proteins that help break down the nutrients so they can be digested more easily. They help keep the digestive system in balance and promote its overall wellness. An article in Innovative Veterinary Care discussed the role of digestive enzymes in dogs and cats. These enzymes play a crucial role in breaking down food and facilitating the absorption of nutrients, ensuring overall digestive health.[3]
In our review of Nom Nom Reviews, we have highlighted that it helps promote a healthy balance of beneficial bacteria in the digestive tract, which is essential for proper digestion. They can aid in breaking down and absorbing nutrients from food, supporting optimal nutrient utilization for your pet.
Kelp
– This is a microalgae that is very high in nutrients, enhancing animal health. It supports the thyroid gland and helps improve immune functioning. In addition, it promotes oral health and can give dogs a shiny coat. A review in the Journal of Marine Science and Engineering discussed the potential of seaweed for use in animal feed [4].
Champignon Mushroom Extract
As we detailed in our newly published Fresh Breathies Reviews, Champignon mushroom extract supports the immune system, has antioxidant properties, and may help manage inflammation-related conditions like arthritis. It also supports gastrointestinal health by promoting a balanced gut microbiome and aiding in weight management for overweight pets.
Lactobacillus Acidophilus
– This is a probiotic strain already in dogs' intestines, and it's considered good bacteria. It eliminates bad bacteria and promotes healthy digestion, regular bowel moments, and a decrease in symptoms like gas and diarrhea.

A study in the American Journal of Veterinary Research concluded that this probiotic strain could promote digestive health and improve immune functioning in dogs. [5] The nutritional details of Dr. Marty's ProPower Plus
Crude Fat
Crude Fiber
Moisture
See Also – Feline Prime & Badlands Ranch SuperFood Complete
How Do I Start My Dog on Propower Plus?
Dr. Marty ProPower Plus is a powdered supplement with no extra flavor, so most dogs won't notice the difference after it's mixed into their food! However, because some dogs are extremely sensitive to changes, the best method to introduce a new formula to your dog is to start slowly.
Here's the 'Easy Transition' Plan for getting your dog used to the formula:
Day 1-3: Mix in ¼ of a ProPower Plus serving into your dog's food.
Day 4-6: Mix in ½ of this supplement into your dog's food.
Day 7-9: Mix in ¾ of it into your dog's food.
Day 10: Mix a full serving of ProPower Plus into your dog's food!
If your dog isn't interested in eating, gradually increase the amount of food given to him over a longer period of time. You can give your dog a little more time to adjust this way. They'll have no difficulty adjusting to their new health regimen if they follow this simple approach.
ProPower Plus Contact Service Info
E-Mail: [email protected]
Mailing Address: 6320 Canoga Avenue, 15th Floor, Woodland Hills, CA 91367
Phone: (800)-670-1839
Hours: Weekdays: 6 am – 5 pm PST, Weekends: 6 am – 4 pm PST
ProPower Plus – Frequently Asked Questions
Q: Where to Buy Dr. Marty's ProPower Plus?
A: You can buy ProPower Plus For Dogs from a number of different retailers both online and offline, most particularly pet stores. At the moment, there is a reduced cost offer for new customers from the manufacturer. Here are the prices on the official site. If you sign up for a subscription, you save an additional 10%.
1 Jar – $49.95
3 Jars – $134.85
6 Jars – $239.70
Q: How Do You Serve ProPower Plus?
A: The serving size for ProPower Plus for Dogs is one scoop of the powder per day, sprinkled over their food or snack. You should see digestive and other health benefits quickly.
Q: Does ProPower Plus Work?
A: ProPower Plus should certainly provide better digestive health to dogs, and based on the ingredients, there are a number of other benefits as well, such as increased energy and decreased anxiety. It also elevates the immune system and overall health with its wealth of nutrients and antioxidants. Many of the Dr. Marty ProPower Plus reviews had great things to say about the efficacy of this supplement for their dogs.
Q: Is ProPower Plus Good For Dogs?
A: This formula is good for all dogs of any size, age, or breed. It's very rich in nutrients that dogs require and contains digestive enzymes and probiotics to promote digestive wellness. It's a healthy supplement you sprinkle on their food for an extra boost of wellness and nutrition.
Q: How Many Scoops are in Dr. Marty's ProPower Plus?
A: This dog food has about 18 scoops in one 68-gram jar.
Q: Where to Purchase ProPower Plus for Dogs?
A: You can purchase this Dr. Marty ProPower Plus supplement directly from the official website.
Q: What is Dr. Marty's ProPower Plus Return Policy?
A: All products purchased directly through our website come with a 90-day money-back guarantee. The warranty period begins on the date your product is shipped from our distribution center and ends ninety (90) days thereafter.
Q: How Are the Reviews on ProPower Plus?
A: Although not every dog appreciated the product, most ProPower Plus reviews said their canines both enjoyed the taste and got great health benefits from the supplement. Users mentioned that their dogs had improved digestion and less diarrhea and other symptoms. Many dogs developed a healthy coat, gained more energy, and were less skittish and nervous.
Q: Is Propower Plus Safe for Dogs?
A: Based on the ingredients, Dr. Marty's ProPower Plus is a perfectly safe product full of healthy probiotics, digestive enzymes, and other enriching organics. There are no preservatives or artificial substances added that could be harmful or cause side effects. In addition, the company follows very safe manufacturing processes.
Q: How Much Propower Plus Does Your Dog Need?
A: Dr. Marty ProPower Plus is 100 percent natural and contains 14 different health and digestive components, including 2 billion CFUs of probiotics for improved digestion, bowel functions, and the body's immune health. Your dog's weight determines the serving size.
Q: Can I Buy ProPower Plus in Stores?
A: Yes, ProPower Plus for Dogs is available in many retail shops. A store locator on the official site will tell you exactly which locations sell this item near you.
Q: Can I Give ProPower Plus to Cats?
A: The manufacturer made ProPower Plus to specifically meet dogs' needs. It likely wouldn't harm cats, but it shouldn't be your first choice. Choose a supplement that meets the nutritional and health needs of felines for your cat.
Q: Why Buy Pro Power Plus?
A: Here are some fundamental factors to consider when opting for ProPower Plus for your canine companion:
It contains 14 health-optimizing ingredients.
ProPower Plus For Dogs is free of preservatives and artificial ingredients.
A renowned veterinarian designed this supplement.
ProPower Plus works for dogs of all sizes, ages, and breeds.
It helps support a longer lifespan for your dog.
Propower Plus Customer Reviews
Although there are no negative reviews or complaints, there are several positive reviews. From the official website, here are some reviews.
Fefe Leenora is a year-old pup, and she's doing great! She's been taking Marty's ProPower Plus now for a few weeks, and I can definitely see the difference in her stools.

Her poops are now solid as it was like soft-serve ice cream previously. We didn't have issues with smells, bad breath, her coat, or her energy levels, but since taking this product, I can see an increase in her energy level. She's zooming all the time and truly enjoying her play in the backyard. She and I are both happy campers.~ Review By Sophia A Adam
So much more energy!!
I've had my dog on this for a month now. His coat is shinier, he's stopped licking himself as much, and he has way more energy. I've also noticed a huge improvement in his one leg with arthritis. He's a ten-year-old Pit Boxer mix, and he's never really acted his age, but his leg was slowing him down. Now he's back to puppy energy, and it's exhausting!! But I am so thankful! ~ Review By Ashley Schaefer
Pro Power Plus Playful
My soon-to-be 9-year-old shepherd mix has had much better poops; more solid. She eagerly watches me prepare her meals, then gets right into eating and licking the bowl clean. She is more energetic and loves chasing and catching her basketballs and tennis balls and goes to her box of toys to show us she wants to play. I will definitely continue with the product. ~ Review By Karen Gueli
ProPower Plus Alternatives
Products
Nature's Blend
Nutra Thrive
Nutra Complete
Price
$29.95
$49.95
$29.95
Key Ingredients
Pea Protein, Sunflower seeds, Sweet Potato, Turkey Liver, Beef, Flaxseed
Papain, Folic acid, Chorella
Beef, Flaxseed, Taurine, Dried Kelp, Fruits & Vegetables, Vitamins & Minerals
Refund Policy
90-day money-back guarantee
90-day money-back guarantee
90-day money-back guarantee
Benefits

Promotes canine digestion
No harmful additives and fillers
Support a healthy coat

Elevate dogs immunity
Improve dogs joint health
Has vitamins, minerals, enzyme and nutrients

Supports longevity in dogs
Highly nutritious formula
Healthy digestive tract
ProPower Plus Review – Conclusion
Dr. Marty's ProPower Plus Dog Food is a highly nutritious supplement meant to be sprinkled on food to provide a number of health benefits. Some of these include helping with nutrient uptake, providing energy, supporting healthy digestion and oral health, reducing bad breath, and decreasing anxiety.
It's a high-quality product with completely organic ingredients. Of the many ProPower Plus for Dogs reviews, most of the customers had very good things to say on behalf of their canine friends. Users noticed that their dogs enjoyed the taste of the power, and they saw great health improvements like added energy and fewer digestive issues.
This supplement is healthy and totally natural, with no preservatives or other additives that could lead to side effects. According to all reports, your dog should enjoy this formula and experience a great boost in nutrition and wellness. ProPower Plus is a highly recommended product for dogs everywhere.