Dogs, same as humans might be under stress both physical and mental on daily basis. Whether it is caused by their activities, where an injury might occur, genetics, or even by the owner, it is important to note that that stress could cause serious issues to dog's health. Also there are some dogs that are nervous on regular basis, and might need some calming down.
There are multiple ways of settling both stress and anxiousness, some more and some less effective. In last few years, canine massage has come up among the top ways, to release your pet from stress, and also from physical discomfort. Same as with human massage, there are some already proven benefits, like lowered blood pressure, and reduced stiffness, both researches think that massage is actually doing much more, than some might say. So, is massage the best option that you can apply to your dog, aiding it in few ways, and how to actually do it?
Canine Massage Benefits
So as time passes, more people practice canine massages, as there are new benefits proven every few months. Massages are being used for dogs that take part in athletic performances, mostly for warming up and loosening muscles, and also in dogs that are going through rehabilitation or are even have special needs. It is also really good when practiced on puppies, as it eases socialization and increases their trust in humans, making it much easier to visit a veterinarian if needed. Along with increased circulation and reduced stiffness, there are few more uses of canine massage:
Eases pain; better balance and flexibility
Increased trust in humans, accepting touch more easily; increased bond between owner and pet
Reduces risk of injury; aids in recovery from injury
Detects potential problems; relieves stress, tension and anxiety
Promotes easier breathing; stimulates kidney and liver functioning
Better digestion; better coat and hair
Looking as the massive array of possible benefits, it is important to know that there are actually no downsides of practicing it, of course if done in moderate intensity. Along with that there are few various types, depending on what is it for, and both veterinarian, but dog owner can practice it as well. If you know how to perform canine massage, you might be doing a great thing for yourself and your dog, saving hundreds of dollars and still creating a closer bond between you and your pet.
You Must Read: Dog Joint and Hip Pain
How to Perform Canine Massage?
Before we give you instructions on how to perform particular dog massages, it is important to know what are the best parts of body to perform massage on:
Over the sacrum, as parasympathetic nervous system is directly connected both to sacral and cranial areas, so massage on this part or even a simple touch can have a calming effect on your dog.
Other best part is chest, as it is non-invasive and your dog will easily accept this one.
There are few types and ways to perform massages, as following:
The most common massage that you, as a dog owner, could perform is the daily massage. This one is most easy as well, as you basically use your flat palm and go over whole dog's body, trying to feel the parts that might be stiff or tensed and do some extra moves on those. This is also a great massage to discover some issues that you did not know of before.
There is also a massage that has a goal to calm down an anxious dog. All dog owners know that once your dog gets nervous, he is not easy to tame, but apparently massage might be a solution. Go with a flat palm from neck along the spine, gradually increasing pressure if your dogs like it, but be sure to never directly press down the lower spine. Also petting moves on head and pelvis area, is going to be of great benefit as well, as those moves have a calming effect on your dog.
If your dog is highly active or might even be an athletic performer, you might want to give him a massage as a part of warm up routine, in order to prevent soreness and injuries. Do this by rubbing the muscles, with heel of your hand. Basically you should be using the kneading moves, still do not over squeeze the muscle, as it might cause an injury or stop circulation.
No matter how good of a warm up your dog had, it still can experience muscles or joints pain. In order to soothe that, start with petting the area that is warm, and then gently apply comprehensions in your breathing rhythm. Finish off with gentle petting just as you have started. Have in mind that this massage can help your dog in a long term, preventing it from any joint or bone disease that might occur.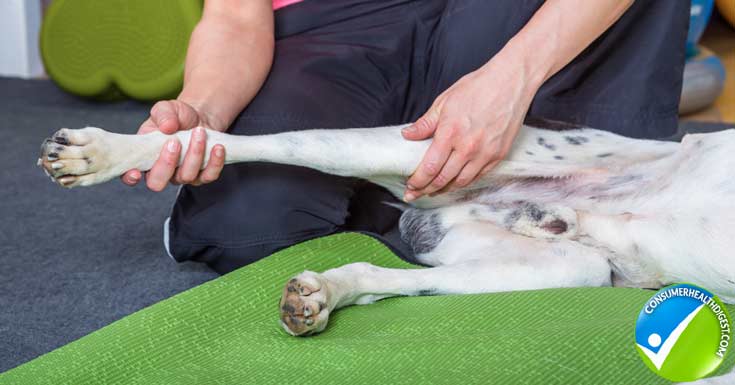 See Also: Preserve Healthy Joints In Sport Dogs
Conclusion
Dogs have feelings and senses just like we humans do. So it is important to understand their problems, and try to help them in the best way possible. Dogs cannot speak, but you can see by their actions that something is not right, or that they might be coping with some issue. Along with veterinarian visitation, your best guess might be to try and apply few types of massages, on daily basis, and see how that affects your dog, as according to researches that is a new way of soothing most issues. And along with that, you get a benefit of bonding with your dog! Worth it, isn't it.
View All