If your dog is suffering from a degenerative disease of the joints such as osteoarthritis or a congenital joint defect, you have probably wondered how you could help ease your pet's pain naturally. When damage to the joint has already occurred, there is usually nothing you could do to repair the joint, and in conditions such as arthritis, the joint damage will inevitably progress.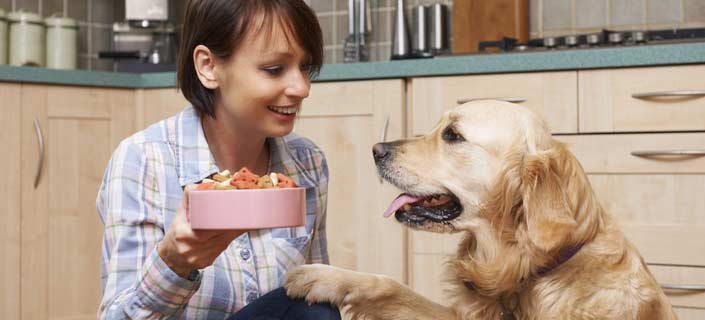 However, you could help ease your dog's pain and slow down disease progress with dietary changes. Dog's affected by arthritis or similar joint disorders need to follow a certain diet that will reduce their symptoms and improve your dog's quality of life. In this article, we explain how a diet for dogs with joint problems helps with joint pain.
Weight Management
First in line when treating a dog with arthritis is weight reduction in cases where a dog is overweight. Overweight dogs are at a higher risk of developing osteoarthritis which is a degenerative condition of joint cartilage that usually happens with old age.
Dogs may become lame as a result of osteoarthritis and changes in gait can put further strain on other joints. Losing weight is highly effective in managing pain from arthritis as well as improving a dog's mobility.
One study on 9 dogs with osteoarthritis found that a weight reduction of 11 – 18% significantly decreased hind limb lameness in dogs providing evidence that weight reduction is an effective treatment for dog joint pain.
Dietary Supplements
Studies on arthritis have been focusing for some time now on the role of different nutrients in the management of arthritis. For instance, green lipid mussels (GLM) were studied for their effects on alleviating symptoms of arthritis in 31 mixed-breed dogs.
The study which was placebo-controlled found that in dogs given the supplement, joint pain and swelling significantly improved. Omega-3 fatty acids were also extensively studied for their favorable effects on relieving the symptoms of osteoarthritis in dogs.
Omega-3 fatty acids can help with inflammation and pain in the affected joints and increase your dog's levels of activity. Yucca schidigera which is medical plant native to Mexico also provided anti-inflammatory and anti-arthritic effects in studies on humans and animals.
Joint Health Supplements
Other supplements you could give your dog to help with joint pain are those specifically targeting joint health problems. Chondroitin and glucosamine which are a part of healthy cartilage are popular supplements among arthritis sufferers.
Although studies are divided in the effectiveness of these dog joint supplements in treating osteoarthritis pain, they still belong to one of the most frequent ingredients in treating arthritis pain.
One study published in the journal Toxicology Mechanisms and Methods examined the efficiency of these ingredients specifically in dogs with arthritis.
The study found that when used in conjunction with Type II Collagen Singly, chondroitin and glucosamine lessened arthritic pain in dogs and caused no side effects.
Raw food diet
Giving dogs raw food is popularly believed to support overall dog health and even improve symptoms of arthritis. However, there aren't many studies out there to support this claim. One of the rare studies conducted is a survey-type study examining how pet owners fed their pets and found that owners feeding their pets raw, homemade food regarded their pets as healthy.
While we don't really know if raw food is in any way better than processed food for a dog's joint health, feeding your dog a meat-based diet with little to no grains will ensure your dog receives the proper kind of nutrition to support overall health.
Prescription Foods for Dogs with Arthritis
If you find it confusing looking for the right kind of foods to give your dog with arthritis, then you could try foods specifically designed to treat arthritis in dogs. These are usually canned foods with added supplements that support joint health such as omega-3 fatty acids and L-carnitine.
However, watch the portions to prevent weight gain. Dogs with arthritis are frequently inactive meaning they don't need as many calories as when they were more mobile. Talk with a veterinarian regarding the portions and caloric demands your dog needs when suffering from arthritic joint and hip pain.
Conclusion
A dog suffering from joint and hip pain will usually have to undergo a special diet to prevent worsening of symptoms of arthritis and other joint disorders. Weight management is of highest importance when treating arthritic pain in dogs.
But besides restricting your dog's food intake, you should also add valuable nutrients to his diet such as omega-3 fatty acids to help support joint health.
Studies on the role of nutrients in treating joint pain are still inconclusive although there is some evidence that diet plays a great role in the development and treatment of arthritis.
If you have any doubt regarding the foods you should give your dog when he/she is suffering from joint and hip pain, talk to a veterinarian and we're sure they will offer valuable guidelines in this regard.
View All