For all the passionate bodybuilders and athletes out there, Mallory Haldeman is a role model. She is an inspiration and a life saver for the people who believe in a healthy life style. The accolades that she has received up till now are evident of her ability and desire to excel.
Bio
Mallory Haldeman, currently living in Las Vegas, belongs to Pennsylvania where she studied at West Chester University of Pennsylvania. During her childhood, she was surrounded by boys including her three brothers. Most of her free time was spent in playing outdoor games and other similar activities. She developed interest in a variety of sports, trying her luck in every field in order to find the match for her talents.
Somehow, during college, she found herself being attracted to rock climbing. Sadly, in 2009, her drive to pursue this adventurous sport more seriously led to a tragic accident. She had to pay a heavy price by breaking 2 ankles, going into a surgery and later facing a lengthy and time-consuming recovery. While she was still recovering from the incident, she was struck by depression. Depression about how lying in bed all the time is making her loose her toned figure.
Luckily, in a few weeks' time she was able to get herself together again and she headed towards the gym where after two months she saw exceptional results. This was the turning point in her life. She became determined to shine in the sport of bodybuilding. She spent most of her time exploring the strengths and weaknesses of bodybuilding in books and magazines.
Lifestyle
Without any doubt, Mallory Haldeman (@MalloryIFBB) has fallen in love with her lifestyle. She is more than happy in following her meal plans and bodybuilding sessions daily. She gets full support and encouragement from her trainer Tracey, her boyfriend and her family.
Her profession also bestows her greatly which is also a driving force in her life. She gets her energy and inspiration from Erin Stern, whose everyday life revolves around fitness and healthy activities.
Mallory Haldeman Meal Plans
Mallory is a very hardworking and determined fitness expert who keeps close attention towards her figure. She provides a brief overview of the 6 meals that she takes a day. These meals are in a combination of two items per meal.
Please note that these meals are provided as a general idea and are not exact in reality.
MEAL 1: Egg whites & oats
MEAL 2: Fish & broccoli
MEAL 3: Tuna & green beans w/ almonds
MEAL 4: Chicken & asparagus w/ yam
MEAL 5: Egg whites & chicken w/ spinach
MEAL 6: Fish & asparagus.
Although, her meals change frequently, but protein shake is always a part of her everyday meals. She loves trying different flavors of protein shakes after her daily training. These days her favorite is Optimum's new toasted coconut chocolate.
Related: Carin Astrup – A Certified Personal Trainer & Nutrition Advisor
Competitions – Awards and Achievements
She initially received her training and guidance from Tracey Greenwood which got her into NPC New York Metropolitan Championships in the year 2011. She was awarded 2nd place in this competition. In the same year she participated in many other NPC championships.
These are Pittsburgh Championships, Junior USA Championships, Team Universe & National Fitness Championships and finally USA Championships in which she was able to secure 5th, 4th, 16th and 3rd position respectively. This marathon of awards in championships did not stop in the year 2011; rather she got better with every passing year.
In 2012, she again became part of NPC Junior USA and National Championships in which she got 3rd and 1st position overall. Later she was privileged by becoming a part of American International Federation of Bodybuilders. Mallory Haldeman then took part in IFBBs' PBW Tampa Pro, Tournament of Champions Pro Figure and Olympia in which she secured 2nd, 2nd and 5th place respectively. Later on, she was bestowed with "Rookie of the year award" by Flex Magazine.
Watch – Mallory Haldeman IFBB Figure Pro trains for 2012 Olympia Competition
2013 was also a great year in her career in which she took part in various competitions. She achieved 5th and 4th positions in the Arnold Figure International and Australia Pro Figure respectively. This year she also managed to secure 1st place in IFBBs' PBW Tampa Pro and Tahoe Pro Figure. Later, she received 3rd position in IFBB California Governor's Cup Pro. Finally, she got 5th position in Olympia Figure in 2013.
Mallory Haldeman Message
According to her Official Facebook Fan Page; 'Fitness isn't a goal, it's a LIFESTYLE'. Mallory believes that with the adoption of a healthy lifestyle, there is much more to come in her life. She readily enjoys learning about health and fitness.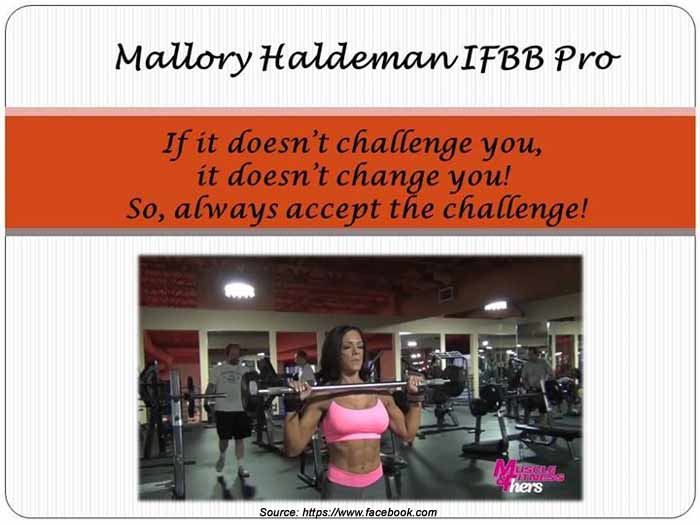 For her, living clean and healthy is of utmost importance. She feels that having such a great success in her sport is a blessing and that she will not leave any opportunity of continuing her cause throughout the globe.
View All