In This Article
What is Plexus MegaX?
Plexus MegaX is a dietary supplement that is designed to provide you with plant-based Omegas.
It contains a full spectrum of Omega-3 fatty acids that help to provide you with fish oil benefits without the unpleasant fishy aftertaste. It also provides you with Omega 5, 6, 7, and 9.
It is formulated with potent ingredients obtained from plants. The ingredients deliver numerous health benefits in your body. It claims to support a healthy heart and brain function.
How Does It Rate?
Overall Rating: 3.7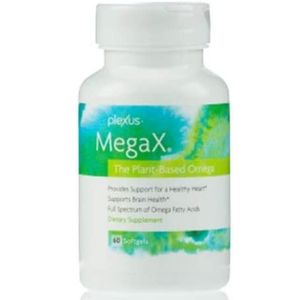 Plexus MegaX
Brand Highlights
The manufacturer of Plexus MegaX is Plexus Worldwide Company based in Scottsdale, AZ.
It contains plant-based ingredients. It is free from contaminants such as mercury from the fish and PCB's, gluten, and GMOs.
Key Ingredients
AHIFLOWER oil
Broccoli seed oil
Raspberry seed oil
Avocado oil
Sea buckthorn oil
Pomegranate seed oil
Pros
It is rich in Omega 3 fatty acids.
May promote a healthy heart.
It may support your heart health.
May support your brain health.
Cons
Not suitable for children under the age of 18 years.
---
How Does Plexus MegaX Work?
This product contains essential Omegas that are well-known for their health benefits. This makes this supplement to be considered effective for use. It is important to research more about it to ascertain this.
This product works by delivering a full spectrum of plant-based omegas. It is formulated with a potent blend of Omega 3, Omega 6 & 9, and Omega 5 & 7 blends. The omegas provide you with Alpha-Linolenic Acid (ALA) and Stearidonic Acid (SDA).
Plexus MegaX Ingredients – Are They Safe & Effective?
Omega-3s helps to lower the level of triglycerides that are detrimental to your health especially cardiovascular health. Omega-3s are essential fatty acids that have numerous health benefits for your body. They help to support a healthy heart and brain.
Omega 6 and 9 help with diabetes, digestive difficulties, high blood pressure, asthma, skin disorders, and skin disorders among others.
They support your hearts health and immune system functions. Omega 5 and 7 supplement the activity of the other omegas to enhance optimal benefits. Here are some of the ingredients used:
AHIFLOWER oil
– It is rich in Omega-3 stearidonic acids that have numerous health benefits in your body. Yet Ahiflower has comparable GLA levels to evening primrose and echium oils. As the chart shows, Ahiflower oil delivers the richest overall balance of omega-3 and omega-6 plant-based fatty acids in an optimal 4:1 ratio as per Study. [1].
Broccoli seed oil
– Broccoli Seed Oil contains arachidonic acid, an omega-6 fatty acid that can help reduce inflammatory skin conditions such as dermatitis, rosacea, and psoriasis. This oil also has a unique blend of essential fatty acids that makes it a valuable emollient in hair and skincare products as per the referred Article. [2].
Raspberry seed oil
Red raspberry Seed Oil has polyunsaturated fats including Omega-3 fatty acids and antioxidant properties from carotenoids, primarily Lutein, tocopherols, and tocotrienols. Tocopherols are primarily gamma- and alpha-tocopherol, which contribute to the oil's antioxidant properties and lipid support as per Study.[3]
Avocado oil
– Avocado oil has a high omega-6 to omega-3 ratio (13:1), and we usually want around 3:1 or 2:1 for better health. But this shouldn't be a concern, because the total amount of Omega-6 is relatively small.[4]
Sea buckthorn oil
– Sea buckthorn is widely used in skin and hair products due to the rich array of vitamins and fatty acids it contains. Apart from vitamins C, A, and E, the oil is rich in gamma-linolenic acid, an omega-6 fatty acid that helps blood circulation and reduces signs of Aging. [5].
Pomegranate seed oil
– Pomegranate seed oil contains Omega 5 (punicic acid), Omega 9 (oleic acid), Omega 6 (linoleic acid), and palmitic acid, making it one of the frontrunners in anti-inflammatory skincare.
Plexus MegaX Possible Side Effects
Plexus MegaX is considered safe for use, as it has no known side effects. It is produced from plant-based ingredients. It is free from allergens and other ingredients that might lead to undesirable side effects.
Plexus MegaX FAQ's
Q: What is the best way to take MegaX? Two at the same time or one in the morning and one at night?
A: You are recommended to take two capsules of this product on a daily basis. Ensure that you use it appropriately for you to attain optimal results as well for safety purposes.
Omega is recommended to be taken at bedtime. It helps with sleep. That would avoid, "making you feel groggy." This omega blend can benefit hair, skin, and nail growth as well as lower cholesterol levels. A great product! (via Amazon Customer)
Q: What are the Precautions When Using This Product?
A: You are cautioned to seek your physician's advice if you are pregnant or nursing prior to using this product.
Q: How Long Before I See Any Improvements?
A: The manufacturer does not state the exact duration the user will start noticing a change. However, they guarantee you its effectiveness when used regularly.
Plexus MegaX Review – Final Verdict
Omegas are a group of essential fatty acids that have numerous health benefits in your body. The body cannot produce these fatty acids on its own thus; we depend on food as the source of these essential fatty acids.
Todays' diet and adopted eating habits make it difficult to get the required Omegas. Fortunately, there are dietary supplements that are designed to support your health by providing you with Omegas. They are numerous in the market making it difficult for you to choose the right product.
To ensure that you got yourself the right product, it is important to go for a product whose ingredients are clinically tested and proven to deliver reliable results.
Plexus MegaX is a dietary supplement that promises to provide you with the omegas from a plant source. It claims to support your heart health, brain functions, manages stress, and promote a healthy lipid level.
It is advisable to carry out extensive research about it before purchasing it. This will help you to ascertain the safety and effectiveness of the ingredients used. Also, it is important to consider what other people who have used it say about it to have an insight into what to expect from it.
Our Top Omega Supplement Choices
Verdict on Claimed Benefits: Below is our summary of the available evidence for the claimed benefits of below mentioned omega supplements based on the available research:
Advanced Plant Omegas | Promote Strong Cardiovascular Health

Supports Cardiovascular Health*
Gold Star Evidence
Improves Mood*
Gold Star Evidence
Enhances Bone Health*
Gold Star Evidence
Boosts Immune Functions*
Strong Evidence
Spring Valley Fish Oil | Omega-3 Health Supplement
Lowers Heart Disease Risk*
Gold Star Evidence
Enhances Joint Mobility*
Strong Evidence
Maintains Eye Health*
Gold Star Evidence
Nourishes Skin Health*
Strong Evidence
Burp-Less Fish Oil | Pharmacist Recommended
Regulates Blood Pressure*
Gold Star Evidence
Promotes Better Joint Comfort*
Strong Evidence
Supports Proper Vision*
Strong Evidence
Improves Focus*
Strong Evidence
Product reviews are provided for informational purposes only and reflect solely the views and opinions expressed by the contributors and not those of Consumer Health Digest. We do not verify or endorse any claims made in these reviews. Please read the full product reviews disclaimer. *All individuals are unique. Your results can and will vary.
Ask a Question
Have a Question? Please Tell Us What We Are Missing Here!
PRODUCT NAME
Plexus MegaX
PRODUCT BRAND
Plexus Worldwide Company
PRICE (in USD)
$33.01
ITEM FORM
Capsule
UNIT COUNT
60 Softgel
INGREDIENTS
AHIFLOWER oil, Broccoli seed oil, Raspberry seed oil, Avocado oil, Sea buckthorn oil and Pomegranate seed oil
Buy at Amazon
Buy at Walmart
**This is a subjective assessment based on the strength of the available informations and our estimation of efficacy.
*Result may vary. The information contained in this website is provided for general informational purpose. No medical claims are implied in this content, and the information herein is not intended to be used for self diagnosis or self treatment of any condition.
*Disclosure of Material connection: Some of the links in the post above are "associate sales links." This means if you can click on the link and purchase an item, we will receive a commission. Regardless, we only recommend products or services which we use personally and/or believe will add value to our readers. We are disclosing this in accordance with the Federal Trade Commission's 16 CFR, Part 255: "Guides Concerning the Use of Endorsements and Testimonials."