Vichy LiftActiv Retinol HA Night Cream Overview
Vichy LiftActiv Retinol HA Night Cream is an anti-aging cream that uses retinol and other fine ingredients to to resurface the skin as well as provide plumping action. One of the other ingredients is hyaluronic acid. This is from the company Vichy Laboratories who has a whole collection of skin care products.
Vichy LiftActiv Retinol HA Night Cream is available on quite a few online sites but may be harder to find in stores. It sells for $47.50 for a one ounce bottle.
Vichy LiftActiv Retinol HA Night Cream Ingredients
Retinol
Hyaluronic Acid
Shea Butter
Palm Oil
How Does It Work?
Vichy LiftActiv Retinol HA Night Cream uses pure retinol combined with what they call a triple dose of hyaluronic acid that is supposed to plump the skin enough that you see results overnight. They have clinical trials to back their claims and everything has been allergy tested and won't clog your pores.
Vichy LiftActiv Retinol HA Night Cream Advantages
Excellent ingredients such as retinol and hyaluronic acid
Can be found online easily
Price point is mid-range
Has clinical trials
Won't clog pores
Allergy tested
Safe for sensitive skin
Non-greasy
Absorbs fast into the skin
Tested by dermatologists
Vichy LiftActiv Retinol HA Night Cream Disadvantages
Price point is on the higher side
Cannot be found in all stores
Directions for Use
Cleanse the skin first and apply a small amount. Massage in thoroughly and use each night before bed for best results.
Warnings
There are no warnings for this product and with the ingredients it has, you should not experience any negative reactions when using it and it is good for sensitive skin.
Conclusion
I would recommend this product. It has excellent ingredients, good reviews, the price point is not super high, and it is easy to find online. It also has the backing of clinical trials as well as being dermatologists tested for sensitive skin, which is a huge plus. It is a brand you can trust and they have entire lines of products for skin care. They even sell water that is from French volcanoes (I know, pretty cool right?) and that water has 15 vitamins infused in it. This is just one of the really cool things this product line does with their products and attention to detail. The company has been around since 1931 so they definitely have been doing something right and it shows by their products.
Our Top Night Cream Choices

Quick-Absorbing and Blend with All Skin Type*
Minimize Fine Lines and Wrinkles*
Enhance Skin Firmness and Elasticity*
Fades Areas of Hyperpigmentation to Brightens*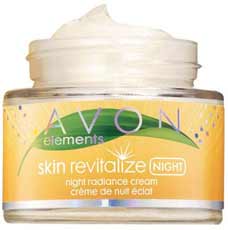 Avon Elements Skin Revitalize Night Radiance Cream
Quick-Absorbing and Blend with All Skin Type*
Minimize Fine Lines and Wrinkles*
Enhance Skin Firmness and Elasticity*
Fades Areas of Hyperpigmentation to Brightens*
LUMINESCE Advanced Night Repair
Quick-Absorbing and Blend with All Skin Type*
Minimize Fine Lines and Wrinkles*
Enhance Skin Firmness and Elasticity*
Fades Areas of Hyperpigmentation to Brightens*