What is SeroVital Anti-Aging Cream?
SeroVital Anti-Aging Cream is a skin product that is designed for use on the sensitive skin and it takes care of the skin and improves overall skin appearance.
It helps to repair creepiness and get rid of the most common aging signs. Incorporating this formula into your daily skin routine will restore the skin vibrancy and youthfulness.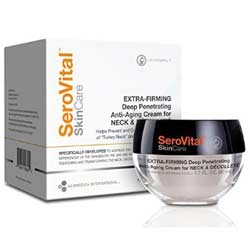 SeroVital Anti-Aging Cream is a skin formula that helps to treat aging signs and prevent premature aging of the skin.
It is manufactured using light molecules, which facilitate deep penetration without leaving residues behind. It is gentle on the skin, making it suitable to be used on all skin types including aging and sensitive skin.
This formula will provide an instant lift and tighten the skin. It transforms the area around the neck and gets rid of sagging and loose skin. Its regular use will sooth the skin and gives a youthful appearance.
What is the Company Behind SeroVital Anti-Aging Cream?
A company known by the name Serovital skincare manufactures this cream. This company deals with the line of skin care products, and it is known for producing high-quality products.
They have used the finest and quality ingredients, to ensure their products work to deliver the claimed benefits.
What are the Ingredients Used in SeroVital Anti-Aging Cream?
The ingredients used in this cream are of high quality and works faster to give instant results. They include:
Water – It helps in dissolving other ingredients and boosting the skin moisture levels.
Glycerin – It soothes, soften and moisturize the skin.
Cocoa Butter – It smoothens the skin and fine the texture.
Glyceryl Stearate – It is used as a preservative.
Retinyl Palmitate – It acts as antioxidant and it helps to improve the skin health.
Palmitoyl Tetrapeptide- 7 – It increases collagen production and help to combat aging signs.
Palmitoyl Oligopeptide – It smoothens the skin by getting rid of wrinkles, fine lines and loose skin.
Shea Butter – It keeps the skin hydrated and increase the suppleness.
Sweet Almond Extract – It softens the skin, sooth and kill germs.
What are the Pros of SeroVital Anti-Aging Cream?
It may lift the skin and increase firmness
It may help to keep the skin hydrated for longer.
It might smoothen the skin and improve the texture.
It fights aging signs such as wrinkles, fine lines and sagging skin.
It helps to boost overall skin health.
It can be used on all skin types.
It is highly absorbed and this can lead to instant results.
What are the Cons of SeroVital Anti-Aging Cream?
It contains alcohol and it can be harsh on the skin and cause irritation
Some ingredients can cause allergic reactions
The dosages of ingredients used are not given
FAQ's
How Should you Use SeroVital Anti-Aging Cream?
Apply this formula on a clean and dry skin.
Massage gently on circular motions and leave it to absorb.
Use it daily.
How Much does SeroVital Anti-Aging Cream Cost?
This cream is available at the cost of $79.00 for a quantity of 50ml.
SeroVital Anti-Aging Cream Review- The Conclusion
This cream works on all skin types including the aging and sensitive ones. Its use might rid the skin from aging signs and leave the user with a youthful appearance.
It may also increase the skin moisture levels and give a healthy glow. However, it contains alcohol and other ingredients that can irritate the skin and cause adverse reactions. However, you should research more before buying the product for desired results.
Many people neglect their neck and chest in their daily skin care regimen. The neck ages just as quickly as the face and overtime loses elasticity resulting in what is commonly referred to as "turkey neck". Prior to purchasing a neck cream make sure it has been rigorously tested in clinical trials. A neck cream should effectively firm and lift sagging skin, improve overall tone and texture and reduce the appearance of fine lines and wrinkles.
Below you'll find some of the most effective neck cream products on the market today, in our opinion.
Our Top Neck Firming Choices
Dermaset Neck, Chin, And Jawline Regimen

Potential to Firm and Lift Sagging Skin*
Potential to Reduce Fine Lines and Wrinkles*
Promotes Brighter and Radiant Skin Tone*
Skin Appears Smoother and More Luminous*
Clarins Super Restorative Décolleté And Neck Concentrate
Potential to Firm and Lift Sagging Skin*
Potential to Reduce Fine Lines and Wrinkles*
Promotes Brighter and Radiant Skin Tone*
Skin Appears Smoother and More Luminous*
Potential to Firm and Lift Sagging Skin*
Potential to Reduce Fine Lines and Wrinkles*
Promotes Brighter and Radiant Skin Tone*
Skin Appears Smoother and More Luminous*