What is Revivatone?
Revivatone is a Solvaderm product that is designed specifically for use on the neck and chest area. These areas can both start to show signs of aging early on as they tend to be more neglected, unlike the facial skin.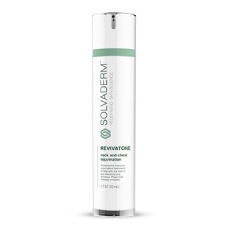 Revivatone is said to address the signs of aging by fortifying the dermal structure, improving resilience, restoring elasticity and supporting firmer, smoother skin. Fine lines are reduced, skin tone is more even and it develops a more youthful appearance.
Revivatone can be easily incorporated into the skin care regime and is part of the complete Solvaderm anti-aging range.
What are the Active Ingredients in Revivatone?
Revivatone consists of a blend of potent peptides and intense moisturizers. While the peptides are said to create stronger skin that is more resilient to damage, the moisturizers improve the look of skin already showing signs of aging. Among the key ingredients are:
Acteyl Dipeptide-13 – Encourages firmer, toned neck and chest area skin and prevents the further breakdown of elastin fibers to maintain strong structural support.
Hyaluronic Acid – An intensely moisturizing ingredient, Hyaluronic Acid enhances the effects of the peptides contained in the formula while reducing the severity of lines and wrinkles.[1]
Hexapeptide-10 – This vital peptide is said to restructure the membrane between the epidermis and deeper skin layers, improving sagging and creating a tighter, more toned skin surface.
Squalane – A natural hydrator, Squalane protects the skin from aging[2] by promoting the synthesis of new, healthy skin cells and imparting intense moisture without being heavy or sticky.
What are the Advantages of Revivatone?
Reinforces the skin to reduce the risk of further damage to the neck and chest area
Supports the production of elastin in the skin
Improves the texture and tone of the skin with deeply moisturizing ingredients
Nourishes the skin, leaving it softer, smoother and wrinkle-free
How Much is Revivatone?
A 50ml bottle of Revivatone is $49.00, which is very affordable but doesn't make it eligible for Solvaderm''s free shipping.
Is There any Money-Back Guarantee?
Revivatone has a full 60-day money back guarantee as do all the products in the Solvaderm range.
Should I Purchase it?
The skin on the neck and chest area can often be overlooked as we age. With so much focus on the face, it's only natural that most people put the most effort into treating that area first.
However, the neck and chest skin is just as vulnerable as other areas and should be treated in the same way, preferably using a good quality product such as Revivatone.
The dual-peptide formula provides structural support for aging skin and should, when used on a regular basis, improve the skin's resilience and slow the signs of aging. Revivatone is offered at an affordable price and can easily be incorporated into any anti-aging skincare routine for effective results on all skin types.