In This Review
Obagi Elastiderm Overview
When it comes to beauty and youth, people have come to know to equate the Obagi name to these two words. That's because it's been available in the market for some time now and has proven to deliver results to many of its users.
Just ask a vain woman what she has in her beauty arsenal and she'll name Obagi among many other things. Obagi has provided women with weapons that effectively fight the early signs of aging.
If you are looking for an anti-aging cream that tightens and strengthens skin, then you may want to consider Obagi Elastiderm. But before you do shell out a pretty penny for a bottle, see what the customers have experienced and read about what the experts have to say about it.
Obagi products don't come cheap, so you need to make sure that it's worth your time and money. If you're big on brand names, then you'd appreciate Obagi Elastiderm. This line of anti-aging cream helps to fight the different signs of aging: wrinkles, fine lines, and age spots.
The Obagi Elastiderm Decolletage System features the skin lightening complex and the wrinkle reducing lotion. These two products work in close collaboration so that you can look youthful for as long as possible.
Obago provides you with an alternative to cosmetic surgery. While Obagi Elastiderm Decolletage System may be more expensive than what you're used to, it's still a fraction of the money you'll shell out if you opt for surgery. Those who have tried this line of anti-aging cream highly recommend it. Not only is it gentle on skin, but it's effective as well.
How Does It Rate?
Overall Rating: 3.5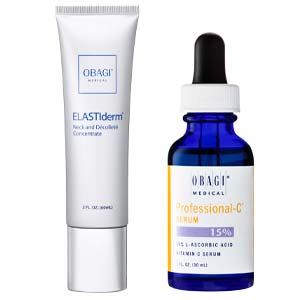 Obagi Elastiderm Decolletage System
Brand Highlights
Founded by board-certified dermatologist Dr. Zein Obagi in 1988.
The Obagi Medical line includes products designed to treat issues such as fine lines, wrinkles, and dark spots
The Obagi Clinical line includes products designed to prevent these early signs of skin aging.
Key Ingredients
Octocrylene
Dibutyl Adipate
Ethylhexyl Salicylate
Butyrospermum Parkii (Shea) Butter
Butyl Methoxydibenzoylmethane
Pros
Comes from a reputable company
Fights the signs of aging on your face, neck, and chest
Made from ingredients that have gone through clinical tests.
Recommended by customers and skin experts
Is available online and in selected retail stores.
Known to deliver quality results
Gentle on skin.
Cons
Expensive and caused little bumps
Obagi is not cruelty-free.
Some Obagi skin care products contain parabens
Some Obagi skin care products contain fragrance
---
Summary of Obagi Elastiderm
Obagi Elastiderm Neck and Decollete Concentrate
Supports the necessary stages of developing healthy elastin for a more lifted appearance. (bestseller)
Key Ingredients: Glycerin, Water (Aqua),Methyl propanediol, Alcohol Denat.,Dimethicone, Isocetyl Stearoyl Stearate, CocoCaprylate/Caprate, Isononyl Isononanoate, Alpha-Arbutin, Niacinamide, Pentylene Glycol, Phenoxyethanol, Polyacrylate Crosspolymer-6, Malonic Acid, Sodium Hydroxide, Carbomer, Retinyl Palmitate, Zinc Carbonate, Acrylates/C10-30 Alkyl Acrylate Crosspolymer, Disodium EDTA, Helianthus Annuus Seed Oil, Cupric Carbonate, Amodimethicone, T-Butyl alcohol, Tocopherol, Parfum.
Price: $250.00
What It Does: Supports the growth of healthy elastin for a more lifted appearance. Reduces the appearance of fine lines and wrinkles, as well as signs of skin ageing. Improves uneven skin tone for a brighter appearance
---
Obagi Professional-C Serum 15%
Reduces the appearance of fine lines and wrinkles on the skin. (bestseller)
Key Ingredients: Propylene glycol, water (aqua), L-ascorbic acid, alcohol, ascorbyl glucoside, fragrance.
Price: $110.00
What It Does: A powerful antioxidant that helps to brighten, renew, and reduce signs of previous visible damage by fortifying the skin's barrier defences.
---
Does the Obagi Elastiderm Decolletage System Work?
Based on customer feedback and expert reviews, the Obagi Elastiderm Decolletage System works. They've seen wonderful results, and it came as no surprise for many of them.
Obagi has been around for years now, and while you do see new brands out in the market, the company has managed to stay strong because of the quality products it offers to the public.
Obagi Elastiderm Ingredients – Are they Safe & Effective?
Glycerin
– Glycerin is a humectant, which is a type of moisturising agent that draws water into your skin's outer layer from deeper levels of your skin and the air. [1]
Caprylic/capric triglyceride
– Caprylic/capric triglyceride is an emollient and skin-replenishing ingredient derived from coconut oil and glycerin. [2]
Niacinamide
– Niacinamide promotes the growth of skin cells while also protecting them from environmental stresses such as sunlight, pollution, and toxins. Niacinamide may be beneficial for severe acne, particularly inflammatory forms such as papules and pustules. [3]
Hyaluronic acid
– Hyaluronic acid allows skin to stretch and flex while also reducing wrinkles and lines. Hyaluronic acid has also been shown to speed up wound healing and reduce scarring. [4]
Panthenol (provitamin B5)
– Panthenol is effective on the skin because vitamin B5 is extracted with ethanol or benzyl alcohol before being absorbed. Other vitamins and amino acids that are beneficial to your skin are included in this type of topical treatment. [5]
Watermelon seed oil
– Watermelon seed oil is great for all skin types because it is light, fast-absorbing, and clarifying for oily skin. However, because it contains antioxidants, minerals, and unsaturated fatty acids, it is also nourishing and effective for dry skin. [6]
Read Next – Clarins Super Restorative Décolleté And Neck Concentrate
Obagi Elastiderm FAQ's
Q: How Much Do Obagi Skin Care Products Cost?
A: Obagi skin care products are pricey, for example, the Obagi Professional-C® Serum 15% costs $110.00 USD for 1 ounce, and the ELASTIderm® Neck and Décolleté Concentrate costs $250.00 for just 2 ounce.
Q: Where to Buy Obagi Skin Care Products?
A: You can buy Obagi skin care products on Amazon as well as Walmart.
Q: Is Obagi cruelty-free?
A: Obagi is not a cruelty-free firm. Obagi does not test its products on animals. Non-prescription Obagi products have not been tested on animals."
Q: Is Obagi Skin Care Vegan?
A: "We cannot guarantee that any of our products are vegan," the company's website states.
Obagi Elastiderm Reviews – Final Verdict
Should you purchase this set of anti-aging cream? In a word, yes. The Obagi Elastiderm Decolletage System may be more expensive than most brands, but people do buy it because it delivers results that you don't get anywhere else.
The only drawback is that it may be too expensive for some. Other than that, it comes highly recommended by those who have tried it.
Many people neglect their neck and chest in their daily skin care regimen. The neck ages just as quickly as the face and overtime loses elasticity resulting in what is commonly referred to as "turkey neck". Prior to purchasing a neck cream make sure it has been rigorously tested in clinical trials. A neck cream should effectively firm and lift sagging skin, improve overall tone and texture and reduce the appearance of fine lines and wrinkles.
Below you'll find some of the most effective neck cream products on the market today, in our opinion.
Our Top Neck Firming Choices
Drmtlgy Advanced Neck Cream

Potential to Firm and Lift Sagging Skin*
Potential to Reduce Fine Lines and Wrinkles*
Promotes Brighter and Radiant Skin Tone*
Skin Appears Smoother and More Luminous*
Perricone MD Essential Fx Acyl-Glutathione
Potential to Firm and Lift Sagging Skin*
Potential to Reduce Fine Lines and Wrinkles*
Promotes Brighter and Radiant Skin Tone*
Skin Appears Smoother and More Luminous*
Potential to Firm and Lift Sagging Skin*
Potential to Reduce Fine Lines and Wrinkles*
Promotes Brighter and Radiant Skin Tone*
Skin Appears Smoother and More Luminous*