As you age, fine lines and wrinkles start to appear. Wait a few more years and you'll soon develop what people call the turkey neck as well. This does a lot to your confidence. Whereas you felt beautiful and confidence once, you try to hide your age with layers upon layers of makeup. This doesn't do much to camouflage your sagging neck. If you're living on a tight budget, cosmetic surgery isn't an option either. Are you supposed to just grin and bear it? Or, do you look for the best solution that doesn't put a dent on your budget?
Don't lose hope because with the help of science and technology, there is a neck cream that firms up skin and turns back the hands of time. You can definitely look younger and better when you have Befine Neck Cream in your stash of beauty products. Thanks to this, you don't have to suffer silently ever again.
The Perfect Way to Defy Time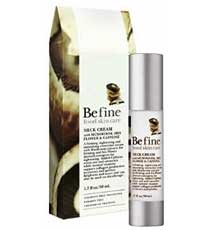 Your neck is constantly exposed, which means that this is also one of the first things people see. Stop trying to hide the lose skin on your neck with high-collared shirts. Rather, target the root cause of your problem with Befine Neck Cream as your ultimate weapon.
How does this product work? To start with, it's made from the following key ingredients:
Mushroom extracts to firm up the skin
Iris sunflower to tighten the affected area
Caffeine to make your skin look even and smooth
Sugar can to help with cellular regeneration and collagen production
Rice peptides for that perfect antioxidant
More importantly, it doesn't contain Paraben, an agent used in some neck creams that has been known to cause allergies and infection. Hence, this cream is perfect for just about everyone. If you have sensitive skin and are looking for a formula that's light, slightly fragrant, and effective, then you need not look anywhere else. This is a natural approach to looking young and beautiful, and if you're wise about the brands you invest in, there's no doubt that Befine will meet your needs.
The Verdict
So, should you get your very own bottle of Befine Neck Cream? It all boils down to what people say about this brand. You'll come to realize that many have tried it and have become loyal customers. They've seen results within weeks and the best part about it is that a bottle costs less than $30. Hence, this is an affordable solution that provides impressive results. With this, you don't ever need to shell out thousands of dollars for cosmetic surgery services. This is the answer to all both your anti-aging and budget needs.
Many people neglect their neck and chest in their daily skin care regimen. The neck ages just as quickly as the face and overtime loses elasticity resulting in what is commonly referred to as "turkey neck". Prior to purchasing a neck cream make sure it has been rigorously tested in clinical trials. A neck cream should effectively firm and lift sagging skin, improve overall tone and texture and reduce the appearance of fine lines and wrinkles.
Below you'll find some of the most effective neck cream products on the market today, in our opinion.
Our Top Neck Firming Choices
Revivatone

Potential to Firm and Lift Sagging Skin*
Potential to Reduce Fine Lines and Wrinkles*
Promotes Brighter and Radiant Skin Tone*
Skin Appears Smoother and More Luminous*
Potential to Firm and Lift Sagging Skin*
Potential to Reduce Fine Lines and Wrinkles*
Promotes Brighter and Radiant Skin Tone*
Skin Appears Smoother and More Luminous*