In This Review
What Is Plexus Xfactor Plus?
Plexus XFactor Plus is a multivitamin supplement that is designed to promote your health and make you feel better.
It is formulated with premium key nutrients that are in their bioavailable form. It entails a vitamin B complex that is highly potent and a gut-protecting polyphenol blend.
This product is rich in vitamins and minerals that help to support your health. It delivers 50 naturally occurring trace minerals to your body.
The ingredients are in their bioactive and bioavailable form to allow for superior absorption.
It is available on the manufacturer's website and other trusted online retail stores.
How Does It Rate?
Overall Rating: 3.9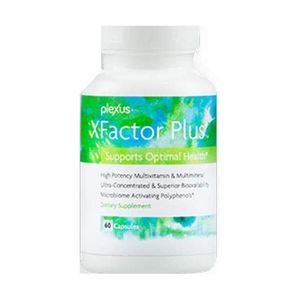 Plexus Xfactor Plus
Brand Highlights
The manufacturer of Plexus XFactor Plus is Plexus Worldwide Company based in East Pima Center Parkway? Scottsdale, AZ.
The company aims at producing high-quality products that are aimed at promoting your health and overall well-being.
Its ingredients are clinically tested and proven in terms of their safety and effectiveness. It is free from gluten, binders, fillers, and GMOs.
Key Ingredients
Vitamin C
Vitamin D (as cholecalciferol)
Vitamin E (as d-alpha-tocopheryl succinate)
Thiamin (as thiamin hydrochloride)
Phenol blend
Vitamin B complex
Natural chlorophyll
Pros
Promotes and maintains your body in a healthy state.
It can improve your immune system.
It can support healthy bones and muscle function.
It can improve your mental clarity and concentration.
Improves your mood.
Cons
Contains a proprietary blend making it difficult to evaluate the ingredients in terms of their effective and safe dosage level.
Not suitable for individuals under the age of 18 years.
The website contains less information about the ingredients used in this product.
---
How Does It Work?
This product delivers potent ingredients that are rich in essential nutrients. The ingredients are tested and proven clinically for their benefits in improving your health.
They work together to improve your immune system, support healthy bones, improve your mental health, and promote your overall wellness.
It reduces the production of unwanted compounds in your gut that can wreak havoc on your body.
It achieved this by increasing the beneficial microbes such as Lactobacillus, Bifidobacterium, and Akkermansia microbes. It also reduces the ammonium levels in your gut by 18%.
Plexus Xfactor Plus Ingredients – Are they Safe & Effective?
Here are the key ingredients used in this formula:
Vitamin C (as ascorbic acid and calcium ascorbate)
– One of the most well-known dietary supplements and antioxidants found in fruits and vegetables is ascorbic acid. Calcium ascorbate was created to alleviate the gastrointestinal discomfort produced by ascorbic acid's acidity.[1]
Vitamin D (as cholecalciferol)
– Vitamin D (ergocalciferol-D2, cholecalciferol-D3, alfacalcidol) is a fat-soluble vitamin that aids calcium and phosphorus absorption in the body. It's critical to have enough vitamin D, calcium, and phosphorus to develop and maintain healthy bones. Vitamin D is a nutrient that is used to cure and prevent bone problems (such as rickets, osteomalacia). When the skin is exposed to sunshine, the body produces vitamin D. Sunscreen, protective clothes, restricted sun exposure, dark skin, and advanced age may make it difficult to obtain adequate vitamin D from the sun.[2]
Vitamin E (as d-alpha-tocopheryl succinate)
– Alpha-TS caused chromosomal damage in human cervical cancer cells and ovarian cancer cells, but not in human normal fibroblasts in culture, according to the findings. Furthermore, alpha-TS increased the degree of radiation-induced chromosomal damage in cancer cells while protecting normal cells. Both cancer cells and normal cells accumulated equal amounts of alpha-TS, suggesting that cancer cells develop greater sensitivity to alpha-TS during transformation.[3]
Thiamin (as thiamin hydrochloride)
– Thiamine (vitamin B1) is used to prevent or cure vitamin B1 deficiency in persons who don't get enough of it through their diet. The majority of people who follow a healthy diet do not require additional vitamin B1. Low levels of vitamin B1 can be caused by a variety of illnesses, including alcoholism, cirrhosis, and stomach/intestinal issues. Vitamin B1 is an essential nutrient in the human body. It is required to keep the nerves and heart in good working order. Vitamin B1 deficiency can lead to heart failure and mental/nervous issues.[4]
Phenol blend
– Plant phenolics are an important part of the human diet because they have powerful antioxidant properties as well as other health advantages. According to epidemiological studies, a diet high in antioxidant fruits and vegetables lowers the risk of numerous oxidative stress-related disorders, such as cancer, diabetes, and cardiovascular disease.[5]
Vitamin B complex
– B vitamins are vitamins that are used to treat or prevent vitamin deficiency caused by a poor diet, certain diseases, alcoholism, or pregnancy. Vitamins are essential bodily building blocks that aid in maintaining excellent health.[6]
Natural chlorophyll
– Chlorophyll is the natural compound present in green plants that gives them their color. It helps plants to absorb energy from the sun as they undergo the process of photosynthesis. This nutrient is present in green vegetables and other plant-based foods, like algae.[7]
Other Ingredients: Vitamin A, Vitamin K, Zinc, Copper, Calcium
---
You May Also Like to Read – Life Force and TwinLab Daily One Caps With Iron
Plexus Xfactor Plus – Video Reviews
Seller Info
Address: Plexus Worldwide®
9145 East Pima Center Parkway
Scottsdale, Arizona 85258 U.S.A.
Contact: United States: (EN) 480-998-3490, (ES) 480-374-4998
Plexus Xfactor Plus Alternatives
| | | |
| --- | --- | --- |
| Products | Cost Range | Key Ingredients |
| Nutrilite Double X | $59.99 | Vitamins, Nutrients, Phytonutrient, Lutein esters, Zinc, Selenium, Magnesium |
| Animal Pak | $30.95 | multivitamins |
| Ritual Vitamins | $30.00 | Prenatal Multivitamin, Postnatal Multivitamin, etc. |
| Nutrilite Daily Multivitamin | $38.99 | Acerola Cherry, Alfafa, Parsley, Watercress, Spinach, Carrots, etc. |
Plexus Xfactor Plus – FAQ's
Q: When to take Plexus Xfactor Plus?
A: You are recommended to take 2 capsules on a daily basis. You are advised to take it on a full stomach to reduce any potential discomfort. You can take it at your convenient time, whether it be morning, daytime, or at night.
Q: What are the Precautions When Using This Product?
A: You are cautioned to consult your doctor if you are pregnant or nursing prior to consuming this product. Ensure that you use this product according to the instructions given. This will help you to prevent the occurrence of adverse side effects that might arise due to improper use.
Q: How are the Plexus Xfactor Plus Reviews Given by the Consumers?
A: Reading the consumer reviews before sitting at a particular product is important. The following are some Plexus Xfactor Plus reviews given by the consumers that you can read before making your decision.
This is the best vitamin I have ever taken. ~ Review by Adriana.B
I really like the product. My hair is much thicker after two months of use. I will continue to take the vitamins. I have not had any problems with the vitamin. I don't like it that I cannot buy them in a store. That would be much easier. ~ Review by Elizabeth Hatfield
I like the product but I burp it. I would much better tolerate it if taken with a meal. ~ Review by Kaif.M
(Above reviews have been taken from Amazon)
Q: Where to buy Plexus XFactor Plus?
A: You can easily buy it from the Official Website link of Plexus Worldwide.
Q: How Long Before I See Any Improvements?
A: You are required to use this product consistently for optimal results. However, the manufacturer does not indicate the exact duration the user should start noticing a change.
Plexus Xfactor Plus Side Effects
Plexus XFactor Plus has no reported side effects associated with it. It contains natural ingredients that are considered safe for use. It is free from gluten, fillers, binders, and GMOs.
Read Also – Ritual Vitamins Reviews
Plexus XFactor Plus Lawsuits
Plexus Worldwide, an Arizona-based multilevel marketing company that sells nutritional supplements, weight-loss, and personal care products, was investigated by TINA.org, and it was discovered that the company used unsubstantiated disease-treatment claims and income claims to promote Plexus products and its business opportunity. [8]
Plexus XFactor Plus Reviews – Final Verdict
You might tend to think that you eat a healthy diet on a daily basis. However, you might be missing some of the essential nutrients in your diet.
This is where the dietary supplements, especially the multivitamins, come in. They help you to acquire and restore lost nutrients in your body.
However, you have to be cautious when it comes to selecting the best supplement for use. You can only achieve this by carrying out more research into it.
Plexus XFactor Plus promises to improve both your physical and mental health.
It claims to help you fight free radicals, boost your energy and metabolism, support a healthy blood pressure level, improve your mental clarity and concentration, support healthy bones and muscle function, and improve your mood.
Just like any other supplement, it is important to carry out more research, especially on its ingredients.
This will help you to know the level of its safety and effectiveness. Also, by considering the customers' feedback you will be able to get a hint of what to expect from it.
Choosing a multivitamin that enhances your cognitive features is difficult because of the thousands of formulations on the market. In order to make it easier for you to find the best multivitamin for enhancing your cognitive function, we have thoroughly examined the top products on the market. We have rated the top formulations based on the effectiveness and safety of each product.
Our Top Multivitamin Choices
Verdict on Claimed Benefits: Below is our summary of the available evidence for the claimed benefits of below mentioned multivitamins supplements and gummies based on the available research:
Vous Vitamin | Premium Multivitamin

Personalized Formula*
Gold Star Evidence
High-Quality Ingredients*
Gold Star Evidence
Improves Bone Health*
Gold Star Evidence
Supports Heart Health*
Strong Evidence
Nature Made | Pharmacist Recommended
Supports Overall Health*
Gold Star Evidence
Improves Metabolism*
Strong Evidence
Enhances Bone Health*
Gold Star Evidence
Boosts Mood Health*
Strong Evidence