In This Review
Vanicream Overview
Vanicream is an all-natural, fragrance-free skin care line. It's made with a unique formula of essential oils and botanicals, and is designed to be gentle enough for even the most sensitive skin.
Vanicream was created by dermatologist Dr. Norman Orentreich, who wanted to create a product that would protect his patients' skin from irritation and inflammation caused by prescription medications. He created Vanicream by combining his own proprietary formula with ingredients like aloe vera, lanolin oil, olive oil, and vitamin E. The product has been used in hospitals across the country ever since its creation in 1948.
How Does It Rate?
Overall Rating: 3.5/5
Vanicream
Brand Highlights
Non-greasy texture
Scientifically backed ingredients
30-day return policy
Key Ingredients
Purified Water
Petrolatum
Propylene Glycol
Cetearyl Alcohol
Sorbitol
Ceteareth-20
Simethicone
Glyceryl Stearate
PEG-30 Stearate
Sorbic Acid
BHT
Pros
Makes skin feel softer
May help with itching
Cons
Some reviews say the lotion feels sticky
No free samples
May not be as easy to find as some of the more popular brands.
---
Summary of Vanicream Products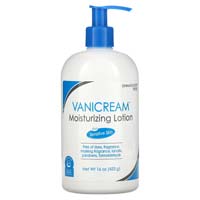 Vanicream Moisturizing Lotion
Key Ingredients:
purified water, petrolatum, propylene glycol, Cetearyl alcohol, sorbitol, ceteareth-20, simethicone, glyceryl stearate, PEG-30 stearate, sorbic acid, BHT.
Price:
$12.95
What It Does:
This lightweight lotion soothes and moisturizes skin and is formulated specifically for sensitive skin.
---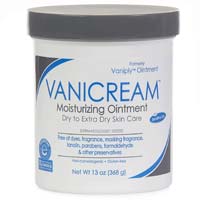 Vanicream moisturizing Ointment
Key Ingredients:
hydrogenated polydecene, microcrystalline wax, polyethylene, silica dimethyl silylate, dimethicone, C30-45 alkyl methicone, C30-45 olefin
Price:
$15.95
What It Does:
This lightweight ointment soothes and moisturizes skin and is formulated specifically for dry and irritated skin.
---
Vanicream Gentle Facial Cleanser
Key Ingredients:
purified water, glycerin, coco-glucoside, sodium cocoyl glycinate, acrylates copolymer, caprylyl glycol, mica, sodium chloride, 1,2-hexanediol, titanium dioxide, sodium hydroxide, disodium EDTA
Price:
$8.95
What It Does:
Gently removes makeup and excess oil from the skin and leaves your skin feeling clean and soft.
---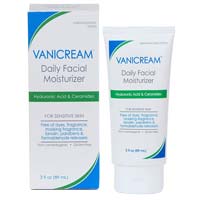 Vanicream Daily Facial Moisturizer
Key Ingredients:
purified water, squalane, glycerin, pentylene glycol, polyglyceryl-2 stearate, glyceryl stearate, stearyl alcohol, hyaluronic acid, ceramide EOP, ceramide NG, ceramide NP, ceramide AS, ceramide AP, carnosine, hydrogenated lecithin, phytosterols, caprylyl glycol, polyacrylate crosspolymer-11, 1,2-hexanediol
Price:
$13.95
What It Does:
This is a rich, lightweight moisturizing lotion that is suitable for day and night. It's formulated with hyaluronic acid, which helps to hydrate your skin and keep it hydrated all day long.
---
Vanicream Moisturizing Skin Cream
Key Ingredients:
purified water, petrolatum, sorbitol, cetearyl alcohol, propylene glycol, ceteareth-20, simethicone, glyceryl stearate, PEG-30 stearate, sorbic acid, BHT
Price:
$13.95
What It Does:
Helps to restore and maintain normal moisture levels while healing dry or chapped skin.
---
Vanicream Sunscreen SPF 50+
Key Ingredients:
zinc oxide 12%
Price:
$17.95
What It Does:
Vanicream sunscreen helps prevent sunburn and protects your skin from UVA/UVB rays.
---
How Does Vanicream Work?
Vanicream is a topical treatment used to treat common skin conditions such as acne and rosacea. It's an anti-inflammatory gel that works to reduce redness, swelling and the appearance of broken blood vessels. It is best solution to control eczema. Vanicream works by inhibiting the enzyme COX-2, which makes prostaglandins. Prostaglandins are molecules that can cause inflammation in the body when they're released from damaged tissue. By blocking COX-2, Vanicream prevents prostaglandins from being made and thus reduces inflammation.
Vanicream is a non-prescription treatment for the appearance of aging skin. It works by using a combination of ingredients to enhance your skin's natural ability to rejuvenate itself, while also providing moisture and hydration.
Vanicream contains peptides, which are small proteins that work as building blocks for cells. As you age, your body naturally produces fewer and fewer peptides, which can lead to less effective collagen production. By applying Vanicream to your skin, you're giving it the peptides it needs in order to produce new collagen and help keep your skin looking youthful. Vanicream also contains hyaluronic acid, which binds water molecules together in your epidermis (or outer layer of skin). By keeping this layer well-hydrated, hyaluronic acid helps prevent signs of aging such as wrinkles and fine lines from forming. Finally, Vanicream contains retinol—a form of vitamin A—which helps reduce inflammation in the dermis (or middle layer) of your skin by increasing cell turnover rates there. This means that as cells die off at an accelerated rate under retinol's influence, they're replaced with new ones that look younger than those
VaniCream Skin Care Ingredients – Are they Safe & Effective?
Squalane
Squalane is a clear, odorless oil derived from shark liver. It's naturally present in the skin, but it can't be produced by your body, so it needs to be applied externally. [1]
The oil is highly moisturizing and penetrates deeply into the skin without leaving an oily residue. Squalane also has antioxidant properties that help protect the skin from environmental stressors and reduce the appearance of fine lines and wrinkles.
Squalane is considered an effective moisturizer for all skin types, including sensitive skin that's prone to acne breakouts or irritation from other products.
Glycerin
Glycerin is an emollient and humectant that's often used in cosmetics and skincare products. It's a colorless, odorless, viscous liquid that can help your skin retain moisture and fight dryness. Glycerin is also a great ingredient to use if you want to make your own lotion or body butter! [2]
Pentylene Glycol
As study shows that, Pentylene Glycol is a colorless, sweet-smelling liquid used in cosmetics as a solvent or humectant. It's also used in food products, soaps, detergents, and cleaners. [3]
Hyaluronic Acid
Hyaluronic Acid is a key ingredient in many skincare products. It can be found in moisturizers, serums, and even eye creams. It's often used as a humectant to attract moisture to your skin. Hyaluronic Acid has been used in skincare since the 1960s, but it was only recently discovered that it plays a role in helping your skin retain its moisture. [4]
Hyaluronic Acid is a natural substance found in the human body. It can be found in our joints and eyes, where it helps with lubrication and acts as a cushioning agent. Hyaluronic Acid helps our bodies maintain healthy joints by keeping them lubricated and flexible. It also keeps our eyes moist, which prevents dryness and irritation from occurring there as well.
Hydrogenated Lecithin
Hydrogenated lecithin is an ingredient that is used in skincare products. It is a by-product of soybeans and is usually used as an emulsifying agent. Hydrogenated lecithin has been shown to help prevent wrinkles, reduce skin inflammation, and improve the overall appearance of your skin. [5]
Petrolatum
Petrolatum is a wax-like substance that has been used since the 1870s as a skin protectant and moisturizer. It's also found in many cosmetic products, including lipsticks, eye shadows, and hair gels. The word petrolatum comes from the Latin word for petroleum. [6]
Sorbitol
Sorbitol is a sugar alcohol that is used in skincare products to help retain moisture. It has been shown to be beneficial for many skin types, including dry and sensitive skin. Sorbitol is naturally soothing and hydrating, so it's often used in products intended to calm irritated skin conditions like eczema or rosacea. It can also reduce inflammation caused by acne breakouts. [7]
Zinc Oxide
Zinc oxide is used in sunscreen lotions to protect skin from the sun's ultraviolet rays . It also helps reduce irritation from insect bites and stings when applied topically. It can be found in some lip balms, diaper creams, and diaper rash creams, as well as toothpaste and makeup products. Zinc oxide can also be added to paints to make them more durable and UV resistant. [8]
Ceramide EOP
Ceramide EOP is a great way to add moisture and elasticity to your skin. It contains ceramides, which are naturally occurring lipids that help to maintain healthy skin cells by providing the right amount of moisture. [9]
Vanicream Moisturizing Cream FAQ's
Q: How do you use Vanicream Skincare products?
A: You should follow the directions on the product and use it as directed.
Q: Where can you buy Vanicream Skincare products?
A: You can buy Vanicream at most department stores and online on third-party websites.
Q: Is Vanicream vegan?
A: No one of the ingredients comes from shark fat.
Q: Is Vanicream good for eczema?
A: Yes, Vanicream is good for eczema. In fact, it's specifically made for people with sensitive skin, including those who suffer from eczema. It has a soothing formula that's gentle enough to use on your whole body, but strong enough to tackle the most stubborn rashes.
Q: Can Vanicream be used on your face?
A: Yes, Vanicream can be used on your face. It is specially formulated to be gentle enough to use on all of your skin, including your face, and the ingredients are non-comedogenic and dermatologist-approved.
Q: Is Vanicream better than CeraVe?
A: Vanicream is a skin care brand that's been around since the early 1900s. It's known for being gentle, moisturizing, and effective.
CeraVe is also a skincare brand that's been around since the early 2000s. It's known for being gentle, moisturizing, and effective.
Q: So which one is better?
A: We'd say it depends on what you're looking for in your skincare regimen. If you want a product that will leave your skin feeling soft and hydrated without causing any irritation or breakouts, we recommend Vanicream. But if you're looking for something more heavy-duty (e.g., if you have eczema), then CeraVe might be better for you.
What do Vanicream Reviews Say
One reviewer says that they really like how clean their skin feels after using it:
This moisturizer makes my skin feel so soft and clean.
Another says they like how lightweight it is:
It's not heavy at all, but still moisturizes well.
And another reviewer says they love how well it works on their face:
I use this moisturizer on my face, and it keeps my skin soft and hydrated.
Vanicream Moisturizing Cream Reviews – Final Verdict
Vanicream is a great skincare line that can be used by anyone, no matter your skin type. It's gentle enough to be used on the most sensitive of skin, and it's easy to find in any pharmacy or online store.
This product has a very light scent, so it won't interfere with any perfumes or scents you're wearing. It also feels light on the skin, which makes it perfect for those who prefer lightweight lotions and creams over heavy emollients.
The only downside to this product is that it doesn't provide a lot of moisture—if you have dry skin, this may not be the right product for you. However, because of its thin formula and short ingredient list, it works well as part of a moisturizing routine or under another moisturizer (such as coconut oil) if you have particularly dry patches on your face.
Below are some of the best Moisturizer products on the market today, in our opinion.
Our Top Moisturizer Choices
Verdict on Claimed Benefits: Below is our summary of the available evidence for the claimed benefits of below mentioned moisturizers based on the available research:
Beverly Hills MD Deep Regenerating Stem Cell Moisturizer

Boosts Collagen Production*
Gold Star Evidence
Provides Deep Hydration*
Gold Star Evidence
Reduces Wrinkles*
Gold Star Evidence
Targets Age Spots*
Strong Evidence
CeraVe Moisturizing Cream | Gentle Daily Moisturizer
Restores Skin Barrier*
Gold Star Evidence
Soothes Dry and Sensitive Skin*
Strong Evidence
Absorbs Quickly*
Strong Evidence
Long-Lasting Moisture*
Strong Evidence