Being involved in sports is immensely beneficial for you mentally and physically. Just remember that it is also going to be very tough. If you do not have what it takes, there is a good chance that you're going to struggle every single step of the way.
The good news is that there are ways to make sports a little bit easier. As a man, you will definitely want to begin using testosterone boosters. They'll make a world of difference and they'll provide you with a major boost in almost every single department[1].
Within this guide, you're going to find out how to choose a good testosterone booster for your unique needs.
Speak With Your Doctor
First and foremost, you should consider speaking with your doctor. The truth of the matter is that most testosterone boosters are prescribed by medical professionals and they're used for legitimate purposes. Nevertheless, it is possible to buy your own boosters right over the counter.
If you're dealing with a problem that legitimately makes your testosterone levels lower than they should be, you should try using a booster. This is the real purpose of these products and it is what they're designed to do. They'll boost your testosterone levels with the intention of helping men with certain conditions maintain healthy levels.
If your doctor refuses to give you a prescription, you will need to buy a booster over the counter. That will require a little more work and effort on your end.
Why Bother?
Why would anyone want to bother with testosterone boosters? Even if you don't have low T, you can still benefit greatly from these products. They're going to provide you with a boost of energy and increased libido.
Anyone who feels sluggish or experiences brain fog can definitely benefit from the use of testosterone boosters. Talk with your doctor first and see if you have low T. If you don't, you need to find out on your own whether or not you need supplements.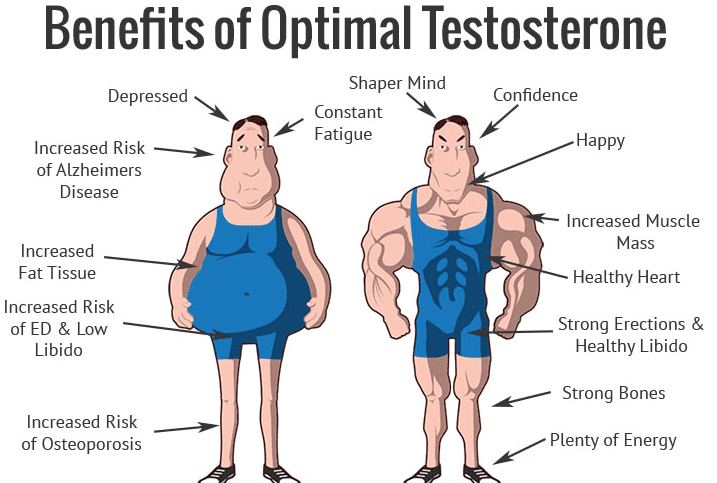 Safety Matters
Before doing anything, you should know that some products are dangerous. The supplements that you buy at your local health store may very well pose some degree of risk. Therefore, you have to be very cautious about the supplements that you put into your body.
Advertisement
*All individuals are unique. Your results can and will vary.
If you use the wrong ones, there is a real possibility that you're going to experience some terrible side effects. These products have been known to cause acne and oily skin. Both are problems that you'll want to avoid.
The risks are higher with some specific products. With this in mind, you should do some research about the product's safeness before making your decision.
If there is a possibility that the product isn't safe, you shouldn't use it.
D-Aspartic Acid
Now, you should learn about the ingredients that will make a good testosterone booster. There are a few ingredients that can be ignored. Others cannot be.
If you really want to make sure that you're going to get the results that you're after, you need to make sure that your product of choice contains D-Aspartic Acid, which is sometimes referred to as DAA.
This ingredient is a staple of all testosterone boosters so it needs to be in your[2]. This ingredient has proven to be effective for increasing the body's production of testosterone by as much as 42% in just a few days. It can also help the body produce more growth hormones and luteinizing hormone.
Suffice to say, you need to make sure that your supplement of choice contains DAA. If it doesn't, you're probably not going to get satisfying results in the end.
Other Ingredients
Before buying a testosterone booster, you should always check the label. After all, this is going to help you find out precisely what you're going to be taking. Besides DAA, there are a handful of other ingredients that will make a huge difference.
One of the most important is Ashwagandha Root Extract. This specific root extract has the capabilities of increasing testosterone[3] and luteinizing hormone levels in the body. It is also capable of stopping cortisol.
This is vital because cortisol can increase body fat and speed up the loss of muscle. Make sure your testosterone booster contains this ingredient for the very best results.
Advertisement
*All individuals are unique. Your results can and will vary.
Other ingredients that will definitely help include DHAA, Fenugreek, and Mucuna Puritans. Remember that DHAA is known as dehydroabietic acid. Be sure to look at the label carefully and make sure that these ingredients are indeed present.
If they're not, your testosterone booster might not be as effective as it could be. You can also check out www.researchedsupplements.com to read more about the best testosterone boosters on the open market.
Going Natural?
At the end of the day, you always have to worry about the things you're going to be putting inside of your body. This includes your supplements. They might claim to be safe, but they might not be.
With this in mind, you should think about taking a natural approach to the situation. If you want to be safe, you should definitely consider going natural. There are plenty of naturally derived ingredients that have been proven effective for increasing the production of testosterone inside the human body.
As mentioned above, fenugreek can help. You'll also want to the time to learn more about Tribulus Terrestris. This is another natural ingredient that can make a huge difference.
Never trust the label. Just because a product says it is natural doesn't mean that it is. Check out the label and make sure for certain that it only includes natural ingredients.
Summary
All in all, testosterone boosters offer a wealth of benefits. Just remember that they're not suitable for everyone. At the same time, some of them are risky and dangerous.
Therefore, you have a lot of work to do. If you intend to use these products, you need to put in the time and effort to find the ones that are actually going to work. Be sure to use the guide above to ensure you find a product that is actually going to help.
View All