Menopause Multiple Overview
Menopause Multiple, as the name suggests, is a dietary supplement formulated for women of menopausal age.
It is formulated with high-quality natural ingredients like vitamins, phytonutrients, and herbal extracts.
Regular use of this supplement shall help with symptoms such as hot flashes, vaginal dryness, and mood change.
It also has the added benefit of increasing bone density to reduce the risk of osteoporosis. Menopause Multiple is sold in bottles of 30, 60, or 120 tablets.
Manufacturer Information and Claims about Menopause Multiple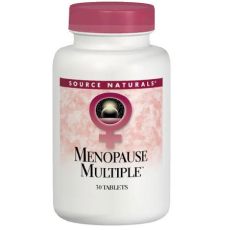 Menopause Multiple is a product of a company called Source Naturals, which specializes in health supplements formulated for different health issues and conditions.
The company was established by its CEO Ira Goldberg in 1982 and even then, the aim was to provide consumers with high-quality formulations made up of natural ingredients and herbal extracts.
They are popular for using the so-called comprehensive Bio-Aligned Formulas, which help restore the body's internal balance.
Aside from Menopause Multiple, the company's other popular products include ones for sleep and relaxation, immunity, bone health, digestion, and energy.
Working Process and the Ingredients List
Menopause Multiple consists of a blend of vitamins and minerals combined with tried-and-tested powerful herbs.
These ingredients work together to provide the body with the nourishment it needs to stay healthy, and to promote hormonal balance.
Among the herbs included in the formula are:
Genistein – It has been proven by numerous studies to be effective against hot flashes, particularly in women of early postmenopausal age; its effects are said to be comparable to that provided by hormone therapy.
Black Cohosh – It offers a safer, more natural solution to dealing with issues related to hormonal imbalance; like genistein, it is particularly helpful in relieving hot flashes, but it is also effective against other postmenopausal symptoms such as hot flashes, night sweats, mood swings, insomnia, and decreased bone density.
Vitex Berry – It also known as chasteberry, it is popular for being a "female-friendly" fruit due to its ability to enhance female fertility and promote hormonal balance; it is also helpful in several postmenopausal issues such as depression, irritability, bloating, pain, and breast discomforts.
Menopause Multiple – Does it Really Work?
Menopause Multiple consists of a blend of ingredients that are popular for their numerous health benefits.
The vitamins and minerals, for instance, are known for their ability to nourish the body and promote overall health, while the herbs listed above are known for their female reproductive benefits.
Looking at the available reviews for the product, it seems work as advertised, although there are a couple of reviews that say otherwise. But seeing that one can say that they are really confident about this product.
The Advantages of Menopause Multiple
It consists of a blend of vitamins, minerals, and natural herbal extracts.
It may promote hormonal balance and supports reproductive health.
It may relieve insomnia and promotes deep, restful sleep.
It may increase bone density and reduces the risk of osteoporosis.
It may enhance female fertility.
The Disadvantages of Menopause Multiple
Some customers complain of side effects such as headaches and gastrointestinal upset.
There are customers who said that the original formula is much better than the new one.
Menopause Multiple Questions and Answers
Q: How Does it Smell and Taste?
A: Unfortunately, there is no information as to how Menopause Multiple smells or tastes like.
Q: Is it Safe to Use?
A: Menopause Multiple is generally safe for everyday use by healthy adult females. Women who are pregnant, planning to be pregnant, breastfeeding, or taking prescription nitrate drug must stay away from this product unless approved by their physician.
Those with diabetes must consult their healthcare provider first prior to using Menopause Multiple.
Q: How Long Before I See Any Improvements?
A: Some users report feeling relief after a few days of taking Menopause Multiple.
For some, however, it took weeks before they felt any difference. For best results though, it is advised to take two to three tablets per day after meals.
Q: What are the alternatives to Menopause Multiple?
A: The alternate products are Novasoy, Nutrition FX Menopause and Pausitivi-T Life Seasons
Possible Side Effects
Menopause Multiple is formulated to be free of any unwanted side effects. There are some customers, however, who complained of headaches and gastrointestinal upset.
If you experience the same and they start to get worse or persistent, discontinue the product right away and consult your health specialist as needed.
Menopause Multiple Review- Final Verdict
Overall, Menopause Multiple seems like a considerable product, given the mostly mixed reviews and the product's list of ingredients included in the formula.
However, there are some customers who claim that the product is not as effective as the manufacturers say it is.
One wouldn't know for sure if this works or not unless they try it. Then again, an alternative would be checking out other products, particularly ones that are more reliable in terms of composition, company reputation, and customer reviews.
Fortunately, natural therapies for menopausal symptoms such as weight gain, hot flashes, night sweats, decreased libido, and mood swings are available. Since many women experience weight gain during menopause, many natural menopause supplements contain herbs and botanicals that support a healthy metabolism. Menopause supplements should be evaluated on proven ingredients, ability to reduce hot flashes and night sweats, ability to provide hormonal balance and boost libido and its overall value.
Below you'll find some of the most effective menopause supplements on the market today, in our opinion.
Our Top Menopause Choices
Amberen

Potential to Reduce Hot Flashes & Night Sweats*
Potential to Provide Libido Support*
Potential to Promote Hormonal Balance*
Potential to Improve Weight Control*
Advertisement
Potential to Reduce Hot Flashes & Night Sweats*
Potential to Provide Libido Support*
Potential to Promote Hormonal Balance*
Potential to Improve Weight Control*
Potential to Reduce Hot Flashes & Night Sweats*
Potential to Provide Libido Support*
Potential to Promote Hormonal Balance*
Potential to Improve Weight Control*