In This Review
Harmony Menopause Max Overview
How many women have awakened in the middle of the night suffering from the dreaded night sweats and/or insomnia? Mood swings, changes in eating habits, and a host of other issues have led to complaints by women for years, with no relief in sight.
Maximum relief from these pesky hormonal changes of menopause can be yours with Harmony Menopause Max. Harmony Menopause Max will give you the support you need when you need it.
How Does It Rate?
Overall Rating: 3.6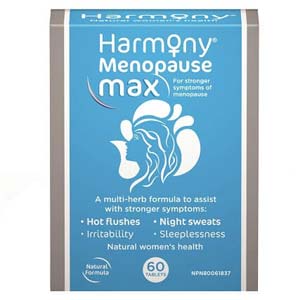 Harmony Menopause Max
Brand Highlights
All natural formula.
Unique combination of ingredients.
Black cohosh free.
Rehmannia helps to relieve hot flushes and night sweats.
Bupleurum helps relieve irritability and emotional distress.
Chaste tree acts as a hormone stabilizer.
30-day refund policy.
Key Ingredients
Rehmanna Glutinosa
Angelica and Paeonia
Vitex agnus-castus
Bupleurum and Dioscorea
Pros
It is acceptable for Vegans.
Gluten-free.
Contains no lactose, thus dairy free.
No added sugars or artificial sweeteners.
No added coloring or dyes.
No alcohol.
Cons
Do not use HRT – Hormone replacement therapy while on this supplement.
---
How Does It Work?
Harmony Menopause Max is a new formulation based on the original but stronger. While both are excellent products for the use of menopausal symptoms, Menopause Max can be used for those experiencing the stronger, less comfortable symptoms of perimenopause and menopause.
Just for reference, perimenopause is the initial stage of menopause when the hormonal shifts in your system actually begin. During this time of life, these hormonal fluctuations can be tremendous, causing many of the problems normally associated with menopause such as night sweats and hot flashes.
Unfortunately, this can begin in the late '30s but more often later in life around ages 45-50. As time progresses, women experience the full effects and are then in the final stages of menopause.
While menopause is a natural occurrence, that doesn't mean that it is a comfortable one. Physical and emotional changes will occur as well, causing stress and irritability. A few other symptoms one can expect are:
Anxieties
Headaches
Joint discomforts
Drastic mood swings
Irritability
Hot Flashes
Night Sweats
Insomnia
Harmony Menopause Max Ingredients – Are They Safe and Effective?
Harmony Menopause Max provides a balance of these hormones by producing a calming and cooling effect on the system.
Containing all-natural ingredients, it is important to realize that Menopause Max contains a blend of herbs that act as a tonic to the system, supporting it by creating a nourishing and energizing effect for the body.
Dominant active ingredients in this blend are:
Rehmanna Glutinosa
– This herb is the basis for the treatment of hot flashes and night sweats[1].
Angelica and Paeonia
– These are known for their abilities to support the body by increasing energy and helping with joint aches as we age[2].
Vitex agnus-castus
– Also known as chaste berry, the use of this herb for supporting the reproductive systems dates back hundreds of years as an overall tonic[3].
Bupleurum and Dioscorea
– For use in easing anxiety and irritability caused by mood swings[4].

FAQs
Q: What Are the Precautions and Side Effects?
A:
– This product is not recommended for use during pregnancy.
– If you are on medications, please check with your healthcare provider prior to beginning use to check for possible interactions.
– HRT – Hormone Replacement Therapy should not be done while using this product without the consent of your healthcare provider.
There are no known side effects of the use of Harmony Menopause Max, nor of any drug interactions, however, if you have concerns, please contact your healthcare provider for their recommendations.
Q: What Are the Max Dosage?
A: The recommended dosage is 1 tablet, twice daily with juice or water either before meals or at least one hour afterward. Maintenance dosage is the same unless directed otherwise by a healthcare professional.
Q: How Long Does It Take to See Results?
A: Most women see results within their first month of use and then continue to use it as a maintenance to keep symptoms at bay. The dosage may be raised to 4 per day during extreme times of need.
Q: Who Are the Targeted Consumers?
A: Harmony Menopause Max is designed for use by women who are beginning or have already begun their menopausal state to alleviate the bothersome symptoms that can occur. It is quite useful for the perimenopausal and menopausal stages of life.
Customers Reviews
No drastic improvements
I stopped taking them after 1 box as I did not notice a significant improvement in the frequency or intensity of hot flashes.
~ Shelly P.
Final Verdict
Harmony Menopause Max appears to be one of the best solutions to the problem effects of menopause on the market today. With its blend of female tonic herbs, it is designed with the needs of the menopausal woman in mind.
Based on all available information and reviews from outside sources, the indication is that one should feel safe and secure that this product will perform as stated.
Apart from this, we have also other reviews covered for you such as Flash Fighters Reviews, and Harmony Balance.
Fortunately, natural therapies for menopausal symptoms such as weight gain, hot flashes, night sweats, decreased libido, and mood swings are available. Since many women experience weight gain during menopause, many natural menopause supplements contain herbs and botanicals that support a healthy metabolism. Menopause supplements should be evaluated on proven ingredients, ability to reduce hot flashes and night sweats, ability to provide hormonal balance and boost libido and its overall value.
Below you'll find some of the most effective menopause supplements on the market today, in our opinion.
Our Top Menopause Choices
Verdict on Claimed Benefits: Below is our summary of the available evidence for the claimed benefits of below mentioned menopause supplements and vitamins based on the available research: