GNC Preventive Nutrition Menopause Support Formula Overview
The product is a supplement from GNC that combines natural extracts and vitamins for menopause support. It is fundamentally for relieving the different symptoms of menopause.
The formula provides the user with crucial nutrients for supporting healthy hormone levels and metabolism.
It also helps improve bone density by enhancing calcium absorption to reduce the risk of osteoporosis which increases significantly during menopause.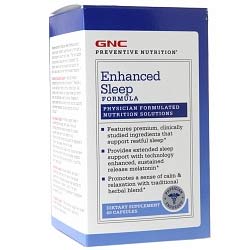 Active Ingredients & Their Purpose
The hormone balance blend of GNC Preventive Nutrition Menopause Support includes Sophora japonica fruit extract, black cohosh and concentrated GLA.
There are some studies indicating that Sophora japonica fruit extract helps relieve menopause symptoms by balancing hormone levels.
Black cohosh also helps normalize hormone levels and it is known to relieve hot flashes and night sweats which are the most problematic menopausal symptoms.
GLA is a prostaglandin precursor essential in regulating hormones along with balancing the circulatory, immune and nervous systems.
The strong bone and circulatory support complex include MBP, vitamin D, and ginkgo Biloba. Vitamin D supports the absorption of calcium and overall bone health.
MBP is a special protein complex that supports healthy bone mass. Ginkgo biloba helps improve memory function while enhancing peripheral blood flow to improve cardiovascular health.
To boost energy and for healthy metabolism, the supplement contains key vitamins and minerals like iodine and chromium.
Advertisement
*All individuals are unique. Your results can and will vary.
This blend of ingredients assists with cellular energy production and the metabolism of food.
How Does It Work?
GNC Preventive Nutrition Menopause Support essentially promotes hormonal balance and provides the body with essential nutrients to prevent the various discomforts related to menopause.
The supplement also contains active ingredients that address specific issues like menopause symptoms and decreased bone density.
Advantages
It is from GNC which is a reputable supplement company.
The supplement is available in GNC stores all over the world and it can also be ordered online.
It contains active ingredients that address different menopause issues.
There are good reviews on the product saying it is effective.
Detailed information on the product is available on the GNC website.
Disadvantages
GNC Preventive Nutrition Menopause Support is not clinically proven to be effective or safe
It isn't offered with a money back guarantee
Some active ingredients like black cohosh are known to cause side effects
There are negative reviews saying it isn't effective especially when it comes to relieving severe menopause symptoms
Is GNC Preventive Nutrition Menopause Support Formula Worth Purchasing?
The main problem with the menopause support formula from GNC is its price. $39.99 for a bottle (one month supply) is pretty high when compared to very similar products on the market.
Considering the many negative customer reviews, this product is not worth the high price.
Is GNC Preventive Nutrition Menopause Support Formula Safe To Use?
Although the supplement is made from natural ingredients, vitamins, and minerals, it is not completely safe.
Some of the active ingredients are known to cause adverse effects, especially with high doses.
The risk of side effect can be significantly reduced by following the suggested intake carefully. Also, make sure you're not hypersensitive to any of the ingredients prior to use.
Is It Effective?
Another major flaw of GNC Preventive Nutrition Menopause Support Formula is the fact that there is no substantial evidence that it is really effective.
Some active ingredients are backed by clinical studies in terms of effectiveness but most are not really proven to work.
There are mixed reviews from people who have tried the menopause support formula but most say it doesn't really have significant effects.
Advertisement
*All individuals are unique. Your results can and will vary.
Will It Show Results?
According to people who have tried it, the supplement helps relieve menopause symptoms but only slightly.
There is also some feedback saying that it doesn't really show any results. For unclear reasons, the formula has diverse effects on different people.
How Long Does It Take To See Results?
The menopause support formula is designed to deliver results within two weeks of use.
However, some users say they didn't experience any benefit from the formula even after finishing a whole bottle or taking it for a month.
Warnings
If you are pregnant or nursing, do not use this supplement. If you have any medical condition or are under medication, consult your physician prior to use.
Do not take more than the suggested dosage to prevent side effects. In the case of any side effect, discontinue use and contact your physician.
Final Verdict
Overall, GNC Preventive Nutrition Menopause Support Formula is not a very good product for relieving symptoms of menopause. The main problem is its high price which would have been justified if the product is highly effective.
There are many reviews saying it isn't very effective so the high price is not reasonable.
There are clearly many better menopause supplements on the market that are more effective, safe and affordable some of which you might want to check out are Femmenessence, Femosa, Femmerol, and Femarin.
Fortunately, natural therapies for menopausal symptoms such as weight gain, hot flashes, night sweats, decreased libido, and mood swings are available. Since many women experience weight gain during menopause, many natural menopause supplements contain herbs and botanicals that support a healthy metabolism. Menopause supplements should be evaluated on proven ingredients, ability to reduce hot flashes and night sweats, ability to provide hormonal balance and boost libido and its overall value.
Below you'll find some of the most effective menopause supplements on the market today, in our opinion.
Our Top Menopause Choices
Verdict on Claimed Benefits: Below is our summary of the available evidence for the claimed benefits of below mentioned menopause supplements and vitamins based on the available research:
Amberen | Best Multi-Symptom Menopause Relief Supplement

Reduces Hot Flashes*
Gold Star Evidence
Helps Restore Hormonal Balance*
Gold Star Evidence
Better Sleep*
Strong Evidence
Mood Improvement*
Strong Evidence
Estroven Complete Multi-Symptom Menopause Relief
Reduces Menopause Symptoms*
Gold Star Evidence
Reduces Night Sweats*
Gold Star Evidence
Improve Energy*
Strong Evidence
Support Mood Swings*
Moderate Evidence
Metagenics Estrovera | Plant-Derived Menopausal Hot Flash Relief
Assists With Hot Flashes*
Gold Star Evidence
Improve Mood Swings*
Moderate Evidence
Ease Menopause Symptoms*
Strong Evidence
Reduces Night Sweats*
Strong Evidence