In This Review
Femarin Overview
The Femarin product is a menopause symptoms relief supplement. The supplement's aim is to provide its consumers with comfortable menopause transitioning. This means that you will be having relief from the various symptoms that come with menopause which include; night sweating, sleeplessness, irritability, hot flushes, memory lapses, mood swings, and fatigue.
The supplement will make your menopause not only bearable but also experience the normal day-to-day activities without the interruption of these symptoms. The supplement will balance your hormones, normalize inflammation levels and support anti-oxidant activity, cardiovascular system, and bone health.
The Femarin menopause symptom relief supplement is packaged in a 60 capsules bottle. Each bottle goes for the approximate price of $42. They have an auto-ship program as well.
How Does It Rate?
Overall Rating: 3.9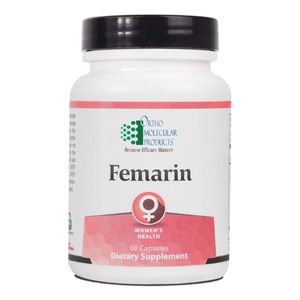 Femarin
Brand Highlights
The Femarin supplement is a menopause support supplement manufactured by the Other Molecular Products Company and is based in Woodstock, IL.
They run by the logo, "Because of Efficacy Matters".
The manufactures claim that they have input natural ingredients to the formulation of their supplement to give it the safety aspect and the ingredients have been proven effective through thorough research and clinical trials, they claim that this is the right and best supplement to use if you have menopausal troubles.
Key Ingredients
Black Cohosh
Trans – Resveratrol
Licorice Root Extract
Gamma Oryzanol / Ferulic Acid
Dong Quai
Pros
Minimizes hot flushes
Helps balance your moods
Offer stress and anxiety relief; relaxation and calmness
Correct your sleeping patterns; better sleep
Vaginal lubrication
Boost of energy
Avoid irritation
Cons
They do not mention any money back guarantees on their supplement.
---
You May Also Like – Femmetrinol
How Does It Work?
The Ortho Molecular Products Femarin supplement is a product that has a blend of natural ingredients that have been combined together so as to work in synergy so as to provide for the main aim of the supplement.
Each ingredient has its own unique way of functioning and contributing but nonetheless, each is as important as the other.
Femarin Ingredients – Are they Safe & Effective?
The ingredients they have used in formulation include the following:-
Black Cohosh
– According to research, It helps with promoting the balanced levels of LH hormones which communicate to the ovaries and bind them to the estrogen receptors. It also helps with balancing the levels of estrogen in the body. all these help with relieving vaginal dryness, minimize irritability and maintain concentration. Promotes cognitive health.[1]
Trans – Resveratrol
– According to Some study, Enriched with anti-oxidant properties that help counteract the effects of free radicals. Helps in the balance of hormones. Anti-inflammatory properties.[2]
Licorice Root Extract
– Enriched with Isoflavones and glycyrrhizin which helps with increasing estrogen levels where it is low and inhibiting their production where they are high.[3]
Gamma Oryzanol / Ferulic Acid
– Minimize menopause symptoms.[4]
Dong Quai
– Dong Quai, as explored in our Vitanica Women's Phase II Menopause Support Reviews, is a traditional herbal remedy often used to address menopause-related symptoms. Also known as "female ginseng," Dong Quai is believed to possess properties that may help alleviate common menopausal discomforts such as hot flashes, mood swings, and irregular periods. It helps to regulate menstrual cycles.[5]

Femarin – FAQs
Q: What is the required dosage for the Femarin supplement?
A: They recommend that for maximum results one take 2 capsules per day in separate times or you can take to the recommendation of a health care professional.
Q: What are the precautions to the use of the Femarin menopause support supplement?
A: They recommend that with the use of the Femarin supplement ensure that you first seek medical advice before use if you happen to be under medication, are under prescription drugs, are under the age of 18, or are a mother either pregnant or lactating. The supplement should not be used if on purchase the seal is broken or tampered with. The supplement is a product that is best stored in a cool dry place and kept out of the reach of children.
Q: Does this product have any side effects and does it help with weight loss?
A: Femarin is a well balanced formula for supporting normal menopausal transition. No report of weight loss from taking this product. There have not been any negative side effects that have been associated to the use of this supplement but it's still required as a precaution that if you develop any negative reaction to the supplement to discontinue use immediately and consult with a doctor on the same.
Q: Is There any Similar Products like Femarin?
A: According to our research, we found that, Femosa, and Pregnenolone Cream is a supplement that works like Femarin supplement.
Q: Should You Buy This Product?
A: Yes. This is a supplement that one should have on their consideration list for one it is from a reputable company and they have a good balance of quality and quantity.
Those who have used this supplement and left their feedback and thoughts on the product have been of advantage so that at least we now know it does actually work as it claims and gives exceptional results.

Femarin – Final Verdict
The Femarin menopause supplement is one that is highly recommendable. This is given that it helps with a wide array of the menopause symptoms you will find in the supplement which is the reason why this product gets the attention of its consumers.
Another thing is that it comes from a reputable company and this goes a long way to introduce itself as a reliable and most probably safe supplement for its consumers.
The pricing of the supplement may be a little bit steep, but it's way better if you are getting your money's worth as opposed to a supplement that is not giving you excellent benefits.
Fortunately, natural therapies for menopausal symptoms such as weight gain, hot flashes, night sweats, decreased libido, and mood swings are available. Since many women experience weight gain during menopause, many natural menopause supplements contain herbs and botanicals that support a healthy metabolism. Menopause supplements should be evaluated on proven ingredients, ability to reduce hot flashes and night sweats, ability to provide hormonal balance and boost libido and its overall value.
Below you'll find some of the most effective menopause supplements on the market today, in our opinion.
Our Top Menopause Choices
Verdict on Claimed Benefits: Below is our summary of the available evidence for the claimed benefits of below mentioned menopause supplements and vitamins based on the available research: