Estrofy Overview
Estrofy is a dietary supplement that is designed to promote hormonal balance in females. It claims to increase the level of estrogen in your body. This may help to improve your mood and energy.
Hormonal imbalance might be as a result if different factors. This might be controlled by use of different ways such as changing your diet or use of dietary supplements.
Estrofy is one of the supplements that may help to restore hormonal balance. If you are interested in this product, you can purchase it from the brand's website or other online retail stores.
Manufacturer Information and Claims about Estrofy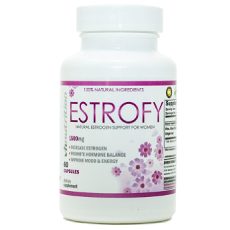 The manufacturer of Estrofy supplement is VH Nutrition Company. The company claims to produce a powerful supplement to support women's health. They claim to create it from natural ingredients that are ideal for use.
They claim to develop this product with the aim of relieving you from problems associated with menopause. They guarantee you of the safety and effectiveness of this product.
Working Process and the Ingredients List
Estrofy may work through its ingredients that help to promote hormonal balance. It claims to relieve you from menopausal signs. It might work in synergy with your body to regulate the increase of estrogen hormone to a normal, healthy level.
Here are some of the ingredients used in this formula:
Black Cohosh – It relieves you of menopausal symptoms, anxiety, and nervousness.
Chaste Tree Berry – It helps to promote hormonal balance.
Ginger Root – It prevents the buildup of cortisol enzymes and improves your overall well-being,
Epimedium– It helps to improve your blood circulation,
Dong Quai – It improves your libido, alleviates stress, and relieves you of menopausal symptoms.
Estrofy Review – Does it Really Work?
The manufacturer claims that this product is an effective product in promoting hormonal balance. However, it is essential to carry out more research on the ingredients to ensure that they deliver the intended results.
The Advantages of Estrofy
It helps to promote hormonal balance in females.
It relieves you of menopausal problems.
It restores a healthy level of estrogen.
It improves your mood and energy.
The Disadvantages of Estrofy
Avoid using this product if you are pregnant or if you are under the age of 18 years.
Less is known about the quantities of individual ingredients.
FAQs
How Do I Use this Product?
Take two to four capsules of this supplement in the morning with 8oz of water.
What are the Precautions when Using this Product?
You are advised to avoid taking this product without consulting your physician if you have any medical condition, under hormone replacement therapy, or if you are taking any medication. You should not overdose this product.
Advertisement
*All individuals are unique. Your results can and will vary.
How Long Before I see any Improvements?
The manufacturer fails to mention the duration it takes for this supplement to deliver the intended results. However, the effects might be noticed by some individuals at a higher rate than others. This is because we are all different and we might react differently to different products.
Possible Side Effects
The manufacturer guarantees you of its safety as it contains natural ingredients only. However, if you are allergic to some of the ingredients used, you should avoid this product as it might lead to undesired effects. Also, if you overdose this product, you might experience some side effects.
Estrofy Review – Final Verdict
Hormonal imbalance is a common problem for most women especially during their menopause period that occurs at least once in their lifetime. This comes with numerous signs such as hot flashes, mood swings, etc. that are distressing to deal with.
The good thing is that hormonal imbalance can be addressed through various ways which include a change of diet or activities. The use of supplements has been a more prominent way of dealing with hormonal imbalance.
These supplements promise to relieve you from the signs associated with hormonal imbalance as well as restore the balance.
Different supplements tackle these issue via various means. For Estrofy, it promises to restore balance by increasing your level of estrogen to a healthy level. It claims to relieve you of menopause symptoms.
However, no matter how a product promise to deliver miraculous results, it is essential to research more about it. By doing so, you will gather more information on its ingredients, how it works, and whether it is clinically proven to deliver the desired results.
Fortunately, natural therapies for menopausal symptoms such as weight gain, hot flashes, night sweats, decreased libido, and mood swings are available. Since many women experience weight gain during menopause, many natural menopause supplements contain herbs and botanicals that support a healthy metabolism. Menopause supplements should be evaluated on proven ingredients, ability to reduce hot flashes and night sweats, ability to provide hormonal balance and boost libido and its overall value.
Below you'll find some of the most effective menopause supplements on the market today, in our opinion.
Our Top Menopause Choices
Verdict on Claimed Benefits: Below is our summary of the available evidence for the claimed benefits of below mentioned menopause supplements and vitamins based on the available research:
Amberen | Best Multi-Symptom Menopause Relief Supplement

Reduces Hot Flashes*
Gold Star Evidence
Helps Restore Hormonal Balance*
Gold Star Evidence
Better Sleep*
Strong Evidence
Mood Improvement*
Strong Evidence
Estroven Complete Multi-Symptom Menopause Relief
Reduces Menopause Symptoms*
Gold Star Evidence
Reduces Night Sweats*
Gold Star Evidence
Improve Energy*
Strong Evidence
Support Mood Swings*
Moderate Evidence
Metagenics Estrovera | Plant-Derived Menopausal Hot Flash Relief
Assists With Hot Flashes*
Gold Star Evidence
Improve Mood Swings*
Moderate Evidence
Ease Menopause Symptoms*
Strong Evidence
Reduces Night Sweats*
Strong Evidence