In This Review
What Is Avlimil?
Menopause can bring a lot of symptoms and discomforts that many women may find unbearable and frustrating. The depression, irritability, and hot flashes can reach a saturation point that menopausal women would do anything to alleviate them[1]. One of the treatments made available today is 'Avlimil'.
However, is it as good as it claims?
How Does It Rate?
Overall Rating: 3.9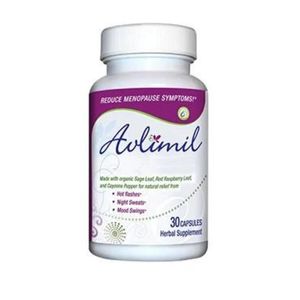 Avlimil
Brand Highlights
Vianda, which was founded in 2001, is an all-natural supplement manufacturer that set out to create premium quality supplements.
Avlimil, one of their best-selling products, has been on the market since 2003.
Avlimil Menopause Relief, which is based primarily on the natural isoflavones found in soy and black cohosh, is intended to help menopausal women manage fluctuating estrogen levels.
Key Ingredients
Valerian root
Damiana Root
Sage leaf
Cayenne pepper
Ginger root
Licorice root
Pros
Avlimil gives the benefits of combating menopausal symptoms without the risks associated with hormone replacement therapy[6].
Furthermore, its formula is suitable for vegans as it is gluten-free and does not contain any artificial ingredients.
This tablets for the menopause also works in a way that it recognizes the difference between each woman's hormonal imbalance.
It also adapts to the needs of the body and only utilizes what it needs in balance restoration.
Aside from addressing common menopausal discomforts, it can also help increase libido and sex drive among menopausal women.
Cons
Although the list of ingredients provided by the product contains only organic and natural herbs, it is not stated anywhere on the official website of the product itself if it has undergone clinical tests.
Making claims such as results in 10 days can be hard to prove without enough scientific data to back it up.
Furthermore, the absence of customer reviews also makes the product less credible.
---
How Does Avlimil Work?
Avlimil is a dietary supplement claiming to help women who are experiencing hormonal imbalances. It is marketed by 'Vianda' under the full name Avlimil Nature Balance. It claims to contain natural and organic ingredients that are highly-researched for their effectiveness in alleviating menopausal symptoms. Unlike other supplements, Avlimil does not contain estrogen or progesterone to help in the balancing act.
Rather, the ingredients are natural so meeting the individual needs of women to help balance their hormones and restore their vitality can be done safely.
Avlimil Ingredients – Are they Safe & Effective?
Avlimil is a non-prescription dietary supplement that contains a unique combination of herbs highly-praised for their potency and efficacy.
Two of its key ingredients are isoflavones and black cohosh, which claimed to have been grown organically and carefully blended into capsule forms[2].
Isoflavones
– An in vitro study showed that isoflavones act as estrogen antagonists before menopause due to the high levels of endogenous estrogens circulating in the body, and act as estrogen agonists after menopause due to the low-estrogen environment.
Licorice root
Licorice Root, as detailed in our Vitanica Women's Phase II Menopause Support article, is a herbal remedy that has been traditionally used to address various menopause-related symptoms. This natural ingredient is believed to contain compounds that may help regulate hormone levels, providing potential relief from hot flashes, mood swings, and other discomforts associated with menopause. Glycyrrhizin, a key component in licorice root, is thought to have estrogenic effects that could contribute to its potential benefits in managing menopausal symptoms.
Black cohosh
– Black cohosh is currently marketed as a dietary supplement for hot flashes and other menopausal symptoms. It's also been promoted for treating other conditions, such as menstrual cramps and premenstrual syndrome, as well as inducing labor.
Other important ingredients are organic as well, such as:
Valerian root[3], Damiana Root, Sage leaf, Cayenne pepper, Ginger root, Licorice root[4].
Together, these ingredients are believed to form an effective formula that can benefit women in alleviating night sweats, hot flashes, mood swings and it can even increase sex drive[5].
---
FAQ's
Q: How Should You Take Avlimil?
A: It is taken once a day. Each capsule gives you a blend of nutrients that are essential to relieve the menopausal symptoms and balance your hormones level.
Q: Does Avlimil Contain Hormones?
A: Avlimil contains no synthetic estrogen, progesterone, testosterone, or other steroid hormones.
Q: How Does Avlimil Work?
A: Avlimil helps in relieving symptoms like night sweats and hot flashes. Some users notice fewer results in 10 days.
Q: How Does Hormone Replacement Therapy (HRT) is been compared by Avlimil?
A: Avlimil is a natural supplement. Also, it does not require any prescription from an expert.
Q: Will Avlimil Improve My Libido And Sexual Arousal?
A: Every woman will respond differently, hormonal fluctuation affects your relationship sometimes.
Q: Is Avlimil Safe?
A: This is a natural supplement, and it contains only ingredients which are considered to be safe for use.
However, it is possible that every woman's body will respond differently, so the result may vary.
That's why it is always suggested to consult your health expert before having any changes in your health regimen.
Avlimil Review – Final Verdict
For most women, hormone replacement therapy is not the ultimate answer to their menopausal discomforts.
The availability of natural supplements has truly expanded its treatment options.
However, it is important to assess a product's efficacy first before purchasing even if it claims to be natural.
Experts believe that it is best to settle for best menopause products that have been proven effective and safe and have published studies to back up their promises.
'Avlimil' can be purchased through their Official WebSite.
Fortunately, natural therapies for menopausal symptoms such as weight gain, hot flashes, night sweats, decreased libido, and mood swings are available. Since many women experience weight gain during menopause, many natural menopause supplements contain herbs and botanicals that support a healthy metabolism. Menopause supplements should be evaluated on proven ingredients, ability to reduce hot flashes and night sweats, ability to provide hormonal balance and boost libido and its overall value.
Below you'll find some of the most effective menopause supplements on the market today, in our opinion.
Our Top Menopause Choices
Verdict on Claimed Benefits: Below is our summary of the available evidence for the claimed benefits of below mentioned menopause supplements and vitamins based on the available research: