Acteane Overview
Acteane is a dietary supplement that is designed to reduce the intensity and frequency of hot flashes, irritability, and night sweats. It helps to relieve you from menopausal symptoms such as a throbbing headache, occasional sleeplessness, and profuse sweating.
It is ideal for individuals looking for an alternative to Hormone Replacement Treatment. (HRT).
Manufacturer Information and Claims about Acteane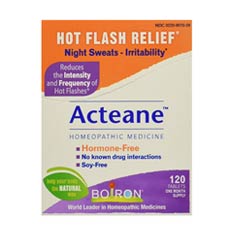 The manufacturer of Acteane product is Boiron, Inc. Company located in the United States. They claim to be the world leader in producing homeopathic medicines.
The company aims at providing you with high-quality products that work naturally with your body to support your health. The manufacturer claims that the product is derived from all-natural ingredients.
They claim that the product is free from any hormone and soy. They also claim that the product has no known drug interactions.
Working Process and the Ingredients List
The product is produced from a number of ingredients that work synergistically to relieve you from menopausal symptoms. It utilizes potent ingredients that help to temporarily relieve you from the intensity and frequency of hot flashes, night sweats, irritability, and other menopausal symptoms.
Here are some of the ingredients used in the supplement:
Arnica Montana – It helps to relieve the blotchy face that is associated with hot flashes.
Glonoinum – It helps to relieve menopausal symptoms such as sudden hot flashes associated with profuse sweating, and throbbing headache.
Sanguinaria Canadensis – It helps to relieve you from flushing of the face associated with menopause.
Cimicifuga Racemose– It helps to ease you from irritability and occasional sleeplessness.
Lachesis Mutus – It relieves you from menopausal signs such as hot flashes, night sweats, and irritability.
The Advantages of Acteane
The product helps to temporarily reduce the intensity and frequency of night sweats, hot flashes, and irritability.
It helps to relieve you from symptoms associated with hot flashes such as headaches, profuse sweating.
It helps to relieve you from occasional sleeplessness.
It helps to prevent mood swings.
The Disadvantages of Acteane
The product is not suitable for children under the age of 12 years.
There is no information on money back guarantee; whether they offer returns or not.
FAQs
Is the product effective?
The product is considered effective in delivering reliable results. Most of the customers have reviewed the product positively in terms of its effectiveness.
Some claim that the noticeable results last for a couple of hours and others for some minutes.
What are the usage instructions?
You are recommended to use one tablet 2-4 times a day. You should allow the product to dissolve into your mouth. The product dissolves at a slow rate.
Advertisement
*All individuals are unique. Your results can and will vary.
To obtain optimal results, ensure that you use the product on a daily basis for 3 months.
Possible Side Effects
This product has no known side effects. This is because it is produced from natural ingredients that are safe for human consumption.
Similar Products to Acteane:
Final Verdict
Acteane is one of the products that promise to relieve you from hot flashes, night sweat, and irritability among other menopausal symptoms. It claims to achieve this through its potent ingredients obtained from natural sources.
Menopause is a stage that is inevitable in women's lives. It is accompanied by various symptoms that are sometimes uncomfortable and distressing to deal with. These symptoms include hot flashes, irritability, profuse sweating, night sweats, occasional sleeplessness, and throbbing headaches.
Fortunately, brands have come up with a solution to these distressing symptoms. They have produced various products that promise to relieve you from the symptoms. The products differ in the way they are produced, their mode of action, and the ingredients used.
It is, therefore, necessary to carry out more research about any product in the market before purchasing it. This will help you to identify the right product for you.
You will also be in a position to know the effectiveness and safety of the ingredients used. Just like any other product, research more about it.
Fortunately, natural therapies for menopausal symptoms such as weight gain, hot flashes, night sweats, decreased libido, and mood swings are available. Since many women experience weight gain during menopause, many natural menopause supplements contain herbs and botanicals that support a healthy metabolism. Menopause supplements should be evaluated on proven ingredients, ability to reduce hot flashes and night sweats, ability to provide hormonal balance and boost libido and its overall value.
Below you'll find some of the most effective menopause supplements on the market today, in our opinion.
Our Top Menopause Choices
Verdict on Claimed Benefits: Below is our summary of the available evidence for the claimed benefits of below mentioned menopause supplements and vitamins based on the available research:
Amberen | Best Multi-Symptom Menopause Relief Supplement

Reduces Hot Flashes*
Gold Star Evidence
Helps Restore Hormonal Balance*
Gold Star Evidence
Better Sleep*
Strong Evidence
Mood Improvement*
Strong Evidence
Estroven Complete Multi-Symptom Menopause Relief
Reduces Menopause Symptoms*
Gold Star Evidence
Reduces Night Sweats*
Gold Star Evidence
Improve Energy*
Strong Evidence
Support Mood Swings*
Moderate Evidence
Metagenics Estrovera | Plant-Derived Menopausal Hot Flash Relief
Assists With Hot Flashes*
Gold Star Evidence
Improve Mood Swings*
Moderate Evidence
Ease Menopause Symptoms*
Strong Evidence
Reduces Night Sweats*
Strong Evidence