Erectile Dysfunction, also known as ED, is a condition whereby men are unable to sustain an erection or even achieve the suitable erection for a sexual intercourse.
There are so many causes of erectile dysfunction. Some of these include chronic illnesses, medications, poor blood flow to the penis, stress, too much alcohol drinking, or getting too tired.
People also ask
For men, erectile dysfunction is a challenging condition and it mostly leads to emotional difficulties. This article focuses on offering erectile dysfunction solutions such as medical and natural alternative treatment and solution to men with this condition.
Furthermore, the article will try to give healthy male enhancement advice to men in order to achieve healthy sexual life. Discover useful erectile dysfunction solutions in the following paragraphs.
Medical Solutions to Erectile Dysfunction
1. Surgery
It is possible for men to undergo certain surgery such as the vascular reconstructive surgery.
This type of surgery offers an erectile dysfunction solution by increasing the blood flow to the penis. By this, men will get the erection and be able to sustain it during intercourse.
2. Pills Treatment
Men can use various types of pills available in the market today to rectify erectile dysfunction.
Some of these pills are; Viagra, Staxyn, Cialis, Levitra, etc. the pill, however, may not be the most reliable or permanent erectile dysfunction solution available. Therefore we would recommend that men go for natural ways which we are going to look at below.
3. Penile Implants
This is also an effective treatment for erectile dysfunction, penile prosthesis also knows as penile implant can be done in less time and it offers a lasting solution.
Advertisement
*All individuals are unique. Your results can and will vary.
4. Testosterone Replacement Therapy
Lack of adequate testosterone hormone is the major cause of erectile dysfunction in men, but with testosterone replacement therapy, erectile dysfunction can be solved.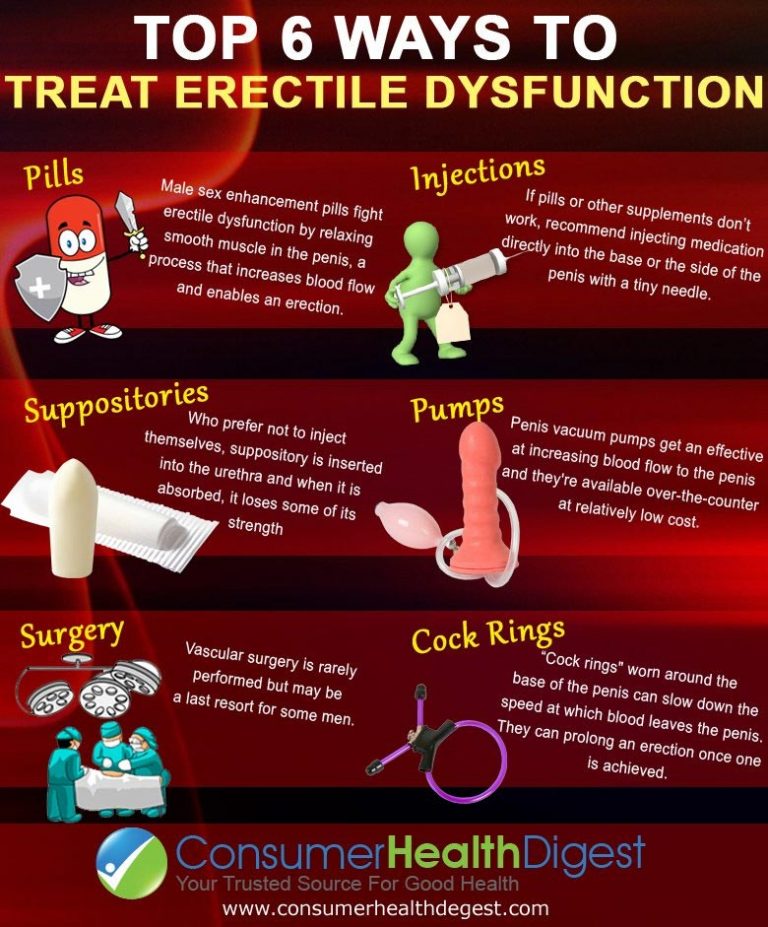 Natural / Alternative Erectile Dysfunction Solutions
It is possible to rectify erectile dysfunction using natural remedies. These are cheap and easy solutions that can be achieved. Let us look at some of them below.
1. Exercising
This, of course, is a common way of treating various types of chronic conditions and making your body to be healthy.
Basic Kegel exercise is the best way to rectify the erectile dysfunction. Focusing on penis muscles will ensure that you have strong muscles for a better erection.
2. Horny Goat Weed
This is a powerful herb that offers an erectile dysfunction solution. Its extract has been used to treat this condition for quite some time.
It is said that the herb boosts energy and this makes you have not only an erection but general body energy.
3. Eating Pomegranate
The juice from this fruit is known to have many nutrients. It helps in expanding arteries, making them remain supple.
When used, it can be used to treat erectile dysfunction in men.
Apart from herbs, we also have foods or diets that offer incredible erectile dysfunction solutions to men. Some of these foods include:
Advertisement
*All individuals are unique. Your results can and will vary.
4. Tart Cherries
These fruits are great at treating erectile dysfunction, they have anti-inflammatory effects. The fruit has no side effects and therefore it should be the first choice when it comes to erectile dysfunction solutions.
5. Milk and Yogurt
These two are the major sources of leucine – this is a muscle-building amino acid. Milk and yogurt are packed with potassium, protein, and good bacteria that keep the gut healthy. This too helps in erectile dysfunction
6. Shellfish
These types of seafood are rich in zinc which is very important for the reproductive system, heart and muscles; hence rectifying erectile dysfunction. Also, high zinc levels in the body have been linked to better sperm quality and better fertility in men.
7. Chocolate
This is a common one and it benefits are vast. This too can be used to treat erectile dysfunction. The reason behind this is that it improves the blood flow in the body. The flavonoids in dark chocolate help in improving cholesterol levels and keeping blood pressure in check.
Healthy Male Enhancement Advices
Apart from the above foods, medicines, and supplements, there are other advice and tips that will help you get rid of erectile dysfunction. Most of these causes of erectile dysfunction are a result of the lifestyle that most men live nowadays.
Quit smoking – this is a major cause of erectile dysfunction. This is the first healthy male enhancement advice that you would give to men before tackling the rest of erectile dysfunction solutions. Without stressing this further, to get rid of erectile dysfunction, you need to stop smoking, no shortcuts.
Get adequate sleep – the simple fact behind this is that testosterone is manufactured when you are sleeping, so when you don't get enough sleep, your testosterone level will go down and thus affects your erection.
Avoid heavy alcohol intake – alcohol can lead to long-term erectile dysfunction. Alcohol depresses the central nervous system making it unable to produce nitric oxide that is responsible for maintaining an erection.
People also search for >>
Reduce stress – stress and anxiety can facilitate erectile dysfunction and general health as well. Stress is a psychological cause of erectile dysfunction, look for ways to lower stress.
Conclusion
There is no need to worry if you have erectile dysfunction. All that is needed is to first live a good lifestyle and then adapt some of the above erectile dysfunction solutions and healthy male enhancement advice. With these, you will be on your way to better sex life. Just remember that not all erectile dysfunction solutions function the same; some might take a longer period of time to work, delivering amazing results in the end.
View All