In This Article
Tips and Tricks for a Stronger Erection
Lasting long in bed is every man's desire. The goal is to have long, mind-blowing sex that will make you feel better than ever and satisfy your significant other at the same time.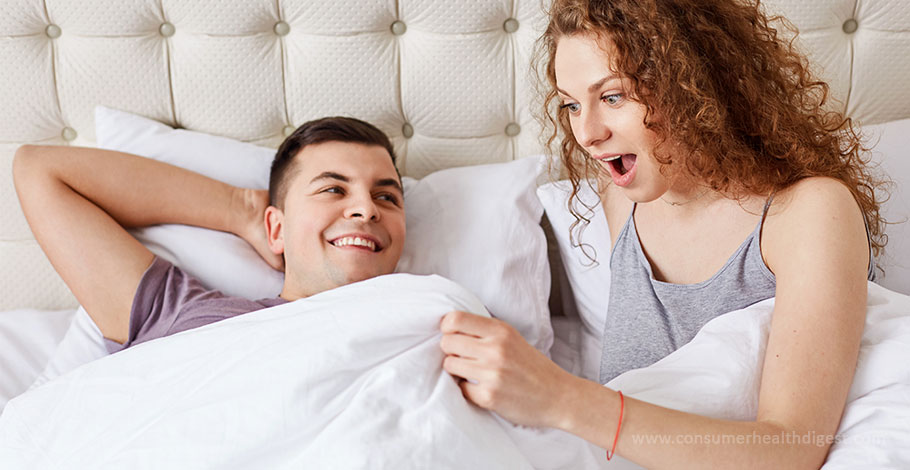 Even though your wife or girlfriend would probably never say this, she also wants to have long, exciting intercourse. To achieve this, you need to get and stay your penis hard but the problem occurs when we're out of ideas and don't know how to accomplish that mission.
Not to worry! This post will explain how to achieve and maintain an erection for long-lasting sex and incredibly hard erections.
#1. Quit Smoking
Chances are high you're probably looking for quick fixes to stay erect longer, but you'll achieve greater benefits with simple lifestyle adjustments. Does quitting smoking help with erectile dysfunction?
Making a few tweaks can mean a lot and ensure strong, long, and hard erections every time. For example, if you're a smoker the best thing to do for your erection (and overall health) is to quit this unhealthy habit.
A study whose findings were published in the BJU International discovered that erectile dysfunction correlated significantly with the level of exposure to smoking.
What's more, quitting cigarettes can improve symptoms of erectile dysfunction (ED) in a considerable portion of smokers.
These findings indicate that smoking affects erections and contributes to ED, but there's still a chance for you to turn things around and prevent the negative impact of your habit on the quality of erections.
#2. Got Mistress? Time to say goodbye to Her!
It is not uncommon for men to have lovers and affairs due to one reason or another. In fact, it has become so common that many doctors ask their patients with ED whether they have a lover or not.
The reason why having a mistress could prevent you from getting a hard-on is because you feel guilty.
Advertisement
*All individuals are unique. Your results can and will vary.
Unless your wife is aware of the affair and approves or participates in it, you are bound to feel guilty when you are with her. The feeling of guilt leads to anxiety, which then goes and kills your erections.
#3. Do Kegel Exercises
Contrary to the popular belief, Kegel exercises aren't just for women and they can help you get and stay your penis hard.
Kegels are pelvic floor exercises that do wonders for your reproductive and sexual health. The same contraction that is used to stop peeing midstream or to perform a Kegel exercise can also prevent blood from escaping during an erection.
What makes Kegels so amazing is that you can perform them anytime, anywhere. By strengthening your pelvic floor, Kegels can strongly contribute to the quality of a male erection and you should do them a few times a day.
Since they also prevent and address premature ejaculation, it is perfectly clear why you have to start doing Kegels for men.
#4. Don't Watch Porn Too Much
Pornography has become an important aspect of entertainment and the internet made it even more available to us.
Hundreds of porn websites with all sorts of videos, movies, categories, porn stars, and even more photos of naked girls online make it seem all you have to do is to look at them for getting a hard-on.
Believe it or not, too much porn can have a negative impact on your erections.
A study whose findings were published in the Behavioral Sciences discovered that internet pornography is associated with sexual dysfunctions. In addition, terminating internet porn use is a sufficient strategy to reverse these negative effects, in some cases.
A separate research, presented at the annual meeting of the American Urological Association, in Boston showed that porn-addicted men are more likely to suffer from ED and they are less likely to be satisfied with sexual intercourse.
Porn can hinder your erection in many ways, primarily by creating unrealistic and unachievable expectations.
Advertisement
*All individuals are unique. Your results can and will vary.
How to Stay Erect for Hours?
In order to get and stay your penis hard for hours, you don't have to use Viagra (unless you really want/have to). With a few simple tweaks, your penis can stay erect long enough to give you and your significant other the time of your life, at least in bed.
Here are some other things you can do to help the penis stay erect for hours:
Discuss your fantasies

Both men and women have different sexual fantasies. Instead of hiding them from one another, feel free to discuss them and turn them into your reality. Sometimes monotony is the great threat to your sex life and quality of erections, but fantasies bring back the thrill, rekindle passion, and reignite the pleasure

Get kinky

Sex doesn't have to be a mechanic performance between a man and a woman where they make love in the missionary position for a few seconds and turn around and fall asleep. Talk about those cute, kinky things both of you love and implement them into your sexual intercourse.

Take some time

The most important rule for a male erection is to take time for yourself and avoid rushing. Sex isn't a competition and doing everything as fast as possible is the wrong approach toward stronger erections.

Even though you assume foreplay is pointless, you should incorporate it into your sexual intercourse. Engaging in foreplay about 15 minutes before penetration allows your penis more time to warm up for the act.

Foreplay can bring two people closer together, it's an excellent opportunity to bond and improve your erection at the same time.

That is why it's recommended not to think about erection until you penetrate her, by that time your penis will be ready

Don't focus on your penis

When you spend too much time thinking about your penis and whether it's erect, you would destroy the fun and kill your erection

Consider sex position

We have a wide array of sex positions to choose from, yet it is not uncommon for men to stick with the same maneuvers. Your penis doesn't like monotony just like you. To get and stay your penis hard, you should consider changing a sex position to something you rarely do. While some would say it's a mistake to go for doggy style or missionary, bear in mind they allow more blood flow to the penis and ensure strong and hard erections.

Avoid risky sex

While exploring your fantasies and some kinky things is okay, engaging in risky sexual behaviors is always bad and one of the most important reasons why your erection suffers.

Involving the penis into risky behaviors can ruin erections in the long-run. Always follow safe sex and thrust the penis only when the vagina is fully lubricated
How to make your erection stronger?
Remember, the best way to achieve and maintain your erection is to make sure your lifestyle is healthy enough to support it. This way, you'll be able to get a hard-on every time you want.
Other tips and tricks that can help you achieve and maintain rock hard erections are listed below:
Exercise regularly
Manage stress
Limit alcohol intake
Don't masturbate too much
Get enough sleep
Keep weight in a healthy range
Have sex more often
Conclusion
Achieving and maintaining an erection doesn't have quick fixes, to get and stay your penis hard the best thing to do is to make the necessary changes mentioned above.
These simple tweaks may not seem like a big deal to you, but they do ensure strong, long, hard erections every single time.