For men who may wish to improve their sexual stamina but are hesitant to begin taking medications or supplements, a variety of exercises can be used to strengthen the body and, in turn, increase their performance in bed. The positive benefits of exercise is two-fold. Not only will men be developing their physicality in a way that is conducive to better lovemaking, they will be generating increased amounts of testosterone in the process, augmenting their libido levels.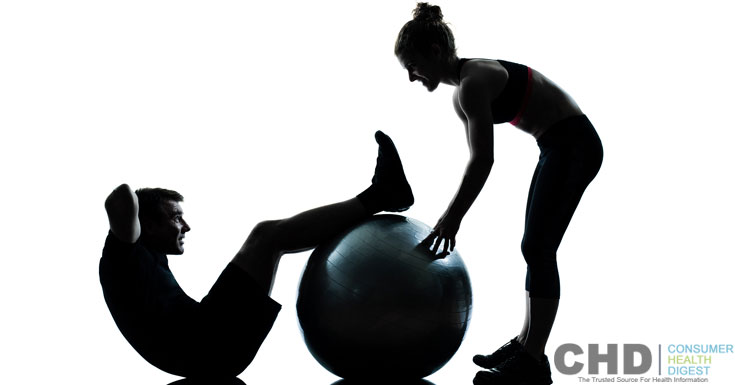 Because of these factors, exercise is an excellent self-sustaining sexual enhancement tool for men of all ages. That being said, men who are in their 50s and 60s and are taking their first steps into the world of physical exercise should first consult with their doctor to ensure that their body is healthy enough for routine exercise.
You can use the exercises listed below to embark on the path towards increased fitness and sexual stamina. When you're first starting out, don't try to overdo it! Allow your body to naturally progress into more intensive workouts at a pace that feels comfortable. This will help you avoid injury over time. Good luck!
People also ask
Swiss Ball Press-Up
The Swiss ball press-up can be equated to the standard push-up exercise, but, instead of using the floor as a base of support, individuals will elevate their legs using a Swiss ball. These exercises have been proven to strengthen a variety of upper body muscles. The relevance of this exercise to sexual stamina lies in the fact that many men remain "on top" during sex, which requires upper body strength.
Lower Back Lie-Down
The lower back lie-down is an excellent tool for strengthening lower back muscles, which play an important role in sex. The exercise is relatively simple – men should lay flat on their back ensuring that their body is flush to the floor with the legs bent. Gently grab your bent legs from behind the knees and slowly pull your knees towards your chest, stopping when the motion becomes uncomfortable. It's important that men ensure that their back remains touching the floor throughout this process.
Building Upper Body Strength
Upper body strength is an essential element of increasing sexual stamina. As stated previously, men typically spend a significant amount of time during sex elevated on their arms. For those who have not taken the time to develop their physique in this particular region, intercourse may be cut short, or positions may have to be changed. Upper body strength can be developed through an array of conventional exercises, include standard push-ups and pull-ups in addition to the swiss ball press-up described above.
Cardiovascular Exercise
Due to the intense physical nature of sex, the health and strength of a man's heart largely determine the extent of his physical stamina. For those who are interested in developing increased stamina, it is recommended that aerobic and cardiovascular exercise be adopted into weekly schedules. Possible exercises could include jogging, swimming and team sports, such as basketball, tennis or football.
All of these exercises can be used to improve heart health and ensure that men have the physical stamina they need to achieve the results they desire during sex.

People also search for >>
Yoga
For men who are interested in an alternative to traditional exercise routines, yoga can also be used to strengthen key muscle groups. Additionally, yoga has been found to have positive stress-reducing effects. As stress can significantly influence sexual stamina levels, the benefits of this particular form of exercise are two-fold.
Advertisement
*All individuals are unique. Your results can and will vary.
Building Leg Strength
Although most men associate upper body strength with sexual stamina, the legs function as a powerful base of support when men are thrusting during sex. Take the time to develop your leg strength. Some of the most common exercises include lunges, squats and weight training.
Crossover Stretch Exercises
Crossover stretch exercises are primarily designed to target the core muscle groups, including the abdominal muscles. This is particularly valuable for men who are looking to increase their sexual stamina, as the abs are an essential component of thrusting.
Crossover stretching can be accomplished by first laying flat on your back, arms outstretched and legs bent at the knees, with the left leg crooked over the right. After slowly stretching the left knee away from the right, individuals should attempt to bring their right knee down clockwise to the ground.
This particular exercise should always be approached slowly and carefully in order to avoid injuring delicate muscle groups.
Aerobic Stamina
As mentioned previously, aerobic health plays a key role in sexual stamina. Fortunately, aerobic exercise requires very little machinery or social interaction. Some of the most common and easy-to-accomplish aerobic exercises include jogging, running and swimming.
Pelvic Floor Exercises
Pelvic floor exercises, commonly associated with Kegel exercises, are designed to strengthen key muscle groups in women and women that are typically associated with urination. For men, gentle, repeated contractions of this particular muscle group can help reduce the likelihood of premature ejaculation and provide further control over arousal levels. Does ProSolution Plus work, if you combine this male enhancement pill with exercises? Find out here to know more!
View All