Which Testosterone Boosters Really Work?
Testosterone boosters are mainly dietary supplements said to increase a man's testosterone production naturally.
Unlike anabolic steroids that introduce synthetic forms of testosterone into your body, dietary supplements stimulate the production of testosterone from within with the help of nutrients, antioxidants, and herbal extracts.
These ingredients are generally considered to be safe, but as is always the case with dietary supplements – you cannot know for sure what exactly is in your bottle of products. Because men experience a natural decline in testosterone levels beginning around age 30, they may also develop uncomfortable symptoms associated with this natural change in hormone levels.
The most common symptoms of declining testosterone levels are low energy, weight gain, depression, muscle loss, low libido, and even sexual dysfunction[1].
In such cases, men can benefit from a quality testosterone boost from dietary supplements claiming to help with just that.
Keep on reading and discover interesting information on the best testosterone boosters of 2019.
The Best Testosterone Boosters of 2019
To help you choose a safe and effective testosterone booster, we've compiled a list of top 10 testosterone boosters that were highly praised by both medical experts and the general public alike.
To choose a testosterone booster you believe addresses your specific needs and concerns and that contains ingredients you find appealing, make sure to read the detailed reviews before purchasing your testosterone booster.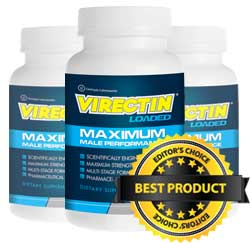 Virectin is probably the best male enhancement supplement on the market today due to its high-quality formula. The product's quality is also made evident by the great number of positive customer testimonials you can read online about Virectin. The product contains ingredients that improve virtually all aspects of male sexual health and functioning.
From increasing sexual stamina to improving workout performance, Virectin is considered a multi-purpose male-enhancement product. Some of the ingredients found in Virectin include wild oats, horny goat weed, Tongkat Ali, Saw Palmetto, and many others. Taking this product can lead to better blood flow and greater testosterone production.
The product comes at a price of $44.95 for a month's worth of supply and you also get a money-back guarantee. Read all the Reviews here.
Male Extra is another male enhancement supplement that can also help boost testosterone production with its unique blend of solely natural ingredients. The product contains among other things omega-3 fatty acids for better blood vessel functioning and zinc for greater testosterone production.
A fairly unique ingredient found in this product and not in many other commercially-available male enhancement supplements is pomegranate extract[6] which is rich in ellagic acid, an antioxidant that can, among other things, improve blood vessel health and hormonal production.
The product comes with a 90-day money back guarantee which is always a plus when purchasing such products. Read all the Reviews here.
M-Drive contains only a blend of herbal ingredients scientifically-proven to boost testosterone production in men. The product is meant to be used to boost energy levels and improve sexual functioning. Examples of ingredients added to the M-Drive formula include Testofen which is a patented form of Fenugreek seed extract, and other ingredients such as cordyceps, Maca root, Ginseng, Maitake, and Damiana leaf.
Users of this product report increased energy levels, greater stamina, and improved sex drive just after a couple of weeks of using this product. The product has received a lot of praise from happy customers claiming that this supplement has made them feel much younger and more energized.
Unfortunately, being sold at a price of $70, the product is definitely on the expensive side. But considering that it is a high-quality product manufactured by a reputable company and that has received many positive reviews, the money invested in this product could actually be worth the try. Read all the Reviews here.
Progenis's main active ingredient is the herb Muirapuama which was found to be a great source of sterol, a compound known to help boost testosterone production in men suffering from age-related testosterone decline. The product also contains horny goat weed and saw palmetto which are two of the most well-known herbal libido boosters.
Another great thing about Progenis is that it comes at an affordable price of only $29.99 which is pretty decent when compared to other testosterone boosters with similar ingredients. In addition to this, the manufacturers of Progenis offer a 100% money-back guarantee to their first-time customers. So, if you find that this product has not done the job for you, you can always ask for a refund.
However, we doubt that there will be any need for this considering that the product was highly praised by its customers. Read all the Reviews here.
You can find this product being sold at Wal-Mart and online retailers such as Amazon. Cyvita is made to work mainly as a male-enhancement product, meaning that it addresses sexual problems that men experience with age. The product works mainly by increasing the levels of nitric oxide in the bloodstream which we already know is an important vasodilator.
Although the product won't directly influence testosterone production, it can increase the levels of free testosterone by improving blood flow throughout the body. The main benefits you will get from taking Cyvita include increased strength and stamina, harder erections, better body composition, and increased mental alertness and improved mood. Read all the Reviews here.
Andro 400 is manufactured by a company called Natural Health Solutions. You can find this product being sold on the company's official website and through the company's online retailers. The product comes at a price of $34.95 for a month's worth of supply but with a 90-day money back guarantee.
Andro 400 contains mostly herbal ingredients that were proven to boost testosterone production in hypogonadal men, but in healthy men as well. Some of the ingredients added to this product are the herb Eurycoma Longifolia and a great number of nutrients important for normal testosterone production[7].
Testosterone production largely depends on a man's nutrient intake which is exactly why Andro 400 has included vitamins and minerals into its formula. Read all the Reviews here.
Orexis contains several staple ingredients of the most male-enhancement product, including Panax ginseng, Yohimbe extract, and horny goat weed among others. Unlike most other male enhancement supplements, Orexis can be taken before sexual intercourse and provide near-instant benefits. While the product is sold mainly as a sexual enhancer, it can also be used for improving testosterone production and increasing workout performance.
The manufacturers of Orexis claim that their product affects natural testosterone production through their blend of herbal ingredients. Two boxes of Orexis cost around $34.20 and there is, unfortunately, no money-back guarantee with this product. Read all the Reviews here.
Spartagen XT was designed primarily for older men experiencing uncomfortable symptoms associated with age-related decline in testosterone levels. The manufacturers of Spartagen XT claim that their product helps men tackle problems associated with andropause which is the male version of menopause. This is apparently made possible with the blend of herbs and nutrients found in the Spartagen XT formula.
The product contains Caltrops, Tongkat Ali, Vitamin B6, Vitamin D, Magnesium. The best thing about this product is that it contains nutrients known to be important precursors for normal testosterone synthesis such as vitamin B6, magnesium, and vitamin D.
These ingredients are completely safe for most men which also means that men don't have to be concerned about any adverse health outcomes from taking this product. Read all the Reviews here.
What Do Testosterone Boosters Do?
As we age and hit 30, our testosterone starts to drop. To prevent these changes, some might opt for testosterone boosters in support of getting their levels back into the normal range.
When your body cannot produce enough testosterone on its own, the term is called 'hypogonadism'[2]. Testosterone boosters do not give the user actual testosterone (like with steroids), rather, they kickstart the production of this very powerful hormone.
List of Common Ingredients
Fenugreek: It is used for increasing testosterone mildly.
Tribulus Terrestris: It is the most commonly found testosterone boosting ingredient.
Boron Citrate: It is a vital trace mineral found in many testosterone boosters on the market.
D-Aspartic Acid: It has been known to increase sex drive and libido as well as fertility in infertile men.
ZMA: A combination of zinc, magnesium and vitamin B6
Do Testosterone Boosters Really Work?
Do these supplements increase testosterone? The answer is probably yes!
Testosterone boosters contain a number of ingredients that were scientifically proven to positively affect the production of this important male hormone. For instance, a study published in Phytotherapy Research[3] found that Tongkat Ali taken for 5 weeks helped boost testosterone production in elderly men and women.
Other ingredients that were proven[4] to affect testosterone production include Fenugreek, Tribulus Terrestris, ZMA, and Maca root, and all can be found in a great number of testosterone boosters we see in supplement stores today.
Although testosterone production depends on a man's overall health first and foremost, taking dietary supplements said to naturally boost testosterone production could provide yours with an additional boost to an healthy diet, lifestyle, and exercise regimen.
The Side Effects and Safety While Choosing Testosterone Boosters
While most testosterone boosters should be safe when used moderately and in accordance with directions, there is a couple of things you should keep in mind when choosing a testosterone booster.
An article recently published in the Journal of Dietary Supplements[5] warns about the increased prevalence of adulterated and counterfeit male-enhancement supplements such as testosterone boosters and male-enhancement products.
The lack of safety regulations for dietary supplements means that consumers are at a risk of buying low-quality products that contain harmful ingredients such as stimulants, dangerous chemicals, and illegal drugs. Besides this, men taking drugs from certain medical disorders should talk to their physician before considering taking testosterone boosters because some ingredients found in these products may interact with their medication.
The dangers associated with taking low-quality products are also much worse for older men with health problems such as atherosclerosis, high blood pressure, and diabetes.
What is the best time to take Testosterone Boosters?
It is recommended that you should consult with your doctor before adding any supplements, including testosterone boosters, to your regimen.
Please make sure it is safe for you to use, based on your personal health and current medications will prevent any potential harm from utilizing a supplement.
NOTE: Testosterone boosters are not recommended for anyone under the age of 18.
Conclusion
While testosterone production does naturally decline with age, that does not mean that men cannot do anything to make things easier for themselves. In fact, boosting testosterone production naturally is possible through simple lifestyle changes but also by taking supplements like the ones we've listed here.
While dietary supplements said to boost testosterone production naturally are considered to be generally safe, there still is a possibility of developing health problems from taking these products. There are many adulterated, tainted, and counterfeit dietary supplements being sold today mostly due to a lack of regulations for these products.
Customers should be careful when choosing these supplements to avoid buying products possibly containing dangerous substances and even stimulants. The products listed here were chosen due to a great number of positive customer testimonials and because most have been on the market for quite some time now.
Make sure to read the product reviews for testosterone boosters carefully before choosing a product for yourself. And, remember, the best testosterone boosters of 2019 are the ones that can deliver actual results, helping you improve your sexual performance and enjoy sex once again.
**This is a subjective assessment based on the strength of the available information and our estimation of efficacy.
*Result may vary. If you have a serious medical condition, or have a history of heart conditions we suggest consulting with a physician before using any supplement. The information contained in this website is provided for general informational purpose only. It is not intended to diagnose, treat, cure or prevent any disease and should not be relied upon as a medical advice. Always consult your doctor before using any supplements.
Disclosure of Material connection: Some of the links in the post above are "associate sales links." This means if you can click on the link and purchase an item, we will receive a commission. Regardless, we only recommend products or services which we use personally and/or believe will add value to our readers. We are disclosing this in accordance with the Federal Trade Commission's 16 CFR, Part 255: "Guides Concerning the Use of Endorsements and Testimonials."
View All