In This Review
Vigrx Fertility Factor 5 Overview
When it comes to fertility vitamins for men, there are a number of options available on the market. It can be difficult to decide which one is right for you, so it's important to read reviews before you buy any supplement. In the following article, we will take a deep look into these VigRX Fertility Factor 5 reviews and explain in detail about the ingredients and more.
VigRX Fertility Factor is an organic product designed to improve fertility in men. The supplement can increase sperm count in about 3 months, and also affect sperm shape and motility.
It can also increase the male sex drive. This is a non-invasive way for men to increase their chances of conceiving a child.
How Does It Rate?
Overall Rating: 4.9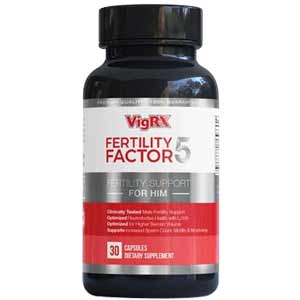 VigRX Fertility Factor
Brand Highlights
Sperm volume increase naturally
Manufactured by Leading Edge Health
located in British Columbia, Canada which has been around since 2001.
Their focus is on male sexual health products like VigRX Plus which are made of organic ingredients.
Key Ingredients
Panax Ginseng
Zinc
Bioperine
Pros
This male fertility supplement can increase sperm count.
It can increase sperm motility.
This product can influence the shape of your sperm.
It can increase your sexual libido.
The process is non-invasive.
Cons
It takes about 3 months to see results.
The product is fairly expensive.
You may experience side effects like decreased appetite, depression, rash, sleep difficulties, anxiety, restlessness, insomnia, and gas.
---
How Does Vigrx Fertility Factor Work?
It contains a couple of ingredients that are in many of the best over the counter male enhancement pills.
This fertility pill for men increases levels of testosterone and nitric oxide, which enhance sexual libido and improve blood circulation. This can lead to harder erections.
Research published in the
Journal of Hypertension
concluded that nitric oxide is a helpful treatment for erectile dysfunction.
Selenium and zinc are in this supplement because deficiencies in these minerals can lead to low fertility and sperm count. Zinc is important for sperm development and motility.
A study published in Scientific Reports showed the correlation between zinc levels and male infertility.
VigRX Fertility Factor Ingredients – Are They Safe and Effective?
There are 5 main substances included in this male fertility supplement. Some of the primary active ingredients include:
Bioperine
– Its main purpose is to help with the absorption of other ingredients, to make them more bioavailable. Black pepper can increase the amount of nutrients absorbed in the gastrointestinal tract, according to The Asian Journal of Biomedical and Pharmaceutical Sciences.
Zinc
– This is a mineral that is needed by the body. Studies say that it can both increase libido and effectively treat erectile dysfunction. A deficiency in zinc can lower sperm count. According to a study in the BMJ, having a deficiency in zinc can lead to a decrease in libido.
Panax Ginseng
– It improves mental focus, concentration, and cognitive abilities. It can also improve sperm count and increase sexual libido. Research shows that this substance can be an effective treatment for erectile dysfunction.
Alternatives to VigRX Fertility Factor
VigRX Fertility Factor Questions and Answers
Q: How should you take VigRX Fertility Factor?
A: The recommended dosage is one capsule per day, with a full glass of water.
CAUTION – Do not take more than the suggested dosage under any circumstances.
Q: How much does VigRX Fertility Factor cost?
A: You can buy this product on the manufacturer's official website and from a number of other retailers.
The prices on the official website are as follows:
1 month – $59.95
3 months – $159.95
6 months – $299.95
Q: What is VigRX Fertility Factor's return policy?
A: The manufacturer has a 67-day money-back guarantee. If you're dissatisfied with the product for any reason, you can return the first 2 opened bottles and any unopened bottles for a refund.
Let the company know and return the bottles within 67 days of the original purchase date. You'll get all of your money back, minus shipping and handling costs.
Q: Does VigRX Fertility Factor offer a free trial?
A: This manufacturer is not offering a free trial for this product, nor are they giving away any samples. If you want to try the supplement, you can buy it on a number of third-party websites or on the manufacturer's official website.
VigRX Fertility Factor Review – Conclusion
VigRX Fertility Factor is one of the safest organic supplements for male fertility that can increase fertility, as well as enhance libido. There are a couple of amazing testimonials on the manufacturer's website, that say this product provides vitamins for sperm.
There are no other customer reviews online, so we can't get a good idea of the efficacy of this supplement.
This product has some potential side effects which could occur. If you experience any unpleasant side effects, stop taking the supplement immediately and see a physician if necessary. Before you begin taking this supplement, see your doctor and make sure it's medically suitable for you.
With countless male performance enhancement supplements available on the market today it seems impossible to find "the right one." Sexual performance declines naturally as men age, which may contribute to feelings of inadequacy or embarrassment. Male performance enhancement supplements should be based on four key factors: active ingredients, ability to support sexual stamina, enhance arousal, improved* sexual desire and backed by clinical studies.
Below you'll find some of the most effective male performance enhancement supplements on the market today, in our opinion.
Our Top Male Enhancement Choices
Verdict on Claimed Benefits: Below is our summary of the available evidence for the claimed benefits of below mentioned Male Enhancement Products based on the available research: