In This Review
What is Rae In The Mood?
Rae In The Mood is a nutritional supplement that can be used by men and women to help increase their sexual desire and improve their sexual satisfaction.
Taking the recommended dosage every day also helps relieve fatigue and reduce stress levels. In The Mood is a natural, non-GMO, and gluten-free dietary supplement. In the Mood has an amazing minty taste and it smells nice.
You can use the supplement together with other brand products to ensure effectiveness.
How Does It Rate?
Overall Rating: 3.9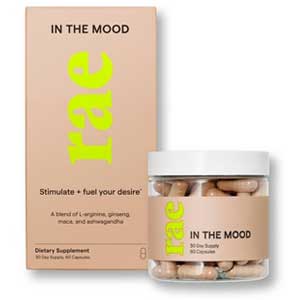 Rae In The Mood
Brand Highlights
A natural male enhancement supplement
The supplement has gone through third-party tests in an ISO-certified laboratory
In The Mood has been certified by Clean Label Project to ensure transparency
The supplement is made in the USA in an FDA-approved and GMP-certified facility
Key Ingredients
Ashwagandha
Maca root extract
Niacin
Panax ginseng
L-arginine
Pros
Increases libido and sexual desire
Reduces stress and fatigue
Increases sperm count and mobility
Improves erectile functions
Cons
Individual results may vary after using the supplement
The product only promises results with continued use
It is not clear whether the body might adjust and it stops working
---
How Does Rae In The Mood Work?
The ingredients in this amazing supplement work together to deliver optimum results.
Advertisement
*All individuals are unique. Your results can and will vary.
L-arginine stimulates the production of nitric oxide in the body, which helps increase blood circulation in the genitals.
Ashwagandha and ginseng are adaptogens that help relieve stress and calm the body. Maca root extract is known to help boost energy levels and increase sexual desire.
Rae In The Mood Ingredients – Are They Safe & Effective?
L-Arginine
L-Arginine is an amino acid that is naturally produced by the body to support various functions. Studies have shown that l-arginine supplementation is safe and effective in the treatment of erectile dysfunctions.
The amino acid also supports the production of nitric oxide in the body, which helps improve erectile functions.
L-Arginine also has side effects that may raise concerns before purchasing the product. According to the Journal of Endocrinological Investigation, l-arginine supplementation helps improve erectile functions in men[1].
Maca Root Extract
Science claims that maca root extract is an aphrodisiac that slightly enhances sexual desire. Maca root supplements also help increase libido, improve male fertility, and increase sperm count and motility. However, maca root supplementation may not work for all men.
A publication in the BMC Complementary Medicine and Theparies journal claims that maca root supplementation helps improve sexual desire, increase sperm count and mobility, and improve sexual functions in men[2].
Panax Ginseng
Korean ginseng is an ingredient mostly used in male enhancement supplements for its effectiveness in the treatment of erectile dysfunctions. Ginseng stimulates the production of nitric oxide in the body.
Nitric oxide increases blood circulation through the body and relaxes the penile muscles to support stronger erections.
According to an article in the Cochrane Library, dietary supplements that contain Panax ginseng are used broadly to treat various conditions, including erectile dysfunction[3].
Ashwagandha
Ashwagandha is an adaptogen that offers several benefits to the male body. The herb helps increase sperm count and mobility, boosts testosterone levels, increases sexual desire, and improves erectile functions.
Ashwagandha also helps the body to manage various stress levels. You may experience headaches, diarrhea, and drowsiness after taking it.
The Health Science Reports journal reveals that Ashwagandha helps improve hormonal balance, reduce stress levels, and improve sexual health in males[4].
Advertisement
*All individuals are unique. Your results can and will vary.
Niacin
Studies support that a daily dose of niacin supplementation helps treat erectile dysfunction in men. Niacin helps increase sexual desire in men and improves their ability to retain an erection for a long duration.
A journal in the National Library of Medicine discusses the effectiveness of niacin supplementation in men suffering from erectile dysfunction[5].
Who Should Buy Rae In The Mood?
Rae In The Mood supplements is manufactured for both men and women who want to increase their sexual drive and improve their sexual satisfaction. The supplement contains ingredients that help people who want to manage stress and reduce body fatigue.
Frequently Asked Questions
Q: How Should You Take Rae In The Mood?
A: The manufacturer of In The Mood recommends that you take two capsules every day. You can decide to increase or decrease the dosage as you progress.
Q: What is Rae In The Mood Return Policy?
A: If you are not satisfied with the product, you are free to return it. Rae offers a 45-day 100% money-back guarantee on all products purchased on the official website and authorized online stores.
Q: Where to Buy Rae In The Mood and How Much is It?
A: You can purchase In The Mood capsules from the brand's official website and other authorized online retailers at affordable prices. On the official website, one bottle costs $14.99 for a one-time purchase. You may also subscribe and save up to 20%
Q: What Sets Rae In The Mood From the Competition?
A: The detail that may set this product apart is the combination of ingredients in this supplement sets it apart from others on the market. Similar supplements on the market contain one or two of these ingredients.
What Do Rae In The Mood Reviews Say?
I have been married for 7 years and lately my sexual drive has gone down. I came across In The Mood while buying my supplements and decided to try them. it has been two weeks now and my sex drive has really increased. Sex has never felt this great.
~ Reagan
My husband was no longer satisfying me in bed and I never enjoyed the sex. My friend recommended that I should buy In The mood for him. I must say the supplement has transformed our sex lives.
~ Antonina
Rae In The Mood has a nice smell and an amazing minty taste. I have been using it for some time and it has helped increase my libido, boost my energy levels, and increase sexual satisfaction.
~ Rina
My friends and I have been trying this supplement. It is really working great for some of them. However, I haven't noticed any changes on my end. I will continue taking Rae In The Mood until I see noticeable changes.
~ Jayson
I will definitely buy this supplement again because it really increases my sexual drive. I enjoy having sex with my spouse.
~ Tash
Conclusion
Being healthy starts from the inside. Rae has developed In The Mood for both men and women to help increase their sexual desire and sexual satisfaction, reduce fatigue, and promote mental calmness.
Although the supplement may not deliver similar results to everyone who uses it, you can still try it. In The Mood supplement is the way to go if you want to improve your sexual life.
With countless male performance enhancement supplements available on the market today it seems impossible to find "the right one." Sexual performance declines naturally as men age, which may contribute to feelings of inadequacy or embarrassment. Male performance enhancement supplements should be based on four key factors: active ingredients, ability to support sexual stamina, enhance arousal, improved* sexual desire and backed by clinical studies.
Below you'll find some of the most effective male performance enhancement supplements on the market today, in our opinion.
Our Top Male Enhancement Choices
Verdict on Claimed Benefits: Below is our summary of the available evidence for the claimed benefits of below mentioned Male Enhancement Products based on the available research: