In This Review
ProEnhance Patch Overview
ProEnhance is a dietary formula in the form of a patch, rather than an oral supplement that needs to be taken every day.
The patch is simply applied to the body and then steadily releases a set of ingredients directly into the user's bloodstream.
The process of this product is often associated with prescription patches that are used to feed a patient's body with testosterone, but this product does not use synthetic testosterone or any artificial substances.
Instead, the entire formula of the patch relies on botanical extracts that are sourced directly from nature. This makes the product a safer method for improving sexual function.
How Does It Rate?
Overall Rating: 3.6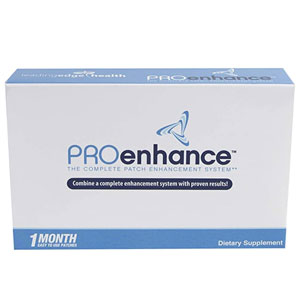 ProEnhance Patch
Brand Highlights
Company has been in existence since 2001.
Reviewed and approved by a doctor.
Experience erections that are firmer and slightly larger.
30-Day refund policy.
Key Ingredients
Panax Ginseng
Saw Palmetto
Damiana
Pros
Instead of providing another supplement that should be taken orally each and every day, ProEnhance rather created a patch that is applied to the body every third day. The user simply applies the patch and forgets about it. The patch then releases the ingredients gradually into the body in order to provide the user with a boost in his sexual abilities and performance.
The formula focuses on different aspects of sexual function – including erection size, sexual stamina, libido, and sex drive.
ProEnhance Patch also includes Saw Palmetto, which is a berry extract that helps men control the symptoms of certain prostate and urinary tract problems. This means that men who are developing common problems related to age may find this product beneficial for protecting their prostate health as well.
Cons
These patches are quite expensive, especially when you consider the fact that the product should be used for at least four to six months to experience "real" results.
---
How Does It Work?
On the ProEnhance website, a complete overview of the results that a user can expect is provided. According to this diagram, the user will be able to experience erections that are firmer and slightly larger during the first month.
In the second month of usage, the size of the user's erection will increase by as much as one inch. By the third month, the user will notice a considerable increase in size and will also experience a significant increase in his sex drive. By the fifth month, the user will experience thicker erections and his orgasms will be greatly intensified.
ProEnhance Patch Ingredients – Are They Safe and Effective?
These patches only include a combination of natural ingredients that improve blood circulation, enhance erectile function, and boost libido. These are the ingredients found in the ProEnhance Patch formula:
Panax Ginseng
– Panax Ginseng has numerous advantages for the human body and the user's overall performance. The root extract is used to enhance mental, physical, and sexual performance. A lot of men who have erectile dysfunction also use Panax Ginseng to contribute toward harder erections[1].
Saw Palmetto
– Saw Palmetto is most often used by men who have problems with their prostate and urinary tract system. It is known to have a protective function in the prostate and may also reduce inflammation that is caused by an enlarged prostate[2].
Damiana
– Damiana Leaves have many uses. Some people use it to enhance their moods. The plant is often used in culinary. Some men also use Damiana as a herbal remedy for treating the symptoms that become present due to the development of certain sexual dysfunctions, including low libido and erectile dysfunction. Several research studies have proven Damiana Leaf to possess potent aphrodisiac properties[3].
The formula also contains Gotu Kola and He Shou Wu. In addition to the active ingredients, Methol extract has also been added to help with the transfusion of the ingredients into the user's bloodstream.
FAQs
Q: Are There Any Alternatives Of This Product?
A: Yes, you can check these products also h3efore sitting to any product Prolong Plus, ProEnhance Patch, Prolixus, ProMagnum XL.
Q: How to Use the Proenhance Patch?
A: The patch should be placed on the user's ah3dominal area. A new patch should be applied every third day. It is important to note that the company recommends using this product for a period of four to six months (preferably longer) for the best results. Once applied, the user can shower and continue with his regular daily activities without having to worry about the patch.
Q: What Are the Possible Side Effects?
A: The product claims that no side effects will occur due to the fact that all ingredients are gradually released into the user's body. Users should still be aware that some of these ingredients may cause changes in blood pressure levels, thus the patches should not be combined with medication that has a similar effect on blood pressure.
READ NEXT – Hyper Male Force
Customers Reviews
Effective but beware of side effects.
The only thing that stimulates is the skin on which you paste the patch which gets irritated by an annoying itch.
~Domenico B.
Final Verdict
ProEnhance Patch is a unique product that combines different natural plant and root extracts into one powerful formula.
The product is applied to the body and there is no need to constantly remind you to take a supplement every few hours. There are many advantages to using this product and, if the user is able to afford a 6-month supply, it is definitely worth a try.
With countless male performance enhancement supplements available on the market today it seems impossible to find "the right one." Sexual performance declines naturally as men age, which may contribute to feelings of inadequacy or embarrassment. Male performance enhancement supplements should be based on four key factors: active ingredients, ability to support sexual stamina, enhance arousal, improved* sexual desire and backed by clinical studies.
Below you'll find some of the most effective male performance enhancement supplements on the market today, in our opinion.
Our Top Male Enhancement Choices
Verdict on Claimed Benefits: Below is our summary of the available evidence for the claimed benefits of below mentioned Male Enhancement Products based on the available research: