In This Review
What is Primal Unit XL?
Primal Unit XL is a dietary supplement that claims to revive a user's libido and bedroom performance. It supposedly nourishes the body with proper nutrients that enhance blood flow thus providing stronger and long-lasting erections. It may also boost energy levels, sex drive, and masculine sexual performance.
Unlike other male enhancement products that provide temporary relief, Primal Unit XL claims to stimulate the natural production of hormones and components that support physical and sexual performance levels. Therefore, this product could support male sexual health for a longer period of time.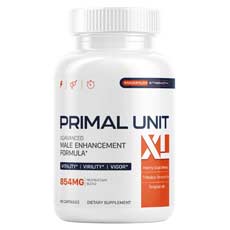 Who is the Manufacturer of Primal Unit XL?
The manufacturer of Prime Unit XL is unknown and the details of the company are not provided online. The company location is also unknown which could be problematic for most consumers. With this scanty information, it is also difficult to know the conditions within which this supplement is produced. As for the link provided for the company's official website, it does not lead to an actual website but redirects elsewhere.
How Does Primal Unit XL Work?
Primal Unit XL contains ingredients that may work to boost testosterone production. By increasing testosterone levels, it improves both physical and mental performance.
Other ingredients in the supplement support blood flow which is associated with the circulation of nutrients and oxygen into the penile chamber to enhance erection hardness and size to help users enjoy sex and satisfy their partners.
And apart from alleviating the nature of your hardness, this supplement may also increase sexual stamina and performance thereby boosting your bedroom confidence.
Primal Unit XL Ingredients – Are they Safe & Effective?
Asian Ginseng
– This herb is native to countries like China and Korea. It is popular in supplements due to its multiple benefits in health. In traditional Chinese medicine, ginseng is used in male sexual health.
A review in the Spermatogenesis journal ginseng has the potential to improve erectile dysfunction, libido, and sperm production and quality. Ginsenoside, its active constituent was found to have hormone stimulating effects.
– This herb is a species in the Epimedium genus. It has been used in Chinese medicine for centuries to treat erectile dysfunction, low libido, pain, fatigue, and other conditions. Icariin is the active ingredient in horny goat weed.
According to an author manuscript in the Journal of Sexual Medicine, icariin may have neurotrophic effects as well as phosphodiesterase type 5 inhibiting effects. These properties are ideal for testosterone production thus may help to improve overall male sexual health.
– This is a tree that produces fruits that are used for medicinal purposes. It is mainly used to improve urinary function, treat enlarged prostate, and enhance hair growth. We have explained the benefits of saw palmetto berry ingredients in another male enhancement article Titan XL review.
A clinical study in the Food Science and Biotechnology journal found that saw palmetto has potential mechanisms of actions that may improve benign prostatic hyperplasia (BPH) such as anti-inflammatory, anti-androgenic, and pro-apoptotic effects. Therefore, the study concluded that saw palmetto extract is effective in the prevention and treatment of BPH.
Zinc
– Zinc is an essential mineral that supports male reproductive health and overall well-being. In our detailed review of Viasil, we explain that adequate zinc levels are essential for sperm quality, motility, and fertility. Zinc's concentration in the prostate gland contributes to proper ejaculation and male reproductive function.
A study in the Journal of Human Reproductive Sciences evaluated supplementation of 5 mg of zinc daily for two weeks. Zinc supplementation was found to improve the sexual competence of male rats. An increase in T levels was observed and low libido was found to improve. However, further studies are required to evaluate the therapeutic effects of zinc in sexual dysfunction.
What are the Advantages of Primal Unit XL?
May improve sex drive and sexual performance
May boost physical performance and muscle building
May increase a user's fertility
May increase sperm motility
May enhance testosterone levels in the body
What are the Disadvantages of Primal Unit XL?
Company details are unavailable
Product may only have temporary benefits
Some ingredients may cause mild side effects such as abdominal pain
Results may work for some users and not for others
At the moment, it is difficult to find the product in stores
Alternatives to Primal Unit XL
Primal Unit XL – FAQ's
Q: How Are Primal Unit XL Customer Reviews?
A: Primal Unit XL reviews show mixed feelings from consumers. While some users experienced results and felt more energized, others saw no noticeable results. In this regard, this product may work for some individuals and not others.
Q: How Should You Take Primal Unit XL?
A: This oral supplement is to be taken twice daily. One capsule should be taken in the morning after breakfast while the other is to be taken in the evening after dinner. For users under medication, the company instructs you to consult your doctor whether it is safe for you to use this supplement.
Q: How Much Does Primal Unit XL Cost?
A: This product costs:
1 bottle – $89.99
3 bottles – buy 2, get one free
5 bottles – buy 3, get two free
Q: What is Primal Unit XL Return Policy?
A: If you are not satisfied with your purchase, you can return this product within 30 days. However, since we cannot locate the company's official website, it will be difficult to return this product.
Q: Does Primal Unit XL Offer a Free Trial?
A: There is no mention of a free trial for this product.

Primal Unit XL Review – Final Verdict
Primal Unit XL is a male-enhancing product that claims to improve male sexual health. It works to improve blood flow thus promoting circulation of oxygen and nutrients in the penile chamber. It also enhances energy production thereby improving physical performance and sexual performance.
Ingredients used to formulate this supplement have scientific backing which could mean this product may work as advertised. Users may, therefore, anticipate an improvement in their sexual life in terms of sexual drive, stamina, and harder erections.
While this product may work, some ingredients may cause adverse effects. For instance, saw palmetto may cause dizziness, headache, nausea, constipation, vomiting, and diarrhea. Users with medical conditions or under medication may have to consult with a doctor before purchasing this product.
Another shortcoming of this product is that the company does not publicize its details. This makes us question its credibility. We were unable to locate the company's website which would have provided vital information about the makers of Primal Unit XL as well as the product itself.
Similarly, this product claims to have a 30-day money-back guarantee but returning the product will be a hassle if one cannot trace the company's website. It could be easier to purchase from a retailer rather than the official site.
That said, users could benefit more from best-selling male enhancement products in the market such as VigRX and Viasil which are produced by reputable brands. These products have high-quality ingredients and many customer reviews that prove they work. Purchasing such supplements will be worth your hard-earned money.
To conclude, the best sex pill may work to boost male sexual health, but a healthy lifestyle plays a major role in ensuring your sexual life is as great as you'd want it to be. For this reason, ensure to eat healthily and exercise regularly.
Also, engage in activities that will keep stress at bay since stress is a major disturbance to sexual health. Activities that can reduce stress include meditation, deep breathing exercises, yoga, creating artworks, and engaging in other leisure activities.
With countless male performance enhancement supplements available on the market today it seems impossible to find "the right one." Sexual performance declines naturally as men age, which may contribute to feelings of inadequacy or embarrassment. Male performance enhancement supplements should be based on four key factors: active ingredients, ability to support sexual stamina, enhance arousal, improved* sexual desire and backed by clinical studies.
Below you'll find some of the most effective male performance enhancement supplements on the market today, in our opinion.
Our Top Male Enhancement Choices
Verdict on Claimed Benefits: Below is our summary of the available evidence for the claimed benefits of below mentioned Male Enhancement Products based on the available research: